Monday Morning Reads
Reads
News:
Futures:
 Earnings: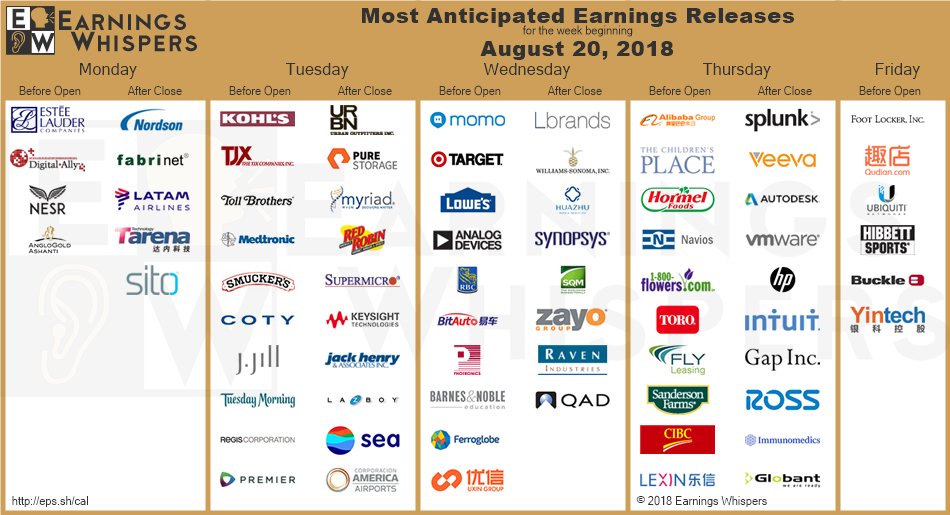 Charts:
Today is a historic day for Greece as nearly a decade of external financial help and the nation's third bailout comes to an end. Athens will now be able to tap financial markets to fund its activities, marking the closure of the European sovereign debt crisis after Portugal, Ireland and Spain came back from the brink. Speaking too soon? Renewed market tremors last week over Italian debt and attacks by politicians in Rome on Europe's establishment are fueling fresh fears that all is not well with the euro.
Economy
Turkey's President Erdogan declared Saturday that his country would not be cowed by the U.S. as a high court rejected another appeal to free pastor Andrew Brunson, who has been held for almost two years on terror charges. "Some people threaten us with economy, sanctions, foreign currency exchange rates, interest rates and inflation. We know your shenanigans and we will defy you." The bitter feud between Ankara and Washington triggered a trade row last week and sent the lira into a tailspin.
Gunshots rang out at the U.S. embassy in Ankara this morning as shots fired from a vehicle hit a window in a security cabin, but caused no casualties. It comes as the Trump administration rejected an effort to tie the release of the pastor with relief for Turkey's Halkbank, which faces billions of dollars in U.S. fines, and follows an agreement from Qatar to help the Turkish economy weather a currency rout.
Defying new U.S. sanctions aimed at curbing Tehran's missile program and regional influence, Iran said it will unveil a new fighter jet when it celebrates National Defense Industry Day on Aug. 22 and will continue developing missile capabilities. The Islamic Republic's navy also announced that it mounted a locally built advanced defensive weapons system on one of its warships for the first time as tensions rise in the Persian Gulf.
Ahead of a major currency overhaul today, when Caracas will start issuing new banknotes after slashing five zeroes off the crippled bolivar, President Maduro detailed other measures he hopes will pull Venezuela out of crisis. They include hiking the minimum wage by over 3,000%, boosting the corporate tax rate and increasing highly-subsidized gas prices in coming weeks. "I want the country to recover and I have the formula. Trust me," he declared on state television.
Britain will recognize some EU regulations in the event of a no-deal Brexit to ensure continued access to medicines, car parts and chemicals, The Telegraph reported, citing government documents. The 84 papers - which will be published in batches - set out "how it works now" and "how it works in a no-deal scenario." Brexit Secretary Dominic Raab will also give a speech Thursday, describing the government's plan for a no-deal.
Six days of public hearings on proposed U.S. duties on Chinese imports of up to 25% will begin today in Washington. "USTR's proposed tariffs on an additional $200B dramatically expands the harm to American consumers, workers, businesses, and the economy," the U.S. Chamber of Commerce said in written testimony for the hearing. Mid-level Trump administration officials and their Chinese counterparts will likely meet later this week in Washington to discuss their escalating trade war.
China's President Xi Jinping is expected to visit Pyongyang in September to attend the celebrations for the 70th anniversary of North Korea's founding. Rumored in Beijing for some time, the visit was reported in Singapore's The Straits Times at the weekend although it has still to be confirmed by the Chinese government. The visit would be the first to North Korea by a Chinese president since Xi's predecessor, Hu Jintao, went to Pyongyang in 2005.
Stocks
PepsiCo is acquiring SodaStream for $3.2B, giving the company a new line through which it can reach customers within their homes. The $144 per share deal - likely one of the last bold moves made under CEO Indra Nooyi, who retires in October after a 12-year reign - is an 11% premium to SodaStream's (NASDAQ:SODA) closing price on Friday. With the acquisition, she has cemented her mark on PepsiCo (NYSE:PEP) by switching its focus from sugary sodas to healthier snacks and beverages. SODA +10.3% premarket.
Tariff fallout... Walmart (NYSE:WMT) has asked its cosmetics suppliers to consider sourcing their goods in countries outside of China, as it looks for ways to mitigate the impact of a new duties proposed by the Trump administration, Bloomberg reports. In an email sent on Aug. 7, the world's largest retailer asks suppliers if they have facilities outside China, and if not, whether they would consider investing in them to broaden their sourcing ability.
Netflix is testing ads for its original content in between TV episodes, with users taking to social media this weekend to criticize the move. The streaming giant noted, however, that all subscribers will be shown a "skip" button when they see an advertisement. Netflix (NASDAQ:NFLX) user reviews of TV shows and movies are also no more as the company delivered on its promise to do away with the one-time mainstay of the service.
Jack Dorsey is "ready to question everything" in his efforts to create a healthier platform. "We need to constantly show that we are not adding our own bias, which I fully admit is more left-leaning," the Twitter (NYSE:TWTR) CEO told CNN's Reliable Sources. "But the real question is are we doing something according to political ideology or viewpoints? And we are not. Period." The remarks follow criticism from the right over supposed "shadow-banning" of conservative users, as well as questions over whether to remove far-right conspiracy theorist Alex Jones from the platform.
Apple has reportedly removed around 25,000 gambling apps from its China app store, according to state broadcaster CCTV, which criticized the technology company for inadequately protecting users. While a timeline was not provided, the figure would amount to about 1.4% of the total number of apps offered on the Chinese platform. Last year, Apple (NASDAQ:AAPL) also removed many VPN services from the Chinese App Store for not meeting Beijing's "new regulations."
Amid the recent turmoil at Tesla (NASDAQ:TSLA), CEO Elon Musk sat down with YouTuber Marques Brownlee to discuss the future of electric vehicles. He cited daunting economies of scale in an "insanely competitive" auto industry as barriers to making a cheaper car, but estimated that the company could produce a model at a $25,000 price point. "If we work really hard I think maybe we can do that in about three years," he added, saying it depended on both time and scale.
PIF, the Saudi Arabian sovereign wealth fund that Musk has said could help him fund a $72B deal to take Tesla private, is in talks to invest in aspiring rival Lucid Motors, according to Reuters. A term sheet delineates an investment of more than $1B and majority ownership. Lucid has introduced the Air model, which includes a battery capable of 0-60 mph acceleration in less than 2.5 seconds and claims a driving range of 400 miles.
Current Volkswagen CEO Herbert Diess was told about the existence of emissions cheating software in cars two months before regulators blew the whistle on the multi-billion Dieselgate scandal, according to Der Spiegel, which cited unsealed documents from the Braunschweig prosecutor's office. Responding to the report, VW (OTCPK:VLKAY) reiterated that the management board had not violated its disclosure duties, and had decided to not inform investors earlier because they had failed to grasp the scope of potential fines and penalties.
Brussels is expected to green light the $80B tie-up between Germany's Linde (OTCPK:LNEGY) and its U.S. rival Praxair (NYSE:PX) later today, an important milestone in a deal that would create the world's largest industrial gas supplier. That would leave the Federal Trade Commission as the main remaining hurdle. While the the companies announced divestments in July, Linde representatives said U.S. officials were making "more onerous (demands) than previously expected."
France's Total has officially packed out of Iran after the U.S. threatened to impose sanctions on companies that do business in the country. "The process to replace Total with another company is underway," Oil Minister Bijan Zanganeh was quoted as saying. Iranian officials had earlier suggested China's state-owned CNPC could take over Total's (NYSE:TOT) stake in the South Pars gas project, lifting its interest to more than 80% from 30% now.
"Together with German partners we are working on the new natural gas pipeline Nord Stream 2, which will complete the European gas transport system," Vladimir Putin declared as he met with Chancellor Angela Merkel near Berlin on Saturday. While the U.S. wasn't present at the meeting, it could have a big say in the outcome amid concerns that it would increase Europe's already-high dependence on Russian natural gas and give the Kremlin political leverage and substantial revenues. The project is being developed by Gazprom (OTCPK:OGZPY), along with Royal Dutch Shell (RDS.A, RDS.B), Wintershall, Uniper (OTC:UNPPY), OMV (OTCPK:OMVZY) and Engie (OTCPK:ENGIY).
Global dividends jumped 12.9% year-on-year in Q2 to $497.4B, hitting a new record, according to a report on the Janus Henderson Global Dividend Index. Payments rose in almost every region of the world in headline terms and records were broken in 12 countries including France, Japan, and the U.S. The index also ended the quarter at a fresh high of 182.0, meaning that global dividends have risen by more than four-fifths since 2009.
Today's Markets 
In Asia
, Japan 
-0.3%
. Hong Kong 
+1.4%
. China 
+1.1%
. India 
+0.9%
.
In Europe
, at midday, London 
+0.5%
. Paris 
+0.7%
. Frankfurt 
+1%
.
Futures at 6:20
, Dow 
+0.2%
. S&P 
+0.2%
. Nasdaq 
+0.3%
. Crude 
-0.4%
 to $64.93. Gold 
+0.7%
 to $1193. Bitcoin 
-1.1%
 to $6412.
Ten-year Treasury Yield
 -1 bps to 2.86%
Today's Economic Calendar
11:00 Fed's Bostic Speech