Monday Morning Reads, Charts, Earnings, Options
Reads:
News:
S&P500 Futures:
 Futures:
 Open Interest Changes:
 Chart of the day:
Payrolls vs. SP500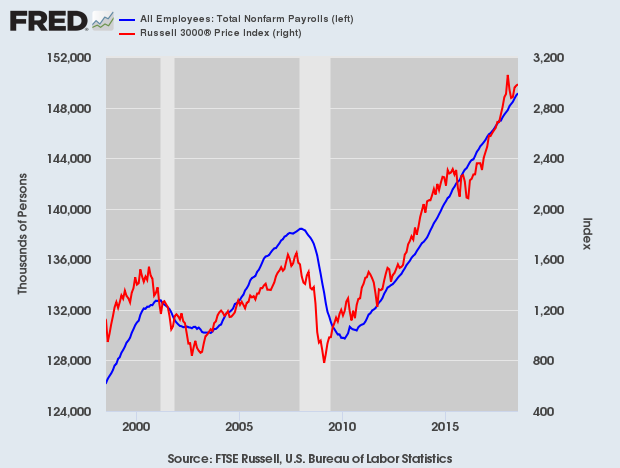 Charts: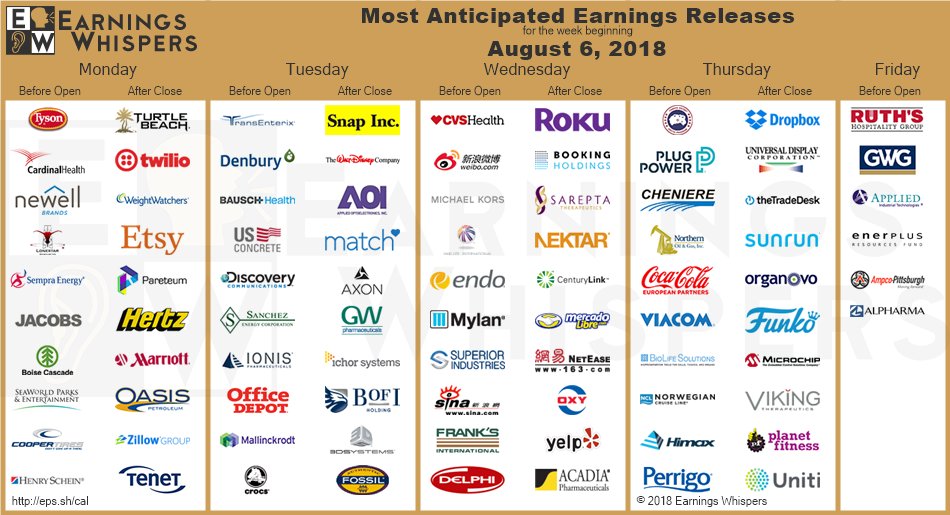 SeekingAlpha:
Chinese stocks started the week in negative territory, with the Shanghai Composite falling 1.3% on the next round of tariff threats in the escalating Sino-U.S. trade war. Considering still-tight liquidity, the benchmark index could fall below 2,638 points, seen as a key psychological level since early 2016. Over the weekend, China accused the U.S. of blackmail and said its most recent retaliatory tariffs on $60B of U.S. goods showed rational restraint.
Economy
The U.S. has the upper hand on China, President Trump said at a rally outside Columbus, Ohio, declaring that Chinese stocks are down and weakening that nation's bargaining power. The duties are working "big time," he added, suggesting they will allow paying down "large amounts of the $21T in debt that has been accumulated" while reducing taxes for Americans. China's state media lashed out in response, accusing Trump of "starring in his own carefully orchestrated street fighter-style deceitful drama" and warning it was prepared for a "protracted war."
At a regional forum in Singapore, the Asian economic bloc vowed to double down on trade pacts to minimize economic damage in the region, which is particularly exposed to fallout from the U.S.-China trade battle. Singapore's foreign minister also urged the 10 ASEAN nations to quickly conclude talks for a Comprehensive Economic Partnership trade agreement that includes China and Japan, but not the U.S.
Countries espousing free trade in response to U.S. trade war threats should just drop all their own tariffs to zero - but they won't, St. Louis Fed President James Bullard told CNBC. "Why is that not going happen? Because they're protecting their industries... So, they're protectionist." He also said that changes in the bond market, and the yield curve, are the main focus point for investors at the moment.
President Trump has declared a "major disaster" in California and ordered federal funding to be made available as the current wildfire became the fifth largest in state history. Governor Jerry Brown warned of fiscal stress last week, stating a downturn in the Californian economy is inevitable at some point and could require borrowing for such emergencies.
Britain is odds-on to crash out of the EU without a deal, U.K. Trade Secretary Liam Fox warned The Sunday Times, putting the chances of a no deal departure at "60-40." Divorce talks have stalled as the bloc accused Britain of failing to make realistic proposals, while Theresa May's Conservative government is split over how close an economic relationship it should seek with the EU.
Driven by a drop in demand from non-eurozone countries, German factory orders plunged 4% in June, compared to a rise of 2.6% in May. "Disappointing new orders data show tentative signs of trade tensions hitting the German economy, which doesn't bode well for the industrial outlook in the second half of the year," said Carsten Brzeski, chief economist at ING Germany.
Saudi Arabia is severing all new business and investment transactions with Canada after the government in Ottawa expressed concern over recent arrests of civil society and women's rights activists in the kingdom. It also gave the Canadian ambassador 24 hours to leave the country and recalled its own ambassador to Canada, saying it retained "its rights to take further action."
In response to financial sanctions the U.S. announced against two members of the Turkish government, President Erdogan has ordered the freezing of the "American justice and interior ministers' assets in Turkey, if there are any." Investors have dumped Turkish assets, with the lira tumbling more than 3% since the U.S. Treasury disclosed the penalties, fearful that escalating punitive measures are in the pipeline.
At least one explosion rocked a military event where Venezuela's President Maduro was giving a speech on Saturday. Six people have been arrested for the failed assassination attempt involving drones carrying explosives. It comes as the nation's economy suffers under a fifth year of a severe crisis that has sparked malnutrition, hyperinflation and mass emigration.
Stocks
Apple has removed links from its podcast directory to content from Alex Jones' Infowars, thrusting the tech giant into the debate over how internet platforms should handle divisive or offensive content. Separately, a computer virus outbreak at Apple (NASDAQ:AAPL) supplier Taiwan Semiconductor Manufacturing (NYSE:TSM) could delay some upcoming iPhone shipments as the chip supplier warned of a $255M hit to revenue.
Overnight earnings roundup: HSBC -1% premarket as higher expenses continued to bite profitability in Q2, with the bank stepping up tech investments and its expansion in China. SoftBank (OTCPK:SFTBF) reported a 49% rise in operating profit, boosted by the sale of its stake in Indian e-commerce firm Flipkart (FPKT). Amid higher metal prices, Rusal (OTC:RUALF) remained well in the black despite sanctions imposed on the company earlier this year by Washington.
David Solomon, Goldman Sachs' (NYSE:GS) incoming CEO, is wasting no time getting his house in order. According to the WSJ, he plans to name fixed income leader Jim Esposito as global co-head of its trading business, running the division along with Ashok Varadhan, who has been co-chief of the group since 2014. The decision ends months of leadership uncertainty in Goldman's largest and most challenged division.
Starbucks going all-in on cryptocurrency is "the biggest news of the year for bitcoin" - because it paves the way for a bitcoin ETF, according to BK Capital Management founder Brian Kelly. The coffee chain, NYSE parent Intercontinental Exchange (NYSE:ICE) and Microsoft (NASDAQ:MSFT), among others, announced on Friday they are working to launch a new company called Bakkt. Along with enabling consumers to use bitcoin and other cryptos at Starbucks (NASDAQ:SBUX), Bakkt will leverage the Microsoft cloud to create a regulated, digital asset ecosystem to buy, sell, store and spend digital currencies.
Linde shares fell nearly 9% overnight in Frankfurt, the biggest intraday loss in a year, after the FTC indicated it wants more assets sold before it approves a $42B merger with Praxair (NYSE:PX). Linde (OTCPK:LNAGF) noted a "higher likelihood" that the requirement may push total asset disposals to beyond the acceptable threshold outlined in the merger, potentially derailing the creation of the world's largest industrial gas producer.
Vaccinations against a new Ebola outbreak in eastern Democratic Republic of Congo, believed to have killed 33 people, are due to begin on Wednesday. The experimental vaccine, which is manufactured by Merck (NYSE:MRK), proved successful during its first wide-scale usage against an outbreak in northwestern Congo that was declared over less than two weeks ago. More than 3,000 doses remain in stock in the capital, Kinshasa.
Making Mercedes-Benz cars with the state-owned group since 2005, Daimler (OTCPK:DDAIF) is in talks to set up a new joint venture with Beijing Electric Vehicle to manufacture battery-powered Smart cars in China, Bloomberg reports. The news comes as China's Didi Chuxing (DIDI) said it would invest $1B in its auto services business, part of a larger unit rebranding as the company ramps up to a widely anticipated IPO.
In what appears to be the last benefits Iran will see before the U.S. restores sanctions on the regime, Tehran has taken delivery of five turboprop aircraft made by ATR - co-owned by Airbus (OTCPK:EADSY) and Italy's Leonardo (OTCPK:FINMY). Despite orders for a total of 200 planes from Western planemakers, the Islamic Republic has hardly received any aircraft. Airbus has only delivered three jets, while Boeing (NYSE:BA) does not plan any deliveries.
Today's Markets 
In Asia
, Japan 
-0.1%
. Hong Kong 
+0.5%
. China 
-1.3%
. India 
+0.4%
.
In Europe
, at midday, London 
+0.2%
. Paris 
+0.2%
. Frankfurt 
+0.3%
.
Futures at 6:20
, Dow 
+0.1%
. S&P 
+0.1%
. Nasdaq 
+0.1%
. Crude 
+1.5%
 to $69.50. Gold 
-0.4%
 to $1218.20. Bitcoin 
-0.9%
 to $6965.
Ten-year Treasury Yield
 flat at 2.95%
Today's Economic Calendar
12:30 PM TD Ameritrade IMX