Monday Morning Reads
Reads:
News:
Futures:
 Open Interest Changes:
Charts:
Earnings This Week: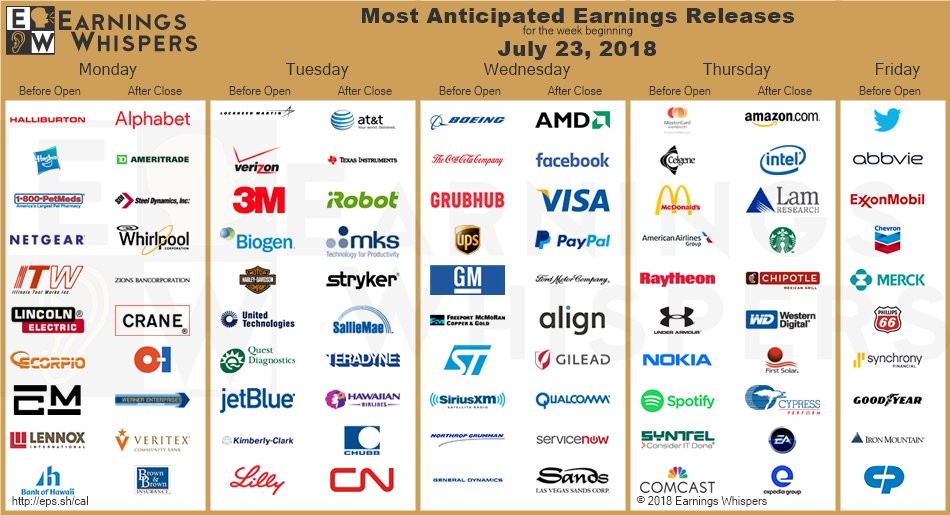 SeekingAlpha:
An earnings deluge is on the menu this week. About a third of the S&P 500 companies will report quarterly results, including three FANG stocks - Facebook (NASDAQ:FB), Amazon (NASDAQ:AMZN) and Google parent Alphabet (GOOG, GOOGL)- as well as oil majors Exxon Mobil (NYSE:XOM) and Chevron (NYSE:CVX). So far, 87% of corporations that have reported earnings have exceeded Wall Street estimates, with FactSet now forecasting Q2 profits will be up 20.8% from a year earlier.
Economy
The yen climbed and Japanese government bonds slid overnight on speculation the Bank of Japan may debate whether to change its QE program. Responding to the spike in yields, the BOJ also said it would purchase an unlimited amount of 10-year Japanese government bonds if the yield hit 0.110%. It marks the fifth time the tool was used since the yield curve control strategy was introduced in September 2015.
U.K. Prime Minister Theresa May is sending cabinet ministers across the EU this week to sell her Chequers Brexit compromise plan. It comes after Brussels rejected the U.K. scheme on how to govern London's access to the EU after Brexit, saying Theresa May's latest financial services proposal would rob the bloc of its "decision-making autonomy."
World financial leaders called for stepped-up dialogue at a G20 meeting on Saturday, but ended the gathering with little consensus on how to resolve multiple disputes over U.S. tariff actions. The communique noted while growth is strong, it's becoming less synchronized amid downside risks, including financial vulnerabilities, and heightened trade and geopolitical tensions.
Ahead of the summit, Treasury Secretary Steven Mnuchin said he "wouldn't minimize" the possibility that the U.S. will impose tariffs on all $500B worth of goods that the U.S. imports from China. He also discussed trade tensions with the EU. "If Europe believes in free trade, we're ready to sign a free-trade agreement," adding that any deal would have to eliminate tariffs, along with other barriers and subsidies.
In a conciliatory letter to President Trump, Mexican President-elect, Andrés Manuel López Obrador, said he's ready to start a new stage in U.S.-Mexico relations and seek a "common path" on trade, migration, economic development and security. The communication was made public just days before the U.S., Mexico and Canada restart talks to renegotiate NAFTA in Washington.
"To Iranian President Rouhani: NEVER, EVER THREATEN THE UNITED STATES AGAIN OR YOU WILL SUFFER CONSEQUENCES THE LIKES OF WHICH FEW THROUGHOUT HISTORY HAVE EVER SUFFERED BEFORE," President Trump tweeted after Rouhani cautioned that "war with Iran is the mother of all wars." The Islamic Republic has also warned of halting oil shipments through the Strait of Hormuz, a conduit for tankers carrying about 30% of all seaborne-traded crude, if the U.S. stopped it from exporting.
Stocks
A gravely ill Sergio Marchionne is stepping down from a number of high profile roles after suffering major complications following surgery. Jeep division boss Mike Manley will take over as FCA (NYSE:FCAU) chief executive, while board member Louis Camilleri will take the wheel at Ferrari (NYSE:RACE). Suzanne Heywood has also been named as chairwoman of truck and tractor maker CNH Industrial (NYSE:CNHI). FCAU -3%; RACE -4%; CNHI -2% premarket.
Due to bottlenecks caused by new engine emissions regulations, Volkswagen (OTCPK:VLKAY) is renting parking spaces from August to stockpile vehicles which cannot yet be sold. Up to 250,000 cars may be affected. Automakers are rushing to get models through new Worldwide Harmonised Light Vehicle Test Procedures on a limited number of exhaust emission test benches as they won't be able to sell new vehicles after Sept. 1.
Cash concerns? Tesla (NASDAQ:TSLA) is asking at least some of its suppliers to return a "meaningful" amount of money the automaker has spent since 2016, according to a recent memo. Tesla is framing the request as essential to its continued operation, calling the refund as an investment in continuing growth for all players and a standard part of procurement negotiations. TSLA -4% premarket.
Airbus is open to a merger of its jet fighter business with that of BAE Systems (OTCPK:BAESY), the Sunday Times reports. "There's just no room for three different programs, not even for two," Airbus (OTCPK:EADSY) CEO Tom Enders declared. A pan-European military aircraft firm would compete with Boeing (NYSE:BA) and Lockheed Martin (NYSE:LMT) in the U.S.
Looking at a global expansion, JD.com (NASDAQ:JD) wants to finalize its strategy for entering the European market and open an office in Germany by the end of 2018. CEO Richard Liu also told Handelsblatt he would consider takeovers to help vault China's second largest e-commerce business into the continent. "If we see a good opportunity then we will seize it."
Chinese conglomerates Alibaba (NYSE:BABA) and Tencent (OTCPK:TCEHY) are involved in talks to buy a roughly 20% stake in the Chinese unit of WPP, the world's biggest advertising group. The deal would value the business between $2B-$2.5B, according to Sky News. It comes as WPP goes through a leadership change, with founder Martin Sorrell leaving in April following a complaint of personal misconduct.
French tech services company Atos (OTCPK:AEXAY) has agreed to acquire Syntel (NASDAQ:SYNT) in an all-cash transaction valued at about $3.57B, boosting its presence in North America and relationships with financial services firms. American Express (NYSE:AXP), State Street Bank (NYSE:STT) and FedEx (NYSE:FDX) were Syntel's three largest customers in 2017, accounting for about 45% of the company's annual revenue. SYNT +3.1% premarket.
While it hasn't received any complaints of illness, Mondelez (NASDAQ:MDLZ) is recalling some Ritz Cracker sandwiches and Ritz Bits products over concern that they may include whey powder tainted with salmonella. Last month, Kellogg recalled 11M of boxes of Honey Smacks cereal due to salmonella. The tainted cereal has been linked to illnesses in at least 100 people across the U.S.
The board at Papa John's (NASDAQ:PZZA) has voted to adopt a shareholder rights plan, or "poison pill," to prevent founder John Schnatter from gaining a controlling interest in the pizza chain, WSJ reports. Schnatter previously apologized for his use of the N-word during a May conference call and agreed to step down as board chairman, but has since second-guessed his decision and indicated that he won't cede control of the company without a fight.
Running on financial fumes, Theranos (THERA) has settled another civil suit filed by investors who alleged they were defrauded by the blood-testing firm. The company previously reached costly settlements with a major investor and former retail partner Walgreens (NASDAQ:WBA), and settled civil fraud allegations by the SEC in March without admitting or denying wrongdoing. Founder and CEO Elizabeth Holmes is also facing criminal charges.
Shifting timeline? Saudi Aramco (ARMCO) aims to buy a controlling stake in petrochemical maker SABIC - which has a market cap of 385.2B Saudi riyals ($103B) - possibly taking the entire 70% share owned by Saudi Arabia's sovereign wealth fund, sources told Reuters. The potential acquisition would affect the time frame of Aramco's planned initial public offering set for later this year, according to CEO Amin Nasser.
Companies are attempting to avoid any confrontation with President Trump, but want to exert as much influence as they can to dissuade him from tearing up trade agreements or introducing fresh tariffs, Reuters reports. Amazon (AMZN) is discussing industry-wide advertising campaigns and more extensive government lobbying, while Toyota (NYSE:TM) flew workers to a rally in Washington last week as the unit's chief met key members of Congress. Alcoa (NYSE:AA) has also revealed "active discussions" with the Commerce Department about the elimination of tariffs or getting an exception for Canadian aluminum.
Today's Markets 
In Asia
, Japan 
-1.3%
. Hong Kong 
+0.1%
. China +1.%. India 
+0.6%
.
In Europe
, at midday, London 
-0.4%
. Paris 
-0.6%
. Frankfurt 
-0.4%
.
Futures at 6:20
, Dow 
-0.1%
. S&P 
-0.1%
. Nasdaq 
-0.4%
. Crude 
+1%
 to $68.96. Gold 
-0.1%
 to $1229.90. Bitcoin 
+3.9%
 to $7686.
Ten-year Treasury Yield
 flat at 2.89%
Today's Economic Calendar
8:30 Chicago Fed National Activity Index
10:00 Existing Home Sales