Earnings, charts, options, news and more
Reads:
News:
Open Interest Changes:
Unusual Option Action:
Charts:
Premium:
Futures:
Earnings: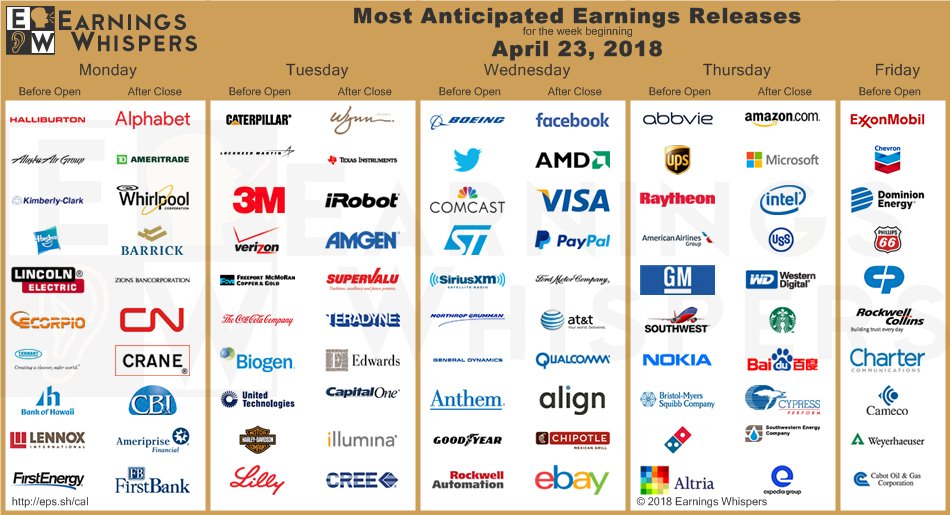 SeekingAlpha:
The 10-year Treasury yield is knocking on the door of 3%, a level it hasn't topped in more than four years. Signs of a thawing of relations between the U.S. and China are putting upward pressure as rising commodity prices force inflation expectations higher. The last time yields neared the 3% bulwark was in 2013, when they rocked risk appetite ahead of a major oil price crash.
Economy
North Korea has suspended its long-range missile tests and plans to close its nuclear test site ahead of talks between the two Koreas this week, and the U.S. in May or June. Kim Jong-un said he would make the move as "the weaponization of nuclear weapons has been verified." It will also create an "optimal international environment" to build his country's economy.
Amid tensions between the world's two largest economies, China is welcoming plans by top U.S. officials to visit the country for talks on trade and economic issues. "I am not going to make any comment on timing, nor do I have anything confirmed, but a trip is under consideration," Treasury Secretary Steven Mnuchin said in a statement.
Mexico has reached an "agreement in principle" to modernize an existing free trade deal with the EU, seeking to diversify away from dependence on an increasingly hostile U.S. The new deal will end Mexican tariffs on European food and beverages, allow the bloc to sell more services in Mexico and include a pledge by both sides to include protections for their workers and the environment.
The first state visit of the Trump era kicks off today as Emmanuel Macron arrives at the White House. The French president wants to persuade Trump to exempt European nations from steel tariffs, which are part of his plan to reduce chronic trade deficits. The two are also expected to discuss the Iran nuclear deal, as well as military strategy in Syria.
Economic momentum in the eurozone kept a steady pace in April - with IHS Markit's composite PMI remaining unchanged at 55.2 - as services activity picked up, while manufacturing growth slowed to its weakest level in more than a year. "It's very much suggestive of the ECB being in territory where it should be thinking about unwinding stimulus - and certainly not adding to it," said Chris Williamson, chief business economist at IHS Markit.
As the annual IMF and World Bank meetings drew to a close on Saturday, international finance ministers and central bank governors expressed concerns that gathering trade disputes would derail a still-strong world economy. However, the U.S. told the IMF it "must step up to the plate" in its role to reduce large surpluses in countries such as China and Germany, while protecting intellectual property around the globe.
Stocks
Following an earlier debate over an Amazon (NASDAQ:AMZN) acquisition, all major investors in Flipkart (FPKT) are now on board with a Walmart (NYSE:WMT) purchase, Bloomberg reports. A deal for 60%-80% of the Indian e-commerce giant, which is likely to top $12B, may be completed in the next two weeks. Among the issues still to be resolved are whether Flipkart's founders will continue leading the business.
UBS -3.5% premarket despite reporting a 19% jump in net profit in the first quarter of the year. Traders appeared worried by a slow performance, if investment banking was excluded, and were somewhat cautious about the outlook going forward. UBS warned that Q2 could include higher funding costs related to long-term debt and regulatory operations.
Moving deeper into sports betting, Stars Group (NASDAQ:TSG) has agreed to buy Sky Betting & Gaming in a deal valued at $4.7B. It will make the PokerStars owner the biggest publicly listed online gambling company and comes after its failed attempt to take control of Sky-rival William Hill (OTCPK:WIMHF). The cash and stock transaction is expected to be completed later this year.
Fresenius Medical Care has agreed to sell its controlling interest in Sound Inpatient Physicians Holdings to an investment consortium led by Summit Partners for $2.15B. The deal, expected to close in late 2018, will bring a pretax book gain of about €800M. Fresenius (NYSE:FMS) has also decided to pull out of its planned $4.75B acquisition of Akorn (NASDAQ:AKRX) after it found data integrity breaches at the drugmaker.
Amazon Web Services has made a new foray into the world of distributed ledger technology. The company has released Blockchain Templates for Ethereum and Hyperledger Fabric, which will make it possible for AWS (AMZN) users to build their own blockchain networks quickly and easily. Blockchain eliminates the need for a third-party intermediary by quickly creating a permanent, secure record of transactions.
After the successful debut of its European counterpart Spotify (NYSE:SPOT), Tencent Music (OTCPK:TCEHY) is reviewing plans for an IPO that could top $25B, WSJ reports. Potentially coming in the second half of 2018, it would be one of the largest deals of the year. While the IPO is expected to list in the U.S., Tencent Music is unlikely to make a final venue decision before the summer.
The U.S. Commerce Department has granted ZTE's (OTCPK:ZTCOF) request to submit more evidence after the agency barred American companies from selling to the Chinese firm. The Bureau of Industry and Security had slapped a seven-year ban on the telecom equipment maker for breaking terms of an agreement reached last year after it was found to be illegally shipping goods to Iran.
Toshiba is still aiming to complete the sale of its memory chip business soon, following rumors it had decided to cancel the $18.6B transaction if it did not get approval from Chinese regulators by May. Reports now suggest that authorities are conducting a third review of the Toshiba (OTCPK:TOSYY) deal, which is due to be completed by the end of next month.
Although its approach had so far been rejected, offshore oil services firm Subsea 7 (OTCPK:SUBCY) has offered to buy U.S. peer McDermott (NYSE:MDR) for about $2B. "The proposal is subject to the termination of McDermott's pending transaction with Chicago Bridge & Iron (NYSE:CBI)," Subsea 7 declared, adding that it could increase its "proposed price upon further discussions with McDermott management." MDR +18%; CBI -17%premarket.
GM Korea has reached a tentative wage deal with its labor union, meeting a key condition laid down by the automaker to prevent it from filing for bankruptcy. The agreement would pave the way for the Korea Development Bank to provide support and for GM to allocate new models to South Korea to help turn around the unit.
Southwest Airlines has been canceling 40 flights a day - about 1% of its nearly 4,000 daily flights - to conduct "accelerated" fan-blade inspections. A passenger was killed last week when an engine broke apart and shattered a window on a flight from New York to Dallas. Flightaware.com showed more than 500 Southwest (NYSE:LUV) flights delayed Sunday, but it's not clear how many of those were due to inspections.
Today's Markets 
In Asia
, Japan 
-0.3%
. Hong Kong 
-0.5%
. China 
-0.1%
. India 
+0.1%
.
In Europe
, at midday, London 
-0.1%
. Paris 
-0.1%
. Frankfurt 
-0.2%
.
Futures at 6:20
, Dow 
-0.1%
. S&P 
-0.1%
. Nasdaq 
-0.1%
. Crude 
-0.5%
 to $68.08. Gold 
-0.6%
 to $1329.90. Bitcoin 
+1.4%
 to $8915.
Ten-year Treasury Yield
 +4 bps to 2.99%
Today's Economic Calendar
8:30 Chicago Fed National Activity Index
9:45 PMI Composite Flash
10:00 Existing Home Sales