Monday Morning Reads
Reads:
News:
Charts:
Premium:
Earnings: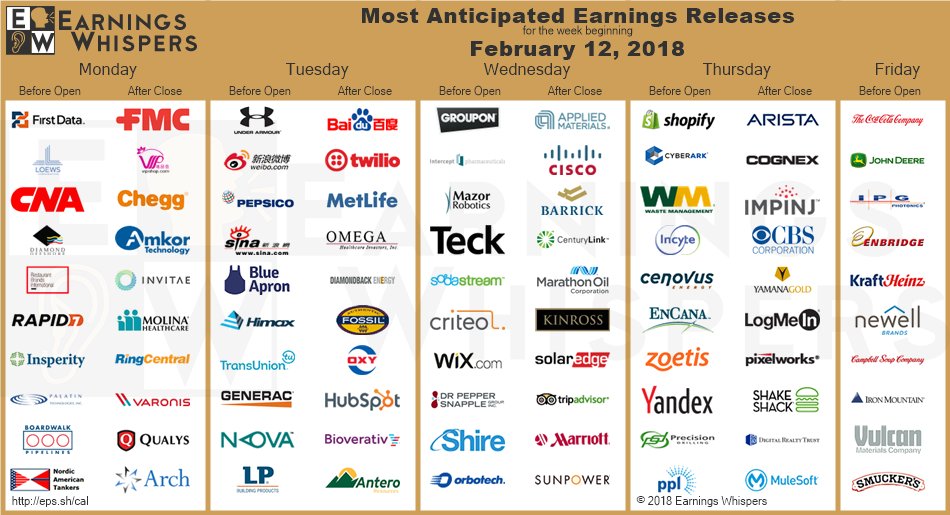 Fridays Unusual Option Action:
Seekingalpha:
The White House will roll out a long-awaited infrastructure plan today, which already faces hurdles in Congress because it doesn't offer as much new federal funding as Democrats want, or directly address how to pay for the effort. President Trump will propose spending $200B over 10 years, mostly in the form of grants designed to encourage states and cities to raise their own money for infrastructure projects, hoping to spark $1.5T in new investment.
Economy
Following last week's roller coaster ride, U.S. stock index futures are up by 1.2%, but with yields on U.S. 10-year Treasury paper touching a four-year top of 2.885%, it's too early to sound an all-clear on volatility. Another upcoming challenge will be the release of U.S. consumer price data on Wednesday - given that it was fears of faster inflation, and thus more aggressive rate rises, that triggered the global rout in the first place.
"There is a clear path forward [on NAFTA] and we're working very hard together on that path," said Canada's Justin Trudeau, capping a U.S. tour Saturday in Los Angeles. "Let's not step back from the progress our countries have made... A generation later, it can be morning in North America." He also identified several tough issues - including Chapter 11 investor-state dispute panels, U.S. proposals for the auto sector, and a U.S. demand for a sunset clause.
Longest blackout in U.S. history... An explosion at an electric substation threw much of northern Puerto Rico into darkness late Sunday in a setback to fully restore power to the territory more than five months after Hurricane Maria. Just last week, Fluor (NYSE:FLR) confirmed that its crews supporting the U.S. Army Corps of Engineers have helped to restore power to more than 232K customers throughout the island since arriving in October.
North Korean leader Kim Jong Un has invited South Korean President Moon Jae-in to Pyongyang "at an early date", potentially setting up the first meeting of Korean leaders in more than a decade. Moon steered clear of any immediate commitments in response to the North's offer, saying he hoped to "create the environment" for such a summit to take place. The development extends a thaw in cross-border relations that saw the two Koreas' athletes march together under a unified flag at the Pyeongchang Winter Olympics.
Stocks
Comcast is considering a new offer for Twenty-First Century Fox's (NASDAQ:FOXA) assets despite an agreement in December to sell them to Walt Disney (NYSE:DIS) for $52.4B, WSJ reports. Its original bid was reportedly around $60B, but there were concerns that a deal could face antitrust challenges. Comcast (NASDAQ:CMCSA) might even be prepared to remove certain assets from the deal, or zero in on something in particular, such as European pay TV giant Sky (OTCQX:SKYAY).
Walt Disney is also changing the admission price for its U.S. theme parks, raising the cost of some single-day tickets by almost 9%. Theme parks are Disney's (DIS) second-largest division, bringing in $18.4B in revenue and $3.8B in operating income for the fiscal year that ended in September. In other news, Alibaba (NYSE:BABA) has signed a deal to offer Disney shows on its Youku video streaming platform.
Broadcom has secured as much as $100B of debt financing for its attempted takeover of Qualcomm (NASDAQ:QCOM), WSJ reports. Locking down funding for the deal would remove a major question mark over the hostile bid, which if successful would be the biggest technology takeover ever. Qualcomm and Broadcom (NASDAQ:AVGO) intend to meet Wednesday to discuss the potential deal.
In a sale overseen by the Chinese government, Blackstone (NYSE:BX) may be reacquiring some assets from Anbang, including New York's Waldorf Astoria hotel and Strategic Hotels & Resorts, Bloomberg reports. Blackstone scored big in 2016 when a company it owned - Hilton Worldwide - sold the Waldorf for a record $1.95B. Less than two years later, Blackstone sold its stake in Hilton to China's HNA Group.
1 of every 13 visits to the doctor last week was for fever, cough and other symptoms of the flu, tying the highest level of the virus seen in the U.S. since the swine flu of 2009. "This is a difficult season, and we can't predict how much longer the severe season will last," said Dr. Anne Schuchat, acting director of the CDC. Deaths from influenza and pneumonia, which are closely tied to each other in the winter months, were also responsible for 1 of every 10 deaths last week, and that's "likely to rise."
OxyContin maker Purdue Pharma is stopping to promote the drug and other opioids to doctors amid a series of state and municipal lawsuits that blame the company for contributing to the opioid epidemic. It will also cut its U.S. sales force by more than 50%, to about 200 people, while remaining representatives "will no longer be visiting offices to engage in discussions about opioid products." Related tickers: JNJ, ENDP, TEVA, ABC, MCK, INSY, DEPO, AGN, ALKS, MNK, AMPH, PFE, TTNP, BDSI, DRRX, CARA, COLL, EGLT, PTIE, ACUR, PTX, ACRX,IPCI, KMPH, TRVN, CXW, BDSI, OPNT
Citigroup is setting up an innovation center in London in one of the first investments by a big U.S. bank since Brexit, FT reports. The location will house 60 technologists, as well as the EMEA unit of Citi ventures and employees from across the company's businesses. Despite the move, Citi (NYSE:C) has picked Frankfurt for its new post-Brexit EU headquarters.
One of the final fines for banks involved in the financial crisis looks to be nearing resolution. The U.K. Treasury has held secret talks with U.S. officials aimed at accelerating a multibillion dollar fine for Royal Bank of Scotland (NYSE:RBS) that would finally draw a line under its pre-bailout misconduct, Sky News reports. While RBS has already set aside £2.4B to cover the DOJ penalty, some analysts predict a fine could be higher than £5B.
Credit Suisse faces a U.S. class action lawsuit over $1B in writedowns it took in 2015 and 2016 linked to its trading division, leading to a drop in share price and costing investors millions, SonntagsZeitung reports. The plaintiffs in the case include the pension funds of fire departments and police departments in the U.S. city of Birmingham. According to Credit Suisse (NYSE:CS), the case is "without merit."
Warren Buffett's footprint is expanding to Dubai. Berkshire Hathaway Specialty Insurance (BRK.A, BRK.B) has established an office in the Dubai International Financial Center after gaining a license from the regulator. The insurer also has Asian regional hubs in Hong Kong, Singapore, Malaysia and Macau as it seeks to win over new clients in the region.
Unilever is threatening to pull back its advertising from popular tech platforms, including YouTube (GOOG, GOOGL) and Facebook (NASDAQ:FB), if they don't do more to combat the spread of fake news, hate speech and divisive content. According to Unilever's (NYSE:UL) annual report, the consumer-products giant is one of the world's largest advertisers, spending more than $9B last year to market its brands such as Lipton, Dove and Knorr.
Amazon paid about $90M to buy the maker of Blink home security cameras late last year, in a bet on the startup's energy-efficient chips, sources told Reuters. Analysts had thought the deal related to smart delivery program Amazon Key, but it may have centered on lowering production costs and lengthening the battery life of the Amazon (NASDAQ:AMZN) Cloud Cam and Echo speaker. Blink says its cameras can last two years on a single pair of AA lithium batteries.
Takata's U.S. unit has reached a settlement with representatives of those fatally injured by defective air bags, paving the way for the company to exit Chapter 11 bankruptcy and move forward with a reorganization plan. At least 16 people have died and more than 180 have been injured due to Takata's (OTCPK:TKTDQ) inflators, which touched off the largest series of automotive recalls in U.S. history.
"The response from our customers regarding our new full-size SUVs has been exceptional," said Joe Hinrichs, president of global operations for Ford (NYSE:F). As a result, the automaker will expand production of the Expedition and Lincoln Navigator by approximately 25%. According to research firm AutoData, Navigator sales surged 88.6% in January.
Emirates has firmed up an order to buy as many as 36 Airbus (OTCPK:EADSY) A380 aircraft worth as much as $16B at list prices, ensuring production of the world's biggest passenger jet for at least the next decade. The order, for 20 of the double-decker planes with an option for 16 more, was originally announced on a provisional basis in mid-January. Deliveries are due to begin in 2020.
Airbus has also halted all deliveries of its Pratt & Whitney-powered (NYSE:UTX) A320neo after the latest disclosure in a series of flaws with the next-generation engine, according to IndiGo, the company's biggest customer for the aircraft. EASA has warned of a new issue on the troubled engine program that may be connected to several in-flight shut downs, Bloomberg reports, and as many as 11 of the 113 delivered Pratt-powered A320neos (OTCPK:EADSY) have been grounded.
Space station privatization? The White House plans to stop funding the ISS after 2024 and is working on a transition plan that could turn the station over to the private sector, The Washington Post reports. NASA already subcontracts certain ISS support operations, such as supply flights carried out by SpaceX (Private:SPACE) and Orbital ATK (NYSE:OA), while Boeing (NYSE:BA) operates the station for NASA, which costs the agency $3B-$4B per year.
Today's Markets 
In Asia
, Japan 
-2.3%
. Hong Kong 
-0.2%
. China 
+0.8%
. India 
+0.9%
.
In Europe
, at midday, London 
+1.1%
. Paris 
+1.3%
. Frankfurt 
+1.5%
.
Futures at 6:20
, Dow 
+1.2%
. S&P 
+1.2%
. Nasdaq 
+1.2%
. Crude 
+1.7%
 to $60.20. Gold 
+0.5%
 to $1322.10. Bitcoin 
+7.2%
 to $8651.
Ten-year Treasury Yield
 +5 bps to 2.88%
Today's Economic Calendar
2:00 PM Treasury Budget