Monday Morning Reads
Reads:
News:
Charts:
Premium:
Futures:
Earnings: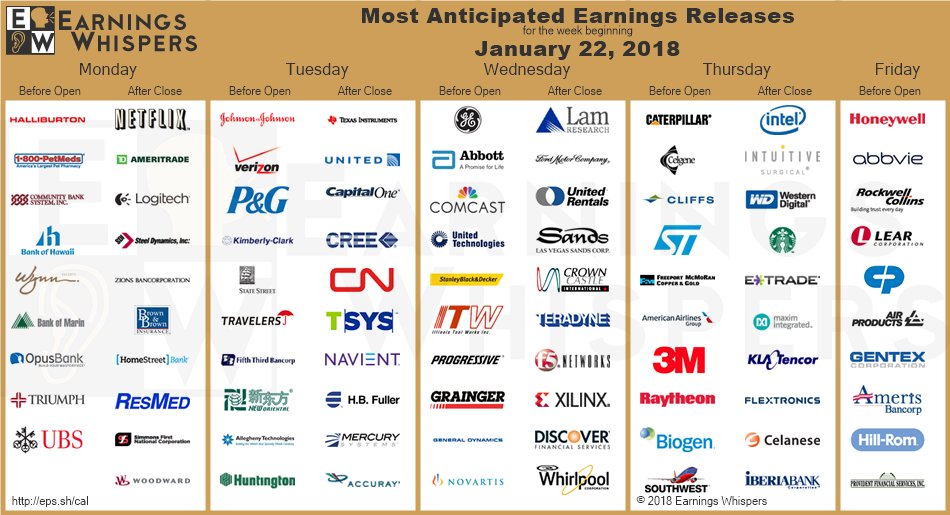 Unusual Option Action:
Seekingalpha:
As the government shutdown enters a third day, U.S. futures are edging down, the dollar is pulling back slightly and Treasury yields are touching 3 1/2-year highs. "We have to see if this event is a trigger to change the market trend," said Takafumi Yamawaki, research analyst at JPMorgan Securities. The U.S. Senate has scheduled a noon vote for today on a stopgap spending measure, ensuring the federal government will remain closed when the work week begins.
Economy
While broader markets have shown only modest weakness during shutdowns, with the S&P 500 falling an average of 0.6% historically over the period of closure, many corporate names can be affected by fallout. For example, defense companies like Lockheed Martin (NYSE:LMT), Boeing (NYSE:BA) and Raytheon (NYSE:RTN) are warning about contract costs and contingency plans amid uncertainty over the military budget.
The sixth round of NAFTA negotiations kicked off yesterday in Montreal, with many observers believing these could be make-or-break talks. President Trump called the trade agreement a "bad joke" in a tweet last week and the goal of Canadian and Mexican officials now seems to be shifting toward making sure there's enough progress that the U.S. administration won't pull the plug on negotiations.
The euro is heading higher following a crucial vote by Germany's Social Democrats to enter formal coalition talks with Chancellor Angela Merkel's conservatives, ending four months of political uncertainty. Gains may be capped, however, after Emmanuel Macron said France would "probably" have voted to leave the EU if it had held a referendum "in a similar context" to Brexit. Euro +0.2% to $1.2250.
Eurozone finance ministers meeting in Brussels today are expected to tentatively sign off on the latest set of the Greek government's economic overhauls and agree to disburse €6.7B in aid over the coming weeks. While some of the terms attached to the latest bailout review still remain to be completed, 95 out of the some 110 policy conditions had been met as of Sunday.
Southeast Asian governments are poised to introduce taxes on e-commerce sales as they look to claim their fiscal take from one of the region's most buoyant sectors, FT reports. Singapore, Thailand and Malaysia are among the countries introducing such taxes or considering doing so, putting online retailers on a level playing field with their bricks-and-mortar peers.
Turkey's lira weakened last week over the likelihood of a campaign in Syria, which just began over the weekend. Turkish jets and ground forces pounded positions of a Syrian Kurdish force allied with the U.S. in the fight against Islamic State, opening a new front in the seven-year Syrian war. Turkey aims to create a 30 kilometer "safe zone" as part of its operation in the Afrin province.
Saudi Energy Minister Khalid Al-Falih urged global oil producing nations on Sunday to extend their cooperation beyond 2018 at a compliance meeting between OPEC and non-OPEC members in Muscat, Oman. "This doesn't necessarily mean sticking barrel by barrel to the same limits or cuts, or production targets country by country that we signed up to in 2016, but assuring stakeholders, investors, consumers and the global community that this is something that is here to stay."
Stocks
Sanofi is close to acquiring Bioverativ (NASDAQ:BIVV) for $105 a share, valuing the hemophilia drug maker - separated from Biogen (NASDAQ:BIIB) last year - at about $11.6B. Sanofi (NYSE:SNY) expects the purchase to be immediately accretive to its EPS in the 2018 full financial year, up to 5% accretive for the following year and achieve a ROIC in excess of the cost of capital before 2021. BIVV +62.5% premarket.
Health officials said that 32 people under 65 died from flu in the last seven days, making it the deadliest week of the season so far. Thirty-two states also reported high patient traffic, making it the busiest week for flu symptoms in nine years. "This is a season that has a lot more steam than we thought," said Dr. Dan Jernigan of the CDC. Flu vaccine manufacturers: SNY, GSK
Nearly a year after it was promised, Amazon's (NASDAQ:AMZN) first automated grocery store - promising "no lines, no checkouts, no registers" - is opening to the public in Seattle. Technology detects everything consumers are taking or returning to shelves and charges their account when they walk out. The concept raises questions about job creation and destruction by Amazon, especially if the model is implemented at Whole Foods.
Walmart is in talks with buyout firm Advent International and other funds to sell a major stake in its Brazilian operations, Reuters reports. It's been a rough ride for the big-box retailer in the Latin American country. In 2016, Walmart (NYSE:WMT) shuttered at least 10% of its local stores after posting operating losses in Brazil for seven years in a row.
Toshiba is considering an IPO of its memory chip business if an agreed $18B sale of the unit to Bain Capital fails to gain antitrust approval by the end of March, FT reports. Toshiba (OTCPK:TOSYY) no longer faces the pressure it once did to complete a sale, after raising ¥600B ($5.4B) with a new share issue late last year, which with tax write-offs gives it sufficient funds to cover its liabilities.
UBS -2.6% premarket after its corporate results were hit by a $3B writedown from the U.S. tax overhaul, with profits totaling 1.165B Swiss francs last year vs. 3.3B Swiss francs in 2016. Despite the news, UBS said it would increase its dividend, introduce a new share buyback program, and merge its U.S. and international wealth management divisions.
24-hour trading? TD Ameritrade (NASDAQ:AMTD) is now offering around the clock trading on its platform for several popular ETFs, while the service for individual stocks may not be too far away. The move lets users buy and sell when market-moving news hits overnight - between the after-hours and premarket session (8 p.m. to 4 a.m. ET). Trades will be placed as limit orders and are executed through electronic communication networks.
While "the cause is currently under investigation," a U.S. Army Apache attack helicopter crashed in the predawn hours early Saturday while flying a routine training mission at the National Training Center at Fort Irwin in California. Both the pilot and the co-pilot were killed, marking the first known deadly accident for the U.S. military in 2018. The AH-64 Apache is made by Boeing (BA) in Arizona.
Carl Icahn and Darwin Deason, top shareholders of Xerox (NYSE:XRX) who together own 15.7% of the photocopier pioneer, are pushing the company to explore options, including a sale of the firm, WSJ reports. The alliance also plans to ask Xerox to break its long-running joint venture with Fujifilm (OTCPK:FUJIY), and immediately fire chief executive Jeff Jacobson.
Two of Microsoft's official distributors in Russia, RRC and Merlion, have imposed restrictions on sales of Microsoft (NASDAQ:MSFT) software to more than 200 local firms following new U.S. sanctions. The measures cut the duration of loans that can be offered to Russian entities, meaning companies supplying goods and services to their clients fear they could fall foul of the rules.
Twitter COO Anthony Noto has been offered to become the next chief executive of Social Finance (Private:SOFI), WSJ reports, as the online lender grapples with accusations of improper workplace culture. He may turn down the offer, as terms haven't yet been completed, or Twitter (NYSE:TWTR) might lobby hard to keep him, especially with CEO Jack Dorsey splitting his time between the social-media service and Square (NYSE:SQ).
According to an internal memo, Philadelphia Energy Solutions (BATS:PESC), the owner of the largest U.S. East Coast oil refining complex, plans to file for Chapter 11 bankruptcy. It comes six years after Carlyle Group (NASDAQ:CG) and Sunoco (NYSE:ETP) rescued the company from financial distress, in a deal that was supported by tax breaks and grants that saved thousands of jobs.
The U.S. Commerce Department has sent President Trump the results of its national security probe into aluminum imports and is now awaiting his response. The question of whether to order broad tariffs or quotas has been the subject of intense debate in the White House, pitting officials who favor more aggressive restrictions against pro-business factions who favor a more cautious approach. Related tickers: AA, ACH, CENX, CSTM, FOIL, JJU, KALU, RS
Today's Markets 
In Asia
, Japan flat. Hong Kong 
+0.4%
. China 
+0.4%
. India 
+0.8%
.
In Europe
, at midday, London flat. Paris flat. Frankfurt 
+0.1%
.
Futures at 6:20
, Dow 
-0.2%
. S&P 
-0.1%
. Nasdaq 
-0.1%
. Crude flat at $63.31. Gold steady at $1332.90. Bitcoin 
-0.2%
 to $11504.
Ten-year Treasury Yield
 +1 bps to 2.65%
Today's Economic Calendar
8:30 Chicago Fed National Activity Index