Monday Morning Reads
Reads:
News:
Charts:
Premium:
Fridays Unusual Option Action
Earnings This Week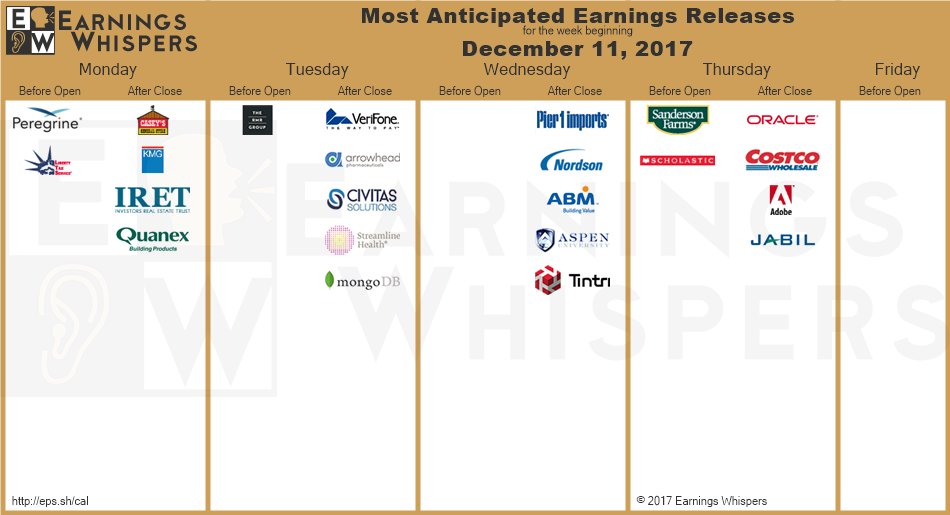 Seekingalpha:
Futures on the world's most popular cryptocurrency - trading under symbol "XBT" - surged as much as 25% to $18,850 during their debut session on the CBOE Futures Exchange, triggering two temporary trading halts meant to cool volatility. About 2,700 contracts for January changed hands. Bitcoin rallied as the futures launched, up 12% to $16,773, according to CoinDesk.
Economy
Brexit Secretary David Davis has clashed with the Irish government after claiming that Friday's Brexit deal between Britain and the EU was a "statement of intent" rather than something legally enforceable. It might not even be enacted if a free trade agreement can't be reached, he told The Andrew Marr Show. "Both Ireland and the EU will be holding the UK to the phase one agreement," warned officials from Dublin.
The World Trade Organization's 11th ministerial meeting has opened in Buenos Aires amid concerns that the U.S. is pulling back from its position as the world's preeminent guardian of free trade. "It is the responsibility of us all to face up to the challenges of the 21st century and convert them into opportunities for a more inclusive future," said host country president, Argentina's Mauricio Macri.
North Korea said Sunday that a maritime blockade would be a declaration of war, in reference to one of the new sanctions the United States mentioned it could impose on Pyongyang. The comments came as the U.S., South Korea and Japan launched rocket tracking drills today aimed at improving detection and monitoring of the isolated regime's ballistic missile tests.
Iraqi Prime Minister Haider al-Abadi declared final victory over Islamic State on Saturday, three years after the militant group captured about a third of the country's territory. "Our coalition will continue to stand with Iraq to support its security forces, economy, and stabilization to help ensure that ISIS can never again threaten Iraq's people," said Brett McGurk, U.S. envoy to the coalition against Islamic State.
Saudi Arabia has lifted a 35-year-old ban on movie theaters in a move that opens the conservative kingdom to Hollywood-style entertainment. It coincides with Crown Prince Mohammed bin Salman's efforts to modernize the economy and attract more foreign investment. "Opening cinemas will act as a catalyst for economic growth and diversification," said Awwad Alawwad, the Saudi minister of culture and information.
Southern California's largest wildfire continued to grow Sunday, threatening seaside communities in Santa Barbara County and prompting new evacuation orders. As a result, officials revised containment downward, from 15% to only 10%. The wildfires wiped out almost $3B of market value for Edison International (NYSE:EIX) last week and threatened operations of companies like Snap Inc. (NYSE:SNAP) and California Resources (NYSEMKT:CRC).
Stocks
Non-profits Ascension and Providence St. Joseph Health are in talks about a merger that would combine 191 hospitals in 27 states with annual revenue of $44.8B, WSJ reports. That would surpass the current largest U.S. hospital operator, HCA Healthcare (NYSE:HCA), a for-profit company. Proponents say the move could reduce unnecessary spending, but critics fear it could limit patient choices and raise prices.
HSBC +1.2% premarket after its deferred prosecution agreement with the U.S. Department of Justice expired, marking an end to the threat of further punishment for lapses in its anti-corruption controls. HSBC agreed to the five-year deal in 2012, paying $1.9B for failing to prevent Mexican cartels from laundering hundreds of millions of dollars through the bank.
The "spaceship" of Silicon Valley has landed in Cupertino, but the question remains: How much did it cost to build? Construction analytics startup BuildZoom estimated in October that the new Apple (AAPL) Park cost more than $1.1B, based on the building permits. But longtime Santa Clara County Assessor Larry Stone thinks the campus price may be closer to $5B - or just about the cost of 5M iPhone X's.
GGP, one of the largest owners and operators of U.S. shopping centers, has rejected a $14.8B buyout offer from its biggest shareholder, Brookfield Property Partners (NYSE:BPY), Reuters reports. Brookfield made the offer last month for the 66% of GGP it does not already own. A combination would have created one of the world's largest publicly traded property companies.
NBC News Anchor Megyn Kelly will conduct a live interview at 9 a.m. this morning with three women - Jessica Leeds, Samantha Holvey and Rachel Crooks - who have publicly accused President Trump of sexual misconduct. Responding to NBC News (NASDAQ:CMCSA), White House Press Secretary Sarah Huckabee Sanders said: "The president addressed these accusations directly during the campaign and we have no changes."
Offering a glimpse of what mobility might look like in 2023, Renault (OTCPK:RNLSY) has shown off a self-driving car prototype called SYMBIOZ. The all-electric vehicle is capable of handling level 4 autonomous driving, meaning that the auto can operate with little or even no input from the driver. Cool feature: When the car is driving by itself, its headlights change color to blue.
Nokia's chief operating officer is leaving the company after just eight months in the job. Monika Maurer will be replaced by Joerg Erlemeier, currently an SVP for Nokia Transformation. Nokia (NYSE:NOK) shares lost almost a fifth of their value after the firm in October reported a sharp drop in earnings, citing a weak overall market and internal problems surrounding its acquisition of Alcatel-Lucent.
Looking to expand its iPhone manufacturing in the country, Apple (NASDAQ:AAPL) has asked India to defer a planned increase in import taxes on mobile phone parts, but the government is unlikely to accede. "Apple wants duty-free imports of components. India wants indigenization," a source told Reuters. Despite a boom in smartphone sales in India, Apple's market share is only around 2%.
Today's Markets 
In Asia
, Japan 
+0.6%
. Hong Kong 
+1.1%
. China 
+1%
. India 
+0.6%
.
In Europe
, at midday, London 
+0.5%
. Paris 
-0.1%
. Frankfurt 
-0.1%
.
Futures at 6:20
, Dow 
+0.2%
. S&P 
+0.1%
. Nasdaq 
+0.2%
. Crude 
-0.3%
 to $57.21. Gold 
+0.3%
 to $1252.60. Bitcoin 
+12%
 to $16773.
Ten-year Treasury Yield
 -1 bps to 2.37%
Today's Economic Calendar
10:00
Job Openings and Labor Turnover Survey
1:00 PM
Results of $20B, 10-Year Note Auction