Monday Morning Reads
Reads:
News:
Earnings:
Charts:
Tweets: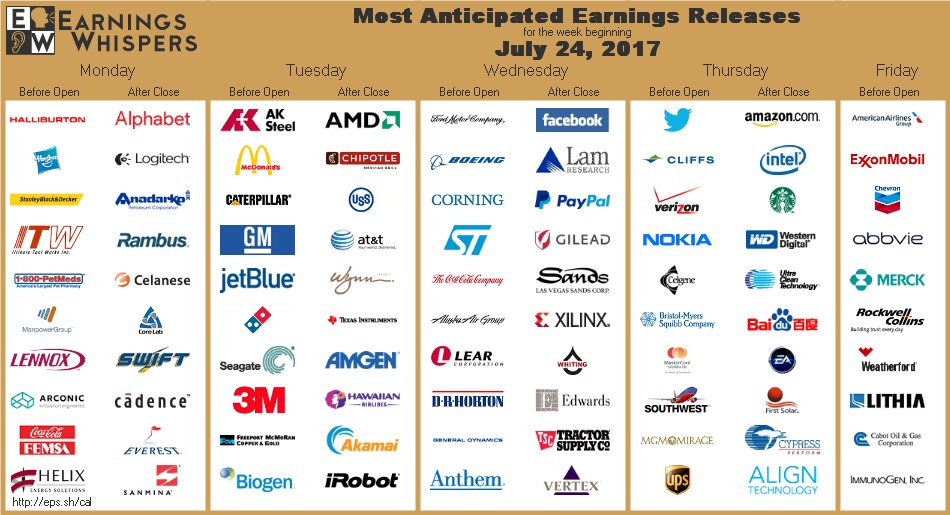 Seekingalpha:
European exchanges are lower as the euro hits a 23-month high against the U.S. dollar, weighing on shares of European exporters. The U.S. Dollar Index dropped 1.4% last week and is down 1.7% this month after touching its lowest level in more than a year. "A weaker dollar seems to be the path of least resistance given the soft data coming out of the U.S. and the political uncertainty," says Michael Hewson, chief markets strategist at CMC Capital Markets in London. Also, euro zone economic data indicates slower growth than expected, as the IHS Markit flash purchasing index for July slipped to a six-month low. Analysts say the weaker PMI is unlikely to signal the start of a sharp slowdown, but the slowing pace of growth and easing price pressures suggest the ECB will be in no rush to taper policy.
Economy
Nigeria and Libya should join the global oil production agreement as soon as their output stabilizes, Russian Energy Minister Novak has said, leading up to today's critical meeting of OPEC countries and Russia in St. Petersburg. Energy ministers, including Novak and Saudi Arabia's Khalid al-Falih, have held a series of "intensive consultations" over the weekend about the challenges for the deal struck last year to take ~1.8M barrels of crude oil off the global market, but prices have remained stubbornly low as the glut persists and production ramps up from Nigeria and Libya, who were exempt from the deal because of supply disruptions. Officials caution against expecting major action right away from the meeting, as the group still is weighing how to deal with U.S. producers, which remain largely out of the group's control.
Congressional leaders have reached an agreement on a set of sweeping sanctions against Russia as punishment for interference in the 2016 U.S. election, engagement in Syria and the annexation of Crimea. Press Secretary Sarah Huckabee Sanders indicated Pres. Trump likely would support the bill, saying Sunday that original sanctions legislation "was poorly written but... we support where the legislation is now." Meanwhile, the European Union could retaliate against U.S. sanctions on Russia, worried about potential harm to European energy deals. Any significant retaliation would require the support of the EU's 28 governments, and could face resistance from members such as the U.K. and Hungary.
With the goal of boosting trans-Atlantic trade after Brexit, U.K. International Trade Secretary Liam Fox will hold talks with U.S. counterpart Robert Lighthizer today and with Mexico's Economy Minister Ildefonso Guajardo later in the week. Fox says a transitional agreement would help U.K. businesses making investment decisions but that such a deal would need to end before the country's next election in 2022. The meetings are a delicate matter for relations between the U.K. and European Union since Britain is not allowed to sign trade deals on its own before it leaves the EU. Fox says it is too early to know exactly what might be covered in a potential agreement with the U.S., but some companies and trade unions have warned of risks in trying to secure a deal too quickly.
The IMF has lowered its forecasts for U.S. economic growth this year but kept its global growth outlook unchanged for this year at 3.5% and next year at 3.6%. In its latest World Economic Outlook, the IMF cut its U.S. GDP forecast for 2017 to 2.1% from its previous outlook of 2.3%, and for 2018 to 2.1% from 2.5%, "primarily reflecting the assumption that fiscal policy will be less expansionary going forward than previously anticipated." Slowdowns in the U.S. and U.K. are expected to be offset by an improved outlook for growth in most of the euro zone and Japan; China is still seen growing by 6.7% in 2017 and 6.4% in 2018.
Stocks
Earnings announcements are on tap this week from the top internet companies, with Google parent Alphabet (GOOG, GOOGL) up today after the close, followed by Facebook (NASDAQ:FB) on Wednesday, and Amazon (NASDAQ:AMZN) and Twitter (NYSE:TWTR) on Thursday. Eddy Elfenbein, editor of the Crossing Wall Street blog, is watching Alphabet's report as a bellwether for technology stocks. "So much of their revenue is based on advertising, and that is so important for the tech industry. So we know that, if ad dollars are flowing to Google, there's a very good chance they are flowing to these other, smaller tech companies within the broader tech sector as well," Elfenbein says. J.P. Morgan research says it has high expectations for the group given their strong year-to-date stock performance, with Netflix's (NASDAQ:NFLX) strong Q2 subscriber gains likely raising the bar even higher.
Looking to head off a lengthy deal review, Amazon (AMZN) plans to re-file documents this week seeking government approval of its planned purchase of Whole Foods (NASDAQ:WFM) allowing for more time to complete an early review of the tie-up. It's a tactic companies sometimes use in the hopes that antitrust regulators will get comfortable enough with a deal during the extended initial review that they will agree to forgo a longer probe. Antitrust advocates and Democrats in Congress have called for a close review of the purchase, raising questions about what the deal might mean for Amazon's online muscle and for the future of the retail grocery industry, but others believe an AMZN-WFM combination would not have a dominant share of the grocery market.
The United Auto Workers is talking with General Motors (NYSE:GM) about the potential threat to plants and jobs from slumping U.S. car sales, and whether products currently made at underused car plants such as in Hamtramck, Mich., and Lordstown, Ohio, might be replaced with newer, more popular vehicles. GM reportedly is reviewing whether to cancel at least six passenger cars in the U.S. market after 2020: Buick LaCrosse, Cadillac CT6, Cadillac XTS, Chevrolet Impala, Chevrolet Sonic and Chevrolet Volt. The Volt is a "hugely important" car for Chevrolet, AutoBlog's Reese Counts says, believing that supplementing it with a crossover might make more sense than replacing it with one. Meanwhile, GM will report Q2 earnings on Tuesday, followed by Ford (NYSE:F) on Wednesday and Fiat Chrysler (NYSE:FCAU) on Thursday.
After mistakenly releasing sensitive financial data on more than 50,000 of its wealthiest clients, Wells Fargo (NYSE:WFC) can expect to attract further regulatory scrutiny following last year's costly scandal involving fake accounts. The data - which contained copious spreadsheets including customers' names, Social Security numbers and investment holdings - was inadvertently sent to a lawyer involved in a defamation suit against a bank employee, and contained no protective orders or confidentiality agreements that could prevent the information from entering the public record. WFC's latest debacle may not rise to the level of the earlier scandal that has cost at least $500M in fines, remediation, consultants and civil litigation, but it further calls into question the bank's ability to manage its people and information.
KKR is nearing a deal to acquire WebMD (NASDAQ:WBMD) in a deal that could be announced as soon as today, Reuters reports. WBMD has been running a five-month auction and soliciting bids from more than 100 companies and P-E firms, according to the report; terms of the deal are not known. The deal would combine WBMD's websites - including WebMD.com, Medscape.com and MedicineNet.com - with those owned by KKR's (NYSE:KKR) Internet Brands Inc. - such as DentalPlans.com, VeinDirectory.org and AllAboutCounseling.com.
Today's Markets 
In Asia
, Japan 
-0.6%
. Hong Kong 
+0.5%
. China 
+0.4%
. India 
+0.5%
.
In Europe
, at midday, London 
-1%
. Paris 
-0.1%
. Frankfurt 
-0.3%
.
Futures at 6:20
, Dow 
-0.1%
. S&P 
-0.1%
. Nasdaq 
-0.1%
. Crude 
+0.9%
 to $46.20. Gold 
+0.2%
 to $1,257.10.
Ten-year Treasury Yield
 unchanged at 2.23%
Today's Economic Calendar
9:45 PMI Composite Flash
10:00 Existing Home Sales