Friday Morning Reads
Reads:
Futures:
OPEN INTEREST: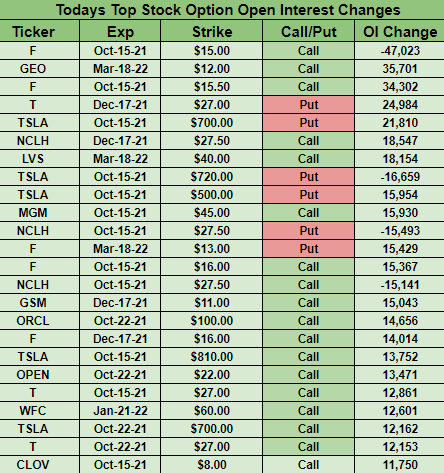 premium:
SeekingAlpha
Investors will be keeping a close eye on rising costs as the Q3 earnings season kicks off this week. Price pressures could pose a problem for corporate profits in the current quarter and beyond, with the S&P 500 already down 3.2% from its September record. Supply chain bottlenecks, labor problems and outsized demand are all leading to shortages, while a jump in raw material costs is pressuring companies' bottom lines.
Red flags: Last month, FedEx (FDX) dropped 9.1% after reporting soft earnings and cutting its financial outlook due to a challenging labor market. Nike (NKE) also slid 6.3% on lower-than-expected revenue from lost production in Vietnam, while Bed Bath & Beyond (BBBY) plunged 22% after citing inflation for a sharp decline in quarterly sales. Ballooning costs could spread to the banking sector, with JPMorgan (JPM) kicking off Q3 earnings on Wednesday. Lenders may be squeezed by rising pay and hefty spending on technology to compete with fintech challengers.
Analysts expect that earnings from S&P 500 companies grew 29.6% in the third quarter from a year earlier, when businesses were working to recover from the effects of the pandemic. But that's down from 96.3% growth in Q2, according to IBES data from Refinitiv, which also sees net profit margins declining from the previous quarter.
Commentary: Costs have emerged as "a great wild card for the quarter and for the outlook" of the industry, said John McDonald, senior analyst for large-cap banks at Autonomous Research. "If they're having to pay more and they're unable to pass it on to end purchasers or consumers and it's hitting profitability, that's something that will be concerning," added Holly MacDonald, chief investment officer at Bessemer Trust. Companies have already attempted several techniques to clamp down on costs, such as cutting back on customer services and conveniences, or shrinkflation, where product sizes are slimmed down but prices are kept the same.
Stock futures are edging lower once again in volatile October trade as investors continue to digest the weaker-than-expected jobs market published on Friday: The Labor Department reported that the economy added just 194K jobs in September, compared to estimates for 500K, giving way to debate about future tapering. Some feel that could push the Fed's timeline into next year, though others feel it had to be an extremely bad report to derail plans for removing stimulus.
Not helping the situation: Economists at Goldman Sachs have cut their outlook for U.S. growth this year and next, pointing to a delayed recovery in consumer spending. Along with a forecast that semiconductor supply won't improve until the second half of next year and that inventory restocking will be postponed, "argues for a less front-loaded recovery from here than we had expected," they added. Growth of 5.6% on an annual basis is now expected in 2021, versus a previous estimate of 5.7%, as well as 4% in 2022, down from prior forecasts of 4.4% (the downgrades were mostly offset by upgrades to their projections for the following two years).
"The pace of growth is decelerating, but it's still at a meaningful level," said Terry Sandven, chief equity strategist at U.S. Bank Wealth Management. Given the labor shortages and inflationary pressures, "we'll be looking to see to what extent demand is there, and what does it mean for the important holiday spending period."
Elsewhere: More data on the health of the economy will also be published this week, with the U.S. consumer price index for September being released on Wednesday and retail sales data on Friday. Meanwhile, WTI crude oil futures (CL1:COM) continue to extend their uptrend, up 2.6% to $81.42/bbl, amid a global energy crunch and tightening supply outlook. "Energy markets are solidifying at the upper end of recent trading ranges as the fear factor and right tail risks become more embedded heading into the winter months that could exacerbate the energy crisis in Europe and Asia," wrote analysts at TD Securities.
#SouthwestAirlines was a trending topic on Twitter over the weekend, but not in a good way. Tens of thousands of travelers were stranded in airports across the country as the carrier canceled over 1,000 flights on Sunday, or 28% of its schedule, with over 500 flights delayed. That's on top of the 808 cancellations on Saturday, or nearly one in four flights.
In comparison: American Airlines (AAL) canceled 63 flights on Sunday (2% of its operation), Delta (DAL) canceled three flights (less than 1% of its book) and United (UAL) canceled six flights (less than 1% of its schedule), according to FlightAware. The developments also came during a busy travel holiday weekend. Some businesses, government agencies and banks will be closed today for Columbus Day or Indigenous Peoples' Day, though the stock market will be open.
Southwest (LUV) blamed the disruption on air traffic control issues and weather, though as mentioned above, other major airlines did not experience delays or cancel flights at an elevated rate. There is loose speculation that some Southwest employees have called in sick in a form of protest over the mandatory vaccination rules in place, but those rumors have not been confirmed. The Southwest Airlines Pilots Association (SWAPA) already asked a court on Friday to block the airline from requiring vaccination, in anticipation of an upcoming federal mandate.
So what happened? Staffing has been a persistent problem in the airline industry since the sharp recovery in demand (many employees also took early retirement or voluntary separation packages at the start of the pandemic). The issue gets compounded when there are delays, cancellations, or workers call in sick, which has the ability to create a domino effect along a carrier's schedule (especially when there aren't enough staff on standby). Shares of Southwest are still up 15.7% YTD, and have outperformed Delta and United due to its higher mix of leisure and domestic customers helping it through the pandemic recovery.
It's the last James Bond film of the Daniel Craig era and the actor's last turn as 007. No Time to Die took in an estimated $56M during its opening weekend in the U.S. and Canada, marking the fourth-best debut of any James Bond film in the franchise's nearly 60-year history. While Universal (NASDAQ:CMCSA) released the film internationally two weeks ago (topping $300M globally), MGM (OTC:MGMB) is handling the domestic release (Amazon previously announced plans to buy the latter studio for $8.5B).
Snapshot: While it isn't Marvel numbers, Bond has always had an older audience which is less likely to rush out for opening weekend. In fact, around 25% of ticket buyers who went out to see No Time to Die this weekend said it was their first time returning to theaters in more than 18 months, according to MGM. A streaming or hybrid release was also never considered for the movie, unlike many other films released during the pandemic.
"It's been a long time coming to get this movie on the big screen," noted Erik Lomis, the head of distribution for United Artists Releasing, noting the year-and-a-half delay due to COVID-19. "Michael Wilson and Barbara Broccoli are huge believers in the theatrical experience. That was hugely important to us, to them and to the theater owners. And when you see this kind of result, it's very gratifying."
Go deeper: Besides being the longest Bond film ever at two hours and 43 minutes, No Time to Die was also expensive, with a reported production price tag of around $250M (marketing costs added another $100M). Craig revitalized the franchise since landing the role in 2006's Casino Royale, and while he briefly lost his 007 designation to a younger agent (Lashana Lynch) during the latest film, many are wondering about the Bond of the future as Craig steps off the stage.