Monday Morning Prepper
This Weekend Barrons Cover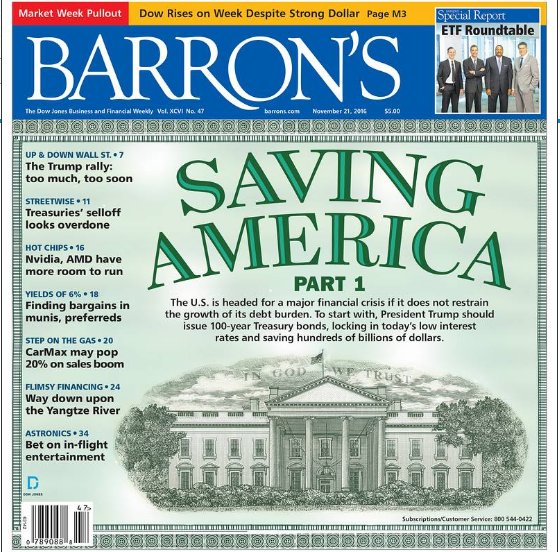 Reads from This Weekend:
Morning Reads
CHARTS
Premium
.....more......
The stakes are high as the DOJ's antitrust case against Anthem (NYSE:ANTM) and Cigna's (NYSE:CI) merger gets underway in Washington, D.C. Expect more of the usual drama: The $54B tie-up is being billed as bad for consumers and both companies have accused each other of breaching their merger agreement. The case will be followed by a second trial involving the proposed combination of Aetna (NYSE:AET) and Humana (NYSE:HUM) on Dec. 5.
Economy
Retired Marine Corps General James Mattis has emerged as a leading candidate for defense secretary in the Trump administration after the President-elect assessed more contenders for top U.S. posts over the weekend. Late Friday, Trump agreed to a $25M settlement in the fraud cases against Trump University. "I settled the lawsuit for a small fraction of the potential award because as President I have to focus on our country," he wrote on Twitter.
Nicolas Sarkozy has bid adieu to his presidential comeback after a late surge of support for Francois Fillon shook up the French primary race ahead of next year's election. He's likely to face original front runner Alain Juppe in a run-off. Meanwhile, Angela Merkel has decided to seek a fourth term as Chancellor in Germany's election, to be held in 2017, saying she's "thought endlessly" about the decision following 11 years in office.
Prosecutors in South Korea believe President Park Geun-hye played a "considerable role" in an escalating a corruption scandal, which has brought allegations of cult activities, influence-peddling and leaks of classified information. The formal accusations come as hundreds of thousands of people took to the streets of Seoul in the fourth straight weekend of protests and opposition parties moved to impeach the President.
Scores of Hong Kong-listed firms are on a roadshow blitz in China to whet the appetite of mainland investors ahead of the launch of a cross-border investment link between Shenzhen and Hong Kong. The link, which is likely to go live in "a few more days," will grant Chinese investors access to about 100 smaller companies listed in the city. The existing Shanghai-Hong Kong link allows investment in 318 bigger HK-listed companies.
China and Russia will push for a free-trade area in the Asia-Pacific region, China's foreign ministry said after leaders of the two nations met Saturday during the APEC summit in Peru. The call for free trade in the region comes amid a protectionist mood in the U.S. following the election of Donald Trump, who is threatening to derail the TPP deal that excludes the world's second-biggest economy.
Separately, Mexico is willing to hold talks with the U.S. President-elect Trump about the two countries' signature free trade agreement, according to President Enrique Pena Nieto. "More than talking about renegotiating NAFTA, it's modernizing NAFTA. Let's modernize NAFTA so it becomes a more powerful, modern vehicle."
Prime Minister Theresa May's aim is "not solely for the U.K. to have the lowest corporate tax rate in the G20 but also a tax system that is profoundly pro-innovation." Cutting Britain's current 20% headline rate could attract companies away from other parts of the EU and challenge Ireland's preeminence as Europe's low tax home for international companies.
OPEC's technical committee will meet in Vienna today to discuss the implementation of the Algiers oil-supply pact, finalized on Sept. 28, which would end a two-year policy of pumping without limits. The gathering comes as Iran and Iraq signal optimism for a deal and Russia sees few hurdles to oil producers reaching an agreement on supply levels. A formal OPEC meeting will take place on Nov. 30.
Stocks
Global dividends fell at the fastest pace since mid-2015 in Q3 as American dividend growth slowed to a post-crisis low. According to the Henderson global dividend index, U.S. payouts fell to $100.4B, down 7% on a headline basis. Payments were constrained by subdued profit growth, which can partly be explained by a strong dollar, alongside higher levels of debt, causing management to take a cautious approach when deploying cash.
Symantec is acquiring identity theft protection company LifeLock (NYSE:LOCK) for $24 per share, or $2.3B including debt, in a deal that it hopes will prop up sales at its Norton antivirus unit. Earlier this year, Symantec (NASDAQ:SYMC) bought Blue Coat Systems for $4.65B and sold its data storage firm Veritas for $7.4B, as it emphasizes cybersecurity. LOCK +13.4% premarket.
U.K. regulator Ofcom has made a move to increase competition for mobile bandwidth ahead of its next auction. It placed a cap on the amount of spectrum that the bigger players such as BT Group (NYSE:BT) and Vodafone (NASDAQ:VOD) can buy, in a bid to leave space for smaller firms. It means, on the lower band, BT will be barred from the bidding as it already owns 45% of the market.
"A lot of you have asked what we're doing about misinformation, so I wanted to give an update," Mark Zuckerberg wrote in a post on Facebook (NASDAQ:FB). "Normally we wouldn't share specifics about our work in progress, but given the importance of these issues and the amount of interest in this topic, I want to outline some of the projects we already have underway: Stronger detection, easy reporting, third party verification, warnings, related articles quality, disrupting fake news economics and listening."
Nokia is collaborating with the United Arab Emirates General Civil Aviation Authority for developing an end-to-end ecosystem to support an unmanned aerial network. At the heart of the new system is Nokia's (NYSE:NOK) UAV Traffic Management concept, which will make the UAE the first country in the world to allow the operation of drones by both businesses and government agencies.
Alibaba plans to launch four new global data centers, as it steps up its competition against Amazon (NASDAQ:AMZN) and Microsoft (NASDAQ:MSFT) in the rapidly-growing cloud computing market. The centers will be located in Dubai, Japan, Germany and Australia, taking the number of Alibaba Cloud (NYSE:BABA) facilities outside of China to eight, with the tech giant now present on nearly every major continent.
Fantastic Beasts and Where to Find Them had no trouble finding first place at the box office this weekend, with the Harry Potter spinoff collecting an estimated $75M in the U.S. and Canada and $143.3M across the globe. But re-entering the world of wizardry didn't come cheap. Warner Bros. (NYSE:TWX) spent $180M to produce the film and tens of millions more to market it. Five films are planned in the series.
Disney World visitors will be able to enter Pandora, a land based on the movie Avatar, at Disney's (NYSE:DIS) Animal Kingdom theme park next summer, according to Bob Chapek, chairman of Walt Disney Parks and Resorts. The company also promised more updates on the expansion in the coming weeks. Last week, shares of Disney made a run at closing over $100 for the first time since July before ending the week at $98.24.
Lights on houses and Santas in malls are no longer the only parts of the holiday season that are popping up earlier, Walmart (NYSE:WMT) is following other online retailers to start Cyber Monday two days earlier. That means Wal-Mart's special web promotions will be available on Black Friday, merging the two biggest days of the year for internet and brick-and-mortar shopping.
U.S. lenders appear to present a bigger risk to the financial system than last year. Citigroup (NYSE:C), BofA (NYSE:BAC) and Wells Fargo (NYSE:WFC) all face higher capital surcharges after they rose in the Financial Stability Board's latest ranking of the most systemically important banks in the world, while HSBC, Barclays (NYSE:BCS) and Morgan Stanley (NYSE:MS) saw their buffer levels fall.
Credit Suisse has pushed more than 1M customers into a new Swiss bank - Credit Suisse (Schweiz) AG (NYSE:CS) - in a step toward what could be Switzerland's biggest stock market listing in more than a decade. The creation of the new subsidiary that caters to Swiss retail, corporate, and IB clients, is part of a broader shake-up under CEO Tidjane Thiam to focus more on wealth management and less on volatile investment banking.
In a surprise announcement, the OCC has unilaterally changed the terms of its September agreement with Wells Fargo (WFC) in regards to its account opening scandal. The bank is now prohibited from offering "golden parachute" payments to exiting executives, and must now get a green light from D.C. before altering business plans, firing senior execs, or changing the makeup of its board.
Tesla's new solar roof product will cost less to manufacture and install than a traditional roof - even before savings from the power bill. "Electricity," Elon Musk said, "is just a bonus." How is that possible? Not only do Tesla's (NASDAQ:TSLA) glass tiles weigh up to 80% less than conventional roofing materials (cheaper to transport), they are more durable (less breakage) and glass is made using, basically, sand (a cheap material).
Volkswagen sees building its own factory to make electronic vehicle batteries as a logical move as it expands production of low-emission cars after its emissions scandal. "If more than a quarter of our cars are to be electronic vehicles in the foreseeable future then we are going to need approximately three million batteries a year," VW (OTCPK:VLKAY) CEO Matthias Mueller told Frankfurter Allgemeine Sonntagszeitung.
Expanding its pipeline of medicines to combat blood diseases, Novartis (NYSE:NVS) is buying Selexys Pharmaceuticals, a research lab in blood and inflammatory disorders, for $665M. The deal has been in the works since 2012, when Novartis obtained the option to buy Selexys and its sickle cell disease drug SelG1, depending on how its trials fared.
Australia's Boral has agreed to buy Headwaters (NYSE:HW) for $1.8B in cash as it seeks to benefit from increased infrastructure spending promised by President-elect Donald Trump. The acquisition will more than double the size of Boral's (OTCPK:BOALY) U.S. operations and boost its fly ash business, which is most commonly used as a partial replacement for cement in producing concrete. HW +17% premarket.
Airbnb aims to secure 700 tax agreements in cities that generate more than 90% of its revenue by the end of next year, as it tackles regulatory battles in key markets such as New York and San Francisco. The accommodation company has 200 existing tax deals, which allow it to collect and remit hotel taxes to local governments, and is looking to boost the number by another 500, Airbnb (Private:AIRB) CEO Brian Chesky told FT.
Today's Markets
In Asia
, Japan
+0.8%
to 18106. Hong Kong
+0.1%
to 22357. China
+0.8%
to 3218. India
-1.5%
to 25765.
In Europe
, at midday, London
+0.5%
. Paris
+0.6%
. Frankfurt
+0.4%
.
Futures at 6:20
, Dow
+0.1%
. S&P
+0.2%
. Nasdaq
+0.3%
. Crude
+2.1%
to $47.34. Gold
+0.6%
to $1215.60.
Ten-year Treasury Yield
flat at 2.33%
Today's Economic Calendar
8:00 Stanley Fischer