Monday Morning Prepper
Morning Reads:
News:
Earnings: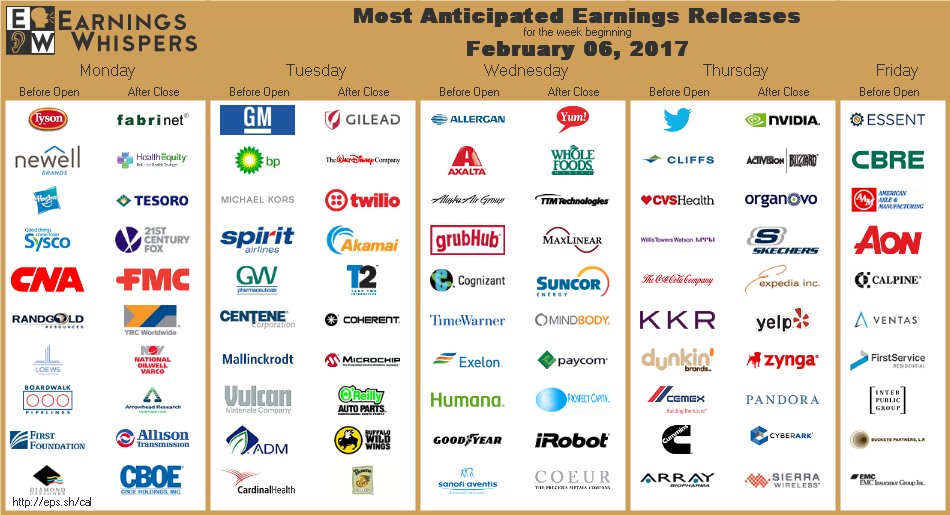 Premium:
Charts:
Seeking Alpha:
The legal battle is intensifying over President Trump's immigration order, with further court filings expected today from both the government and DOJ, after U.S. District Judge James Robart blocked the ban. "If something happens blame him and court system," Trump tweeted last night. Silicon Valley is also involved. U.S. tech companies have filed an amicus brief opposing the restrictions, saying it "inflicts significant harm on American businesses." Among the 97 signatories: AAPL, AIRB, BOX, CRM, FB, EBAY, GIT, GOOG, GOOGL, GPRO, LNKD, LYFT, MSFT, MUSIC, NFLX, PYPL, SNAP, TWLO, TWTR, UBER, YELP, ZNGA
Economy
Wolfgang Schauble has added to the transatlantic debate over the appropriate value for the euro's exchange rate, stating it was "too low for the German economy's competitive position." "The ECB must make policy that works for Europe as a whole," the finance minister told Tagesspiegel. It follows criticism from President Trump's top trade advisor, who said last week that Germany was using a "grossly undervalued" currency to establish a hefty trade surplus.
ECB President Mario Draghi is set to give his regular testimony in Brussels, where he is expected to face questions on the central bank's policy path, including when it might start to taper, or wind down, its €2.3T quantitative easing program. A recent rise in inflation has sparked fresh calls in Germany for a policy reversal from Frankfurt.
Scotland may be heading for a fresh independence referendum when the U.K. triggers Article 50 to leave the EU. The Scottish Greens' six seats in the Scottish parliament would complete the 65 seats for a majority that the SNP, with 63, would need to pass legislation on a plebiscite. The British parliament could technically block the move, but to do so would likely provoke a constitutional crisis.
French far-right leader Marine Le Pen kicked off her presidential campaign on Saturday with a promise to shield voters from globalization, control the nation's borders and own money, and make their country "free." Polls show the 48-year old daughter of National Front founder Jean-Marie Le Pen topping the first round of the election on April 23, but then losing the May 7 run-off to a more mainstream candidate.
The potential collapse of NAFTA could have a huge global impact, according to Mexican officials, as they prepare to fall back on WTO rules amid fears Washington could torpedo the global trade body. "What happens with NAFTA is going to be very telling for the rest of the world," warned Ildefonso Guajardo, Mexico's economy minister. The White House is expected to soon give Congress a required 90-day notice that it will begin negotiations. That means NAFTA talks could start in May.
Iran held military exercises involving missiles on Saturday and said it would take its own sanctions on "American individuals and companies," just a day after the Trump administration imposed new penalties on Tehran for a recent ballistic missile test. "We are working day and night to protect Iran's security," said Brig. Gen. Amir Ali Hajizadeh, the IRGC aerospace forces' commander. "If we see smallest misstep from the enemies, our roaring missiles will fall on their heads."
Stocks
The New England Patriots stormed back from a 25-point deficit to win their fifth Super Bowl with a stunning 34-28 win over the Atlanta Falcons in the first overtime session in the game's history. With the thrilling finish, viewers could have exceeded the 114.4M who watched Super Bowl XLIX in 2015, providing a massive audience for advertisers who paid more than $5M per commercial and a boost to broadcaster Fox Sports (FOX, FOXA).
With 16 months until his planned retirement and no successor in sight, Walt Disney (NYSE:DIS) chief executive Bob Iger may extend his tenure for a third time, sources told WSJ. According to the report, few inside Disney think any executives are currently poised to take the CEO role, and it may be difficult for an outsider "to get their hands around the world's largest media conglomerate in less than a year and a half."
Randgold Resources +4% premarket after fourth quarter profit rose 76% to $94.3M, while the company proposed hiking its dividend 52% to $1.00. Randgold (NASDAQ:GOLD) also said it had passed its cash target of $500M without any debt, and gold production grew about 16% to 378,388 ounces in the same period from a year ago.
DHT Holdings has unanimously rejected a proposed all-stock deal by rival Frontline (NYSE:FRO), valued at a ratio of 0.725 Frontline shares for each DHT share, which would have created the world's largest public tanker business. "We believe that Frontline's proposal substantially undervalues our company and represents an opportunistic attempt to acquire DHT at a low point in the cycle," Chairman Erik Lind said in a statement.
The first major German customer is suing Volkswagen (OTCPK:VLKAY) over Dieselgate. Fish distributor Deutsche See will take the automaker to court for a reported €11.9M for misrepresenting a fleet of vehicles it leased as environmentally friendly. VW already faces numerous multiple lawsuits from regulators, states, dealers and individual owners, but the case marks the first brought by a corporate client in its home market.
Hoping to reduce costs by working together, Toyota (NYSE:TM) and Suzuki (OTCPK:SZKMY) have agreed to begin formal talks aimed at forging a partnership in shared procurement, green vehicles, IT and safety. The agreement could give the mini-vehicle maker access to Toyota's technology, while the latter would benefit from Suzuki's strong market position in India.
A final decision has yet to be made, but bidders have received indications that a steering committee hired by Takata's (OTCPK:TKTDY) board to oversee its restructuring process is ready to pick Key Safety Systems, WSJ reports. Autoliv (NYSE:ALV) had also been in the running, but an acquisition could face antitrust concerns, since the joint company would control 60% of the air-bag market (KSS currently accounts for about 10%).
Eastern Outfitters, the parent of discount chain Bob's Stores and outdoor retailer Eastern Mountain Sports, has filed for bankruptcy protection, the latest U.S. retailer to do so amid increased competitive pressure facing the sector. The filing also showed that Britain's Sports Direct (OTC:SDIPF) had engaged in extensive talks with Eastern Outfitters to become a stalking-horse bidder in a bankruptcy auction.
Frederic Cumenal has stepped down as CEO of Tiffany (NYSE:TIF), after what the upscale jeweler called disappointing financial results. Chairman and previous chief executive Michael Kowalski will serve as interim CEO while the board of directors seeks a new company head. Tiffany also reaffirmed its fiscal year 2016 guidance issued in January, expecting earnings per diluted share to decline by no more than a mid-single-digit percentage. TIF -1% premarket.
According to Bloomberg, Saudi Aramco (Private:ARMCO) has picked four banks to advise on its first bond sale, ahead of the world's largest initial public offering. HSBC's local unit and Riyad Capital were selected to help with the sale of riyal-denominated Islamic bonds, or sukuk, before the end of June, while NCB Capital and Alinma Investment are working on a follow-up sale of dollar-denominated bonds.
Barclays is about to overhaul its back office operations under a restructuring to help it comply with new post-crisis rules forcing British banks to ring-fence their retail operations from their riskier business. Barclays (NYSE:BCS) has formed a new company that will operate as a standalone unit providing support services to its two main operations when they are formally separated - retail and investment banking.
UniCredit has signed a deal with trade unions to cut 3,900 jobs in the country as it prepares to launch the biggest capital increase in the history of the Italian stock exchange. The nation's largest bank will offer €13B in new shares next week, while booking one-off restructuring costs of €1.7B in Q4 to slash a total of 5,600 UniCredit (OTCPK:UNCFF) positions.
More bank news... JPMorgan (NYSE:JPM) has received approval and license to underwrite corporate bonds in China's interbank bond market, making it the first U.S.-headquartered bank to do so. According to China Central Depository & Clearing, China is the third largest bond market in the world with 43.7T yuan ($6.37T) outstanding at the end of 2016, with the interbank bond market accounting for over 90%.
Following the smartphone maker's recall of 3M devices, South Korea's product safety watchdog has concluded that overheating in Samsung's (OTC:SSNLF) Galaxy Note 7 was caused by problems with battery structure and manufacturing processes. Defects relate to two battery suppliers: Samsung SDI (OTC:SSDIY) and Amperex Technology. The conclusions also match Samsung's own findings, but the agency didn't announce any penalties.
Alibaba opened the doors to its latest overseas headquarters in Melbourne on Saturday, marking another chapter in the e-commerce giant's worldwide expansion. The new office aims to support and attract Australian and New Zealand businesses selling on Tmall and Tmall Global. Alibaba (NYSE:BABA) also intends on building their entire operating infrastructure, including cloud computing, online payments and logistics.
Today's Markets
In Asia
, Japan
+0.3%
. Hong Kong
+1%
. China
+0.6%
. India
+0.7%
.
In Europe
, at midday, London
+0.2%
. Paris
-0.1%
. Frankfurt
-0.4%
.
Futures at 6:20
, Dow flat. S&P flat. Nasdaq
-0.1%
. Crude
+0.2%
to $53.96. Gold
+0.5%
to $1226.90.
Ten-year Treasury Yield
-5 bps to 2.45%
Today's Economic Calendar
8:30 Gallup US Consumer Spending Measure
10:00 Labor market condition index
12:30 PM TD Ameritrade IMX