Monday Morning News, Options, Charts
Reads:
News:
Futures:
 Open Interest Changes:
Charts:
Unusual Option Action 
Earnings This Week: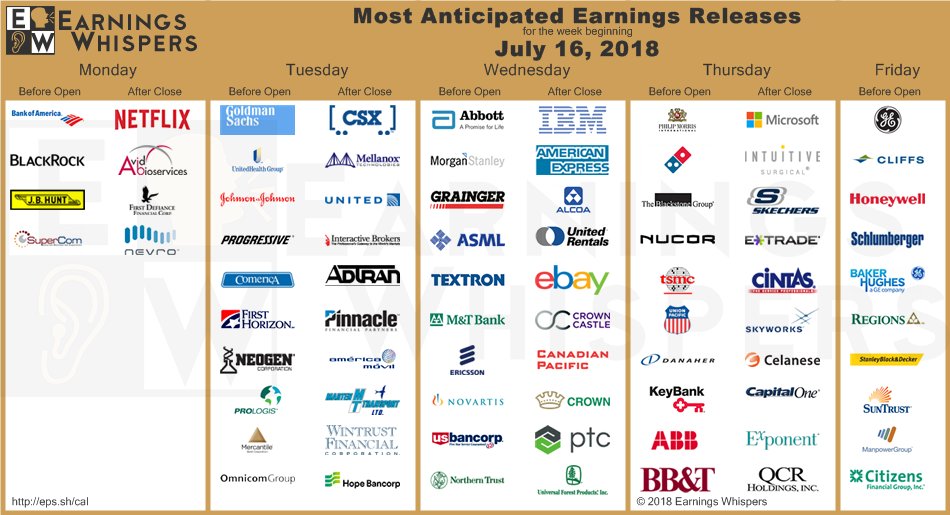 SeekingAlpha:
The most important aviation trade show of the year has begun, attracting about 100,000 trade visitors from 100 countries. Alternating every year with the Paris Air Show in France, the Farnborough International Air Show runs until July 22. In 2016, the last time Farnborough played host, more than $124B in sales and commitments were placed at the exhibition (see more below).
Economy
President Trump is sitting down with Russian counterpart Vladimir Putin in Helsinki today, with Crimea, Syria and election meddling likely on the summit's agenda. No aide or official from the U.S. delegation will be present during the meeting's initial stages, which comes on the tails of a tense NATO summit during which Trump lambasted allies for not meeting their defense spending commitments.
"Our Brexit deal is not some long wish-list from which negotiators get to pick and choose. It is a complete plan with a set of outcomes that are non-negotiable," Theresa May wrote in The Mail on Sunday newspaper. "This is the scale of the opportunity before us and my message to the country this weekend is simple: we need to keep our eyes on the prize. If we don't, we risk ending up with no Brexit at all."
President Trump has also signaled the United States could strike "a tremendously big deal" with Britain, if the latter country successfully negotiates its exit from the European Union. In 2017 the U.S. ran a modest trade surplus with the U.K., Census Data figures show, a stark contrast to the massive trade deficit the world's largest economy runs with the EU.
Chinese shares started the week on the back foot following softer economic data and more fears of scuffles with trading partners. While the GDP figure was in line with market expectations, the 6.7% growth rate in Q2 cooled from the 6.8% expansion registered in each of the previous three quarters. China also said it wants to seek more balanced trade with the EU as Premier Li Keqiang met Donald Tusk and Jean-Claude Juncker in Beijing.
Cuba is planning a series of potentially far-reaching changes, with a new constitution set to recognize the free market and private property, while dividing political powers between a president and a prime minister. The fundamental means of production will remain under central control, but foreign investment will be recognized as an important spur to development. The Communist Party will also remain "the superior leading force of society and of the state."
A Norwegian union for workers on offshore oil and gas drilling rigs has stepped up a six-day walkout that has hit crude output after employers did not respond to demands for higher wages and pension benefits. The union is adding another 900 employees to the currently striking 700 workers, but the expanded action is not expected to have any immediate extra impact on production beyond the closure last week of Shell's (RDS.A, RDS.B) Knarr field.
Oil back under $70... Saudi Arabia is said to have offered extra crude to some customers, extending additional cargoes of its Arab Extra Light crude to at least two buyers in Asia, Bloomberg reports. The Trump administration is also actively considering tapping into the U.S.'s 660M-barrel Strategic Petroleum Reserve as political pressure grows to rein in rising gas prices before November elections.
Stocks
The battle at Farnborough has begun. Boeing (NYSE:BA) kickstarted the exhibition with a $4.7B deal for freight planes with delivery company DHL and the firm purchase of 30 737 MAX 8s with leasing firm Jackson Square. Airbus (OTCPK:EADSY) is already plotting its revenge. It's working on a blockbuster agreement to sell $23B worth of aircraft to AirAsia, as well as confirming a $9B order from StarLux and Sichuan Airlines.
More from the Air Show... Lockheed Martin (NYSE:LMT) is helping take Britain into the commercial space age after claiming government grants totaling £23.5M to launch small satellites from a remote area of the Scottish Highlands. The new spaceport is expected to be used mainly for earth observation and other data-gathering tasks, with the goal of having launches from the early 2020s.
British jet engine maker Rolls-Royce (OTCPK:RYCEY) has designed a propulsion system for a flying taxi and is starting a search for partners to help develop the project. The EVTOL aircraft could carry four to five people at speeds of up to 250 miles per hour for approximately 500 miles. Re-charging would also not be required because the battery is charged by the gas turbine, allowing it to use existing infrastructure.
The U.S. Defense Department has reached a "handshake deal" with Lockheed Martin (LMT) to buy a batch of 141 F-35 combat jets likely to be worth more than $12B after months of wrangling over price and other terms. In other news, executives at CFM international said they are confident that the JV between General Electric (NYSE:GE) and Safran (OTCPK:SAFRY) will meet its target to deliver 1,100 LEAP engines this year.
Amazon is planning a smart television set and its own TV service, according to The Telegraph. The device is being confidentially tested by DTG, which maintains technical standards in the U.K.'s digital terrestrial broadcasts. Amazon (NASDAQ:AMZN) turned to the broadcast technology after its attempts to convert Prime Video into a viable alternative to satellite or cable pay-TV fell flat.
Trade movement in Hong Kong: ZTE (OTCPK:ZTCOY) climbed as much as 17% after the U.S. formally lifted a ban on its American technology purchases, resolving a months-long moratorium on the Chinese telecom equipment maker. Meanwhile, shares in smartphone maker Xiaomi fell by almost a tenthafter mainland Chinese investors were barred from buying into Hong Kong-listed companies that issue dual-class shares.
France clinched its second World Cup title last night with a 4-2 win over Croatia, but investors appear to be more focused on the final game statistics of Nike (NYSE:NKE) vs. Adidas (OTCQX:ADDYY). Of the total 169 goals scored leading up to the finals, Nike cleats were worn for over 100 of them. Nike also sponsored both teams in the final and shelled out about $56M on the French national team.
Major League Baseball is getting into the crypto game, launching MLB Crypto Baseball. Gamers will pay an ether to buy a digital avatar, which are tied to specific moments in recent games. Ethereum (ETH-USD), launched in 2015, runs on a blockchain, the same peer-to-peer, immutable, public ledger technology used by bitcoin.
Goldman Sachs is expected to name its president, David M. Solomon, as its next chief executive early this week, the New York Times reports. He would succeed Lloyd C. Blankfein, one of the longest-serving CEOs and most powerful executives on Wall Street. Blankfein, who presided over record earnings during his 12 years atop Goldman (NYSE:GS), will also stay on for an interim period.
Deutsche Bank +7.4% premarket after saying it expects to report Q2 pretax profit of about €700M and net income of approximately €400M, which is "considerably above the average consensus estimate." The latest figures appear to be good news for new CEO Christian Sewing, and company management "believes that these results demonstrate the resilience of the franchise." Deutsche (NYSE:DB) will report full earnings on July 25.
End of an era... Sears's (NASDAQ:SHLD) presence in Chicago ended on Sunday, with the closing of its Six Corners store, which opened in the Irving Park neighborhood 80 years ago. The retailer has lost $11.2B since 2010, its last profitable year. Sears launched its first stores in 1925 in the city, but now has fewer than 1,000 outlets nationwide.
Today's Markets 
In Asia
, Japan 
+1.9%
. Hong Kong 
+0.1%
. China 
-06%
. India 
-0.6%
.
In Europe
, at midday, London 
-0.8%
. Paris 
-0.2%
. Frankfurt 
+0.1%
.
Futures at 6:20
, Dow flat. S&P flat. Nasdaq 
+0.1%
. Crude 
-1.6%
 to $69.87. Gold 
+0.2%
 to $1243.40. Bitcoin 
+2.8%
 to $6527.
Ten-year Treasury Yield
 flat to 2.83%
Today's Economic Calendar
8:30 Empire State Mfg Survey
8:30 Retail Sales
10:00 Business Inventories