Monday Morning Markets, Charts, and More
Morning Reads/News
Pushing the Conservatives Around
It's The Interest Rates Stupid
ECB Taper Too Soon To Talk About
The Streak is On the Line Today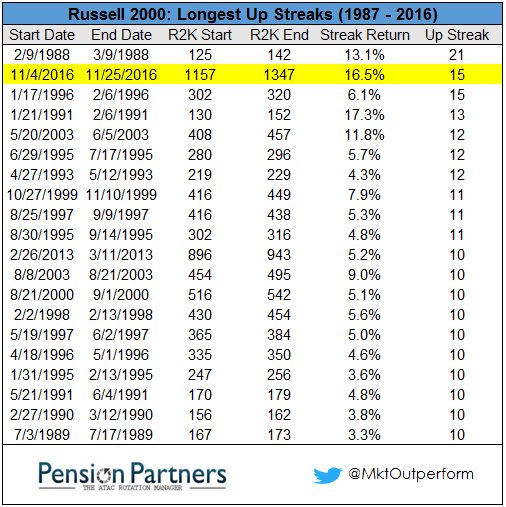 CHARTS
Premium
....................more this  morning.....
Trades that performed best in the three weeks since Donald Trump's election victory are taking a breather, with the dollar and U.S. bond yields falling from recent peaks and equity index futures signaling stocks will slip from all-time highs. Further resistance may be seen in the week ahead given potentially risk-laden events such as the midweek OPEC meeting and Italy's Dec. 4 referendum on constitutional reforms.
Economy
Oil prices are bouncing around the $46 level as traders bet on whether OPEC will slash output at its closely watched meeting on Wednesday. While Libya has announced it won't take part in any OPEC cuts and Saudi Arabia hinted that the oil market would rebalance itself, some still feel the group will be able to rein in global oversupply. Venezuela's oil minister will also meet his Algerian counterpart later today before the two meet with Russia to seek support for a production cut.
The Clinton campaign is backing Green Party candidate Jill Stein's efforts to take a fresh look at voting results, stating it planned be a participant in recounts in Wisconsin, Pennsylvania, and Michigan. President-elect Donald Trump called the decision a "scam" and "nothing would change," claiming he won the popular vote as well as the electoral college if "the millions of people who voted illegally" were deducted.
The future of U.S.-Cuban relations has been thrown into doubt after the passing of Fidel Castro. On the campaign trail Donald Trump criticized Obama for re-establishing diplomatic ties with Cuba, and his incoming chief of staff Reince Priebus told Fox News Sunday that the President-elect is willing to reverse the policy. In March, Obama made the first visit to Cuba by a U.S. president in 88 years.
Meanwhile, Donald Trump's economic plans have received strong backing from the OECD, with the international organization predicting the President-elect's infrastructure policy and tax cuts will fire up the U.S. economy. It forecast growth at 2.3% in 2017 and 3% the following year. That would in turn drive the unemployment rate in the world's biggest economy down from the current 4.9% to 4.5% in 2018.
France has chosen its next conservative candidate, but it's not who the pollsters were predicting just a matter of weeks ago. Francois Fillon received around 66% of the vote in the second round of the republican primaries, making him favorite to win a presidential election five months from now against far-right rival Marine Le Pen and a deeply divided left.
More than a million protesters gathered in central Seoul on Saturday in the fifth consecutive weekly rally against President Park Geun-hye as opposition parties plan to put an impeachment motion up for a vote in early December. The protests, which have plunged the nation's government into uncertainty, mark the largest ongoing series of demonstrations in the country since the 1987 movement to democratize South Korea.
Profit at industrial companies in China picked up last month as prices recovered, but growth was skewed towards high-polluting heavy industry. According to the National Bureau of Statistics, profits in October rose 9.8% to 616.1B yuan ($89.1B). The biggest gains were seen in the traditional raw material production sector and smaller returns in high technology and equipment manufacturing.
Stocks
Retailers are gearing up for Cyber Monday, the last day of deals in what has become a five-day shopping weekend. The National Retail Federation expects 122M Americans to shop online during the Super Bowl of online shopping vs. 121M last year. Meanwhile, early data indicates that sales and traffic at U.S. brick-and-mortar stores declined from last year on Thanksgiving Day and Black Friday, but internet sales rose in the double digits on both days, surpassing $3B for the first time. Related tickers: AMZN, TGT, WMT, BBY, AAPL, KSS, M, JCP, JWN, SHLD, HD, LOW, DKS, BKS, BBBY
Under pressure from Elliott Management, Samsung Electronics (OTC:SSNLF) is considering splitting itself in two, Seoul Economic Dailyreports. Separate holding and operating companies would allow heirs of the founding Lee family to strengthen their grip on the global smartphone leader, the crown jewel of the Samsung Group business empire. Samsung's board of directors will meet tomorrow to respond to the activist hedge fund's proposals.
An iPhone with a curved screen could be on store shelves as soon as next year. Apple's (NASDAQ:AAPL) suppliers say they have been asked to increase output of thinner organic light emitting displays and submit prototype screens with better resolution than ones from Samsung (OTC:SSNLF) to differentiate its models, WSJ reports. OLEDs don't require a backlight component to illuminate the screen and allow for flexible designs.
Investors will be looking for specifics when AT&T (NYSE:T) unveils its long-promised over-the-top video service today as the company attempts to get a foothold in the future of how Americans watch television. Many details are still missing about pricing tiers, channel lineups and bundling options for DirecTV Now, which is scheduled to launch soon and be priced starting at $35/month.
Standard Chartered is set to slash about a tenth of its global corporate and institutional banking headcount, sources told Reuters, keeping up an aggressive drive to cut costs. StanChart (OTCPK:SCBFF) CEO Bill Winters this month branded the bank's income and profit unacceptable, as below-forecast third-quarter results underlined the challenges facing his overhaul.
Revolutionizing precise delivery of the drug, Teva Pharmaceuticals (NASDAQ:TEVA) has partnered with Tel Aviv-based Syqe Medical to market medical cannabis for pain management that is administered with an inhaler. The companies said that this is the first time the medical cannabis sector has complied with pharmaceutical standards for inhalation, which is the most efficient means for administering the plant.
Israel has approved the purchase of 17 Lockheed Martin (NYSE:LMT) F-35 stealth fighter jets from the U.S., bringing its total number on order to 50. Although a price wasn't disclosed, it will likely set Israel back at least $1.7B, not including maintenance costs. Lockheed is developing three versions of the F-35 Lightning II jets for the U.S. military and nine countries that have already placed orders.
Lufthansa pilots have called for renewed strikes. The German VC union will stage a 2-day walkout this Tuesday and Wednesday after talks with management broke down amid a longstanding clash over pay. Last week, 2,800 flights and more than 350,000 passengers were impacted by the industrial action. The labor unrest so far is estimated to have cost Lufthansa (OTCQX:DLAKY) more than $20M.
SpaceX is expected to give federal authorities a preliminary investigative report by early next month pinpointing fueling procedures as the most likely cause of an unmanned Falcon 9 rocket explosion in September. The report is part of SpaceX's (Private:SPACE) effort to resume launching before the end of 2016, following a fireball that destroyed a $200M communications satellite Facebook (NASDAQ:FB) intended to use to bring Internet access to remote areas of the globe.
Eight of Europe's largest carmakers are on course to miss carbon dioxide emissions targets that come into force in 2021, leaving them facing the prospect of billions of euros in fines. Only four of the 12 largest companies - Peugeot Citroen (OTCPK:PEUGF), Toyota (NYSE:TM), Renault-Nissan (OTC:RNSDF, OTCPK:NSANF) and Volvo (OTCPK:GELYF) - are on track to hit incoming EU goals, according to PA Consulting group, which advises many of the companies on manufacturing and technology.
The World Trade Organization is set to rule this week that Boeing (NYSE:BA) received illegal tax breaks from Washington state to build its new 777X, the latest round in a long-running dispute between the U.S. and Europe over planemaker support. According to WSJ, the EU said Boeing had lined up more than $8B in prohibited subsidies for the long-range jetliner program, but American officials have called that figure inflated.
Today's Markets
In Asia
, Japan
-0.1%
. Hong Kong
+0.5%
. China
+0.5%
. India
+0.1%
.
In Europe
, at midday, London
-0.7%
. Paris
-0.7%
. Frankfurt
-0.9%
.
Futures at 6:20
, Dow
-0.3%
. S&P
-0.3%
. Nasdaq
-0.2%
. Crude
-0.2%
to $45.95. Gold
+0.9%
to $1189.
Ten-year Treasury Yield
-4 bps to 2.33%