Monday Morning Market Prepper - Charts, News, Reads, & More
Reads: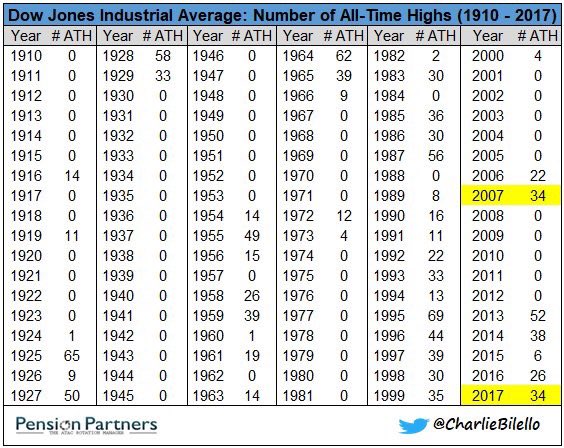 News:
Earnings: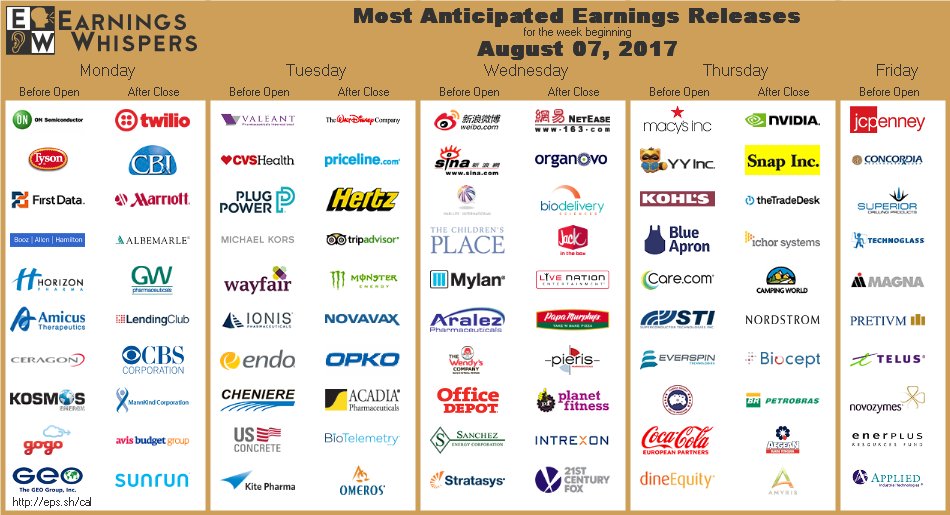 Charts:
Seekingalpha:
Representatives from OPEC and non-member nations are gathering in Abu Dhabi to discuss poor conformity levels on their output cut agreement. According to Bloomberg data, compliance fell to 86% in July, the lowest level since January. As the producers discuss obstacles facing the participating countries, crude futures are down 1.3% to under $49/bbl.
Economy
It's the first time a precise figure has been proposed. Britain is prepared to pay up to €40B as part of a deal to leave the EU, sources familiar with Downing Street's negotiating strategy told the Sunday Telegraph. However, the U.K. will only agree to pay the sum if the bloc negotiates the financial settlement as part of a deal on future relations, including a trade pact.
German industrial production unexpectedly slipped in June as manufacturing and construction caused a blip in the growth spurt of Europe's largest economy. Output, adjusted for seasonal swings and inflation, fell 1.1% in June after rising 1.2% in May. That's the first drop in six months in the typically volatile measure.
Through July, new municipal deals to fund transportation, utilities and power projects totaled $50.7B, down 19.4% from the same period last year, according to Thomson Reuters data. One reason could be the future of infrastructure investment. President Trump has promised $1T over the next decade, but the administration has produced few details regarding funding.
China's forex reserves rose for a sixth straight month in July, climbing almost $24B to $3.081T, on the back of increased scrutiny of capital flows and a weaker U.S. dollar. China's banking regulator has also extended by two months a June crackdown deadline for banks to submit risk assessments due to concerns it was putting a strain on lenders.
After a month of deliberations and negotiations, the UN Security Council has unanimously passed a resolution that would slash $1B, or about a third, off North Korea's annual export revenue. China and Russia, two permanent members who had resisted new sanctions, ultimately endorsed the measure, saying Pyongyang's provocations were unacceptable following its recent ICBM tests.
South American trade bloc Mercosur suspended Venezuela indefinitely on Saturday, adding to the international pressure on President Maduro to dismantle his newly created legislative superbody. The move occurred less than 24 hours after the Constituent Assembly moved forward with its pledge to stamp out dissent, removing Attorney General Luisa Ortega from office in its first session.
Stocks
More U.S. investment? Foxconn (OTC:FXCOF) is opening a multibillion-dollar R&D plant in Michigan that will focus on autonomous vehicles, the SCMPreports. That makes it the second U.S. state to receive a commitment from the multinational after it announced a $10B Wisconsin plant two weeks ago. "Besides self-driving technology, I'm also interested in AI and deep learning technology," said Foxconn founder Terry Gou.
Tesla intends to raise about $1.5B in a bond offering as the automaker seeks to fund the production of its newest electric sedan. While Tesla (NASDAQ:TSLA) has received more than 1,800 reservations per day for the Model 3 since its launch in late July, Elon Musk confirmed overnight that he's working on "something special" for early reservation holders.
Travis Kalanick is looking to keep a back-seat role at UBER, according to the FT, and sees himself as a potential partner and regular adviser to the new CEO. The group's board, which is also looking to appoint a chairman, met on Thursday to discuss a narrowed-down list of three candidates, one of whom is understood to be former GE chief Jeff Immelt.
Fighting back tears, Samsung Electronics (OTC:SSNLF) Vice Chairman Jay Y. Lee denied wrongdoing as prosecutors sought a 12-year jail term on charges that included bribing the former president to help cement control of the business. He will face the longest prison term on record for a South Korean conglomerate executive if the court finds him guilty when it makes a ruling Aug. 25.
Toshiba auditor PwC is ready to sign off on its annual financial results, in a step that would lessen the risk of a delisting. The report from Nikkan Kogyo Shimbun lifted shares almost 6% in Japan. The query centered on whether Toshiba (OTCPK:TOSYY) should have recognized multi-billion dollar losses at its U.S. nuclear arm Westinghouse earlier than last December.
Apple is planning to release a version of its smartwatch later this year that can connect directly to cellular networks, a move designed to reduce its reliance on the iPhone, Bloomberg reports. Intel (NASDAQ:INTC) will supply the LTE modems for the new Watch, a big win for the chipmaker, which has been trying for years to get its components into more Apple (NASDAQ:AAPL) devices.
Tensions are on the rise in Silicon Valley as Google (GOOG, GOOGL) tries to distance itself from an engineer's controversial memo, suggesting biological reasons for gender inequality in tech and the scarcity of women in leadership jobs. It also criticized the firm's "left leaning" culture and "unconscious bias" training, while calling on the company to "stop alienating conservatives."
Longtime Fox News host Eric Bolling has been suspended amid allegations that he texted lewd photos to multiple female colleagues. It's the latest in a year of inappropriate behavior and troubling culture that saw high-profile names ejected from the network. The purge began with FOX founder Roger Ailes, but extended to executives and anchors, including Bill O'Reilly, Bob Beckel, Bill Shine, Jamie Horowitz and Charles Payne.
Shares of DowDuPont will begin trading under ticker "DWDP" starting Sept. 1, after the firms received all regulatory approvals needed to close their historic merger. With a combined market value of $150B, it would surpass BASF (OTCQX:BASFY) as the world's largest chemical company. Eighteen months after merging, DowDuPont (DD, DOW) will split into three separate companies focused on agriculture, specialty products and materials.
German dialysis provider Fresenius Medical Care has agreed to acquire U.S. home dialysis device maker NxStage (NASDAQ:NXTM) for around $2B in cash. FMC (NYSE:FMS) expects the deal to result in cost synergies of around $80M-$100M per year before tax and to be accretive to net income and earnings within three years of closing. NXTM +25.5% premarket.
Martin Shkreli could spend years in prison for Friday's investor fraud conviction, according to legal experts, if the judge focuses on the intended impact of his crime and his social media antics. While the "Pharma Bro" was convicted on three securities fraud and conspiracy counts, he was acquitted of five other charges, including that he conspired to steal $11M in assets from Retrophin (NASDAQ:RTRX).
Bitcoin has now more than tripled in value for the year. The cryptocurrency hit an all-time high of $3,360.87 on Saturday, according to CoinDesk, leaping more than 16% into record territory. Ari Paul, CIO of BlockTower Capital, attributed the gains to a relief rally following a "relatively uneventful" split into Bitcoin Cash, as well as new investors jumping on board.
Following a year marked by negative headlines for Germany's biggest lender, Deutsche Bank (NYSE:DB) dropped out of Scorpio's rankings of the world's top 15 private banks in 2016. Private banking assets fell 28% to $227B as confidence got rocked by a major fine for mis-selling toxic MBSs before the financial crisis. The bank eventually settled for $7.2B.
A new standard? Vanguard has become the first large U.S. asset manager to decide to stop charging investors for analyst research ahead of new European rules that could pressure rivals to follow suit. The Mifid II directive will force funds to present clear budgets for research to their investors, ending the opaque system of receiving research for free in return for placing trades with banks and brokerages.