Monday Morning Market Prepper
Reads:
News:
Charts:
Fridays Unusual Option Volume:
Earnings: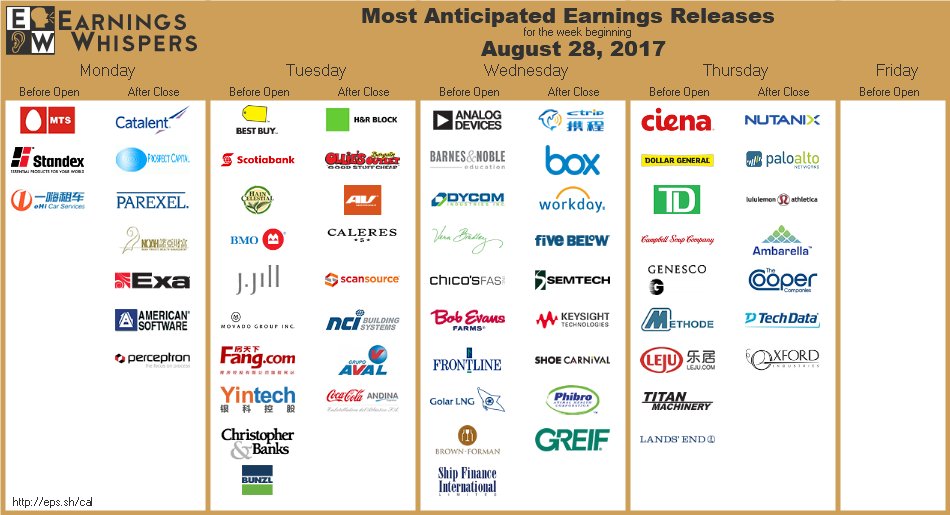 Seekingalpha:
Harvey wreaked havoc along the U.S. Gulf coast, knocking out numerous refineries as well as some oil production. Gasoline futures surged to their highest in two years, climbing over 7% to $1.7799 a gallon, while crude futures fell by half a dollarto $47.42/bbl, as the refinery shutdowns could reduce demand for American oil. Among those affected: XOM, VLO, COP, NBL, APC, BPL, MMP, PSX, PBR, RDS.A, RDS.B
Economy
"Damages from Harvey... are estimated to be well below those from major storms that have hit New Orleans and New York," according to one of the world's largest reinsurers. Hannover Re said that insured losses for Katrina in 2005 were around $80B, while losses from Sandy in 2012 were $36B. Top insurers in Texas include: ALL, BRK.A, BRK.B
Britain's talks on leaving the EU will resume today amid a deepening standoff over the U.K.'s financial obligations. Brexit Secretary David Davis is calling for "flexibility and imagination" to break the deadlock, but the EU will likely find it difficult to make progress until it has agreed on a sum for the divorce. Only two more rounds of Brexit talks are scheduled for Sept. 28 and Oct. 9.
President Trump recently dismissed some of his senior staff as globalists and demanded that someone draw up a plan for tariffs that would affect China, according to a leaked account by Axios. "China is laughing at us," he said at a trade meeting in the Oval Office. "I want tariffs. And I want someone to bring me some tariffs."
North Korea fired several ballistic missiles off its east coast on Saturday that flew for about 155 miles, as the South and U.S. conducted their annual joint military drills. On Friday, China's commerce ministry also banned North Korean individuals and enterprises from doing new business in China, in line with UN sanctions passed earlier this month.
Colombia's leftist FARC rebels will seek political rebirth this week as they move to transform into a party after disarming to end a half-century war. The country's economy is already doing well, but the peace deal may lead to a 3% increase in GDP, according to experts. Tourism is booming, while the country is rich in commodities and exports flowers and coffee.
India and China have agreed to an "expeditious disengagement" of troops in the disputed Doklam region, where their soldiers have been locked in a stand-off since June. The decision comes ahead of next week's summit of BRICS nations - a grouping that also includes Brazil, Russia and South Africa. The bloc has created a $100B development bank and a $100B emergency fund.
Stocks
Following months of speculation, UBER has decided to appoint Expedia's (NASDAQ:EXPE) Dara Khosrowshahi as chief executive officer, according to numerous sources. He'll take on the daunting task of mending Uber's image, repairing frayed relations among investors, rebuilding employee morale and creating a profitable business after seven years of losses.
General Electric wants its industrial software business to cut costs and lift profits next year under new CEO John Flannery, and is considering expanded partnerships and the possible sale of some equity in the unit, Reuters reports. GE now expects $12B in digital revenue in 2020, compared with $15B, due to technical problems and delays with its software platform, known as Predix.
Ending months of dispute over the auction, Western Digital (NYSE:WDC) CEO Steve Milligan is visiting Japan to finalize an agreement to buy Toshiba's (OTCPK:TOSYY) memory chip business. Key members of the consortium also include KKR, INCJ and the Development Bank of Japan. They hope to conclude the deal by the end of this month.
More chip investment... Samsung Electronics (OTC:SSNLF) expects to spend $7B over the next three years to expand its NAND memory production in China's northwestern city of Xi'an. In early July, Samsung announced an investment of $18.6B in South Korea, riding a wave of record profits amid a memory chip boom.
A search effort is underway after an American Black Hawk (NYSE:LMT) helicopter went down off Yemen's southern coast during a training exercise. It's the latest in a string of U.S. military crashes. Another Black Hawk went down off Hawaii this month, as well as a Marine MV-22 Osprey (BA, TXT) in Australia, while a KC-130T Hercules crashed in Mississippi in July.
A great rollout? "We're doing everything we can to make sure everyone who wants to buy a Nintendo Switch system can do so. We will ramp up production for the holiday period," Nintendo (OTCPK:NTDOY) told the WSJ. Nintendo's official target is to ship 10M Switch units in its current fiscal year ending in March 2018, but supply chain sources said they have been told to prepare for 18M units.
More foreign streaming services are headed Down Under after CBS agreed to acquire Australian broadcaster Ten Network. Neither party disclosed details of the deal, but analysts and local media valued it at A$200M-A$250M. The move thwarts a takeover by a consortium led by Lachlan Murdoch - co-chair of CBS rival News Corp. (NASDAQ:NWS) - after Ten went into receivership.
Viewers from all over the country missed parts - if not most - of Floyd Mayweather's 10th-round knockout of Conor McGregor on Saturday night. When asked about refunds, Leonard Ellerbe, CEO of Mayweather Promotions, responded "these things happen." Whatever the case may be, it's expected to be a major payday for Showtime (NYSE:CBS) - PPV revenue figures will be released in about a week.