Monday Morning Market Prepper
Reads:
News:
Premium:
Charts:
Earnings: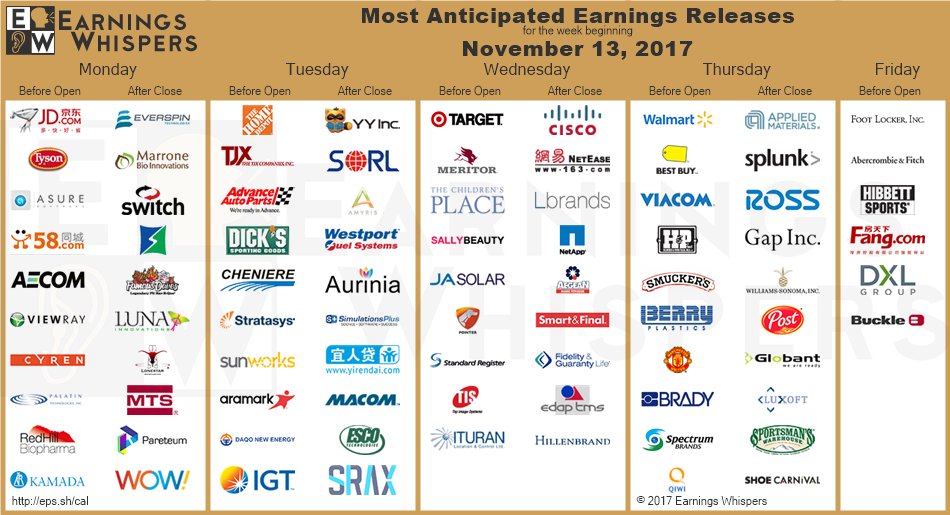 Option Data:
Seekingalpha
General Electric's new leader will unveil a road map today that will focus on three of the conglomerate's biggest business lines - aviation, power and healthcare - that accounted for about 58% of revenues at the end of 2016. The plan stops short of a breakup or more radical restructuring, according to the WSJ, but John Flannery will look to exit most other operations, streamline corporate functions and has been reviewing the company's dividend. GE+2.2% premarket.
Economy
Sterling dropped 1% overnight to $1.3064 following weekend reports suggesting 40 MPs had agreed to sign a letter of no confidence in Theresa May. Just eight more MPs are required to start a formal leadership challenge. The pound has advanced 6.4% against the dollar this year but remains about 12% lower since the U.K. voted to leave the EU in June 2016.
More than 20 EU governments are set to sign a defense pact today, marking a new era of European military integration. The effort was long blocked by Britain, which feared the creation of an EU army, but it took off after Brexit, the election of pro-European Emmanuel Macron and warnings from President Trump that European allies must pay more towards their security.
Eleven Pacific-Rim nations have agreed on "core elements" of a revised version of the Trans-Pacific Partnership without America, but disagreements from Canada prevented a final deal. Negotiators still left the door open for the U.S. to re-enter the pact at a later date. The effort to salvage the TPP has been the most-watched event at this year's APEC summit.
President Trump has offered to help resolve territorial disputes in the South China Sea, telling Vietnam's President Tran Dai Quang over the weekend, "if I can help mediate or arbitrate, please let me know." Trump also extended his Asian tour by one day to attend the start of the East Asia Summit, which he deemed to be "the most important day" of the trip and will meet with Philippines President Rodrigo Duterte.
Lebanese dollar bonds are rebounding after Prime Minister Saad al-Hariri said he would return to the country and could rescind his resignation if Iran-backed Hezbollah agreed to stay out of local conflicts. Geopolitical worries also increased at the weekend after Bahrain linked an explosion at its main oil pipeline to Tehran, raising the possibility of aggressive Saudi action against Iranian interests in the region.
Meanwhile, more than 300 people were killed across Iran and Iraq when a magnitude 7.3 earthquake jolted the country on Sunday, while 3,950 were reported as injured. It comes as Iraq announced plans to increase production from oilfields in Kirkuk to 1M barrels per day after taking back their control from Kurdish Peshmerga fighters in October.
Venezuela is showing new signs of a financial unraveling, as Electricidad de Caracas - a state-owned electric company - was declared in default. The announcement comes as the government begins talks on restructuring more than half of its $120B in debt and as the International Swaps and Derivatives Association decides whether state-run oil giant PDVSA experienced a default earlier this month.
Stocks
Smashing its own record from last year, Alibaba's (NYSE:BABA) Singles' Day sales extravaganza hit a record 168.2B yuan ($25.4B), cementing it as the world's biggest shopping event. Singles' Day, which falls on Nov. 11, or 11/11, was started as a day to celebrate China's lonely hearts. Alibaba turned it into an online shopping festival in 2009, setting new sales records each year.
Meanwhile, JD.com's sales for Singles' Day reached 127.1B yuan ($19.1B), up 50% from a year ago. The only difference versus its rival... sales included 11 days of transactions, unlike Alibaba (BABA). JD.com (NASDAQ:JD) started its sales event on Nov. 1, to reduce delivery bottlenecks and give users more time to make their purchasing decisions.
Qualcomm is making preparations to reject rival Broadcom's (NASDAQ:AVGO) $103B bid as early as this week, setting the stage for one of the largest-ever takeover battles. According to Reuters, Qualcomm (NASDAQ:QCOM) CEO Steven Mollenkopf has spent the past few days soliciting feedback from shareholders, but feels that the bid undervalues the company and doesn't price in regulatory uncertainty.
The EU is planning to fine Google (GOOG, GOOGL) with an antitrust penalty over AdSense, its advertising network, with a decision expected in the next few weeks, The Telegraph reports. It will be the second fine in less than a year. Google was ordered to pay €2.4B in June for abusing its internet search monopoly to promote its online shopping service.
Royal Dutch Shell is inching up premarket after the oil major said it would sell part of its stake in Woodside Petroleum (OTCPK:WOPEY), Australia's largest oil and gas producer, for about $1.7B. Shell (RDS.A, RDS.B) has so far sold or agreed to sell over $26B as part of its three-year $30B asset sales program launched following the acquisition of BG Group in 2015.
The battle for orders has erupted at the Dubai Airshow as Boeing (NYSE:BA) announced a major sale to Emirates for 40 787-10 widebody aircraft. The U.S. planemaker is already enjoying a healthy lead over Airbus (OTCPK:EADSY). Heading into the show, Boeing's YTD net orders stood at 605, while its archrival's totaled 288 jetliners.
A380 lifeline? Dubai wants a guarantee that Airbus (OTCPK:EADSY) will keep production of the superjumbo open for at least 10 years before Emirates places a new order for the world's largest jetliner. Russia has also initiated preliminary talks with the UAE for joint production of a civil aircraft based on the MC 21-400, while the Gulf state will pay Lockheed Martin (NYSE:LMT) $1.6B to upgrade 80 F-16 fighter jets.
Continuing to rebound from a catastrophic 2014 rocket explosion, Orbital ATK (NYSE:OA) launched a civilian cargo capsule into orbit on Sunday headed for the International Space Station. The Cygnus spacecraft also contained new satellites for NASA, which aims to create 200 Mbps connections in space using lasers. If successful, the new devices will be useful for military, tech, and meteorological agencies.
Uber's warring board members have struck a peace accord that paves the way for a major SoftBank (OTCPK:SFTBY) investment, worth up to $10B, and resolves a legal battle between former CEO Travis Kalanick and a prominent shareholder. The terms were signed on Sunday, but the deal will likely take weeks to complete. UBER is currently valued at $68B, the most highly valued venture-backed company in the world.
"Tesla Semi Truck unveil to be webcast live on Thursday at 8pm! This will blow your mind clear out of your skull and into an alternate dimension," Elon Musk wrote in a tweet. The semi was originally scheduled to be released on Oct. 26, but was delayed as Tesla (NASDAQ:TSLA) battled Model 3 bottlenecks and produced more batteries for hurricane-ravaged Puerto Rico.
Politics are again surfacing in the corporate sphere. Numerous advertisers, including Keurig and Nature's Bounty, have pulled out of Sean Hannity's Fox News (NASDAQ:FOXA) show in response to his coverage of sexual allegations against Alabama Senate candidate Roy Moore. The companies join Cadillac (NYSE:GM) and E-Trade (NASDAQ:ETFC) among other brands that no longer wish to be associated with the Fox host.
Disneyland has shut down two cooling towers at its park in Southern California following an outbreak of Legionnaires' disease. The Orange County Health Care Agency said a dozen cases of the bacterial illness were discovered about three weeks ago. All the patients lived or had spent time in Anaheim and nine had visited Disneyland (NYSE:DIS) in September.
Bitcoin volatility not going away. The cryptocurrency plunged 15% late Saturday from nearly $6,500 to a low of $5,507, before shooting back up to near $6,400, according to CoinDesk. Bitcoin last traded near $6,533, up about 12% on the day. Other breakaway currencies experienced similar movement, with "bitcoin cash" soaring to a high of $2,477, before crashing about 50%, as well as volatility from "bitcoin gold" futures.
Citi is launching a new online shareholder voting platform, called Proxymity, that removes traditional deadlines for submitting votes days ahead of a company meeting and enables investors to vote in real time. The system is "totally unique" according to Citi's (NYSE:C) Okan Pekin. "It's a game-changer in terms of removing human hands, killing all the delay and all the faxes."
Wall Street bonuses may climb as much as 10% this year, in the first meaningful jump for the industry since 2013, according to a closely watched report from Johnson Associates. Bankers who advise companies on issuing stock or bonds could see an even bigger pay jump, as much as 20%, while fixed income traders - which were once heavily relied upon for trading - are likely to see their bonuses fall as much as 10%.
Today's Markets 
In Asia
, Japan 
-1.3%
. Hong Kong 
+0.2%
. China 
+0.5%
. India 
-0.8%
.
In Europe
, at midday, London 
+0.1%
. Paris 
-0.4%
. Frankfurt 
-0.5%
.
Futures at 6:20
, Dow 
-0.2%
. S&P 
-0.2%
. Nasdaq 
-0.1%
. Crude 
+0.1%
 to $56.80. Gold 
+0.4%
 to $1279.10. Bitcoin 
+12%
 to $6533.
Ten-year Treasury Yield
 -2 bps to 2.37%
Today's Economic Calendar
2:00 PM Treasury Budget