Monday Morning Market News, Reads, and Charts
Reads:
News:
Earnings: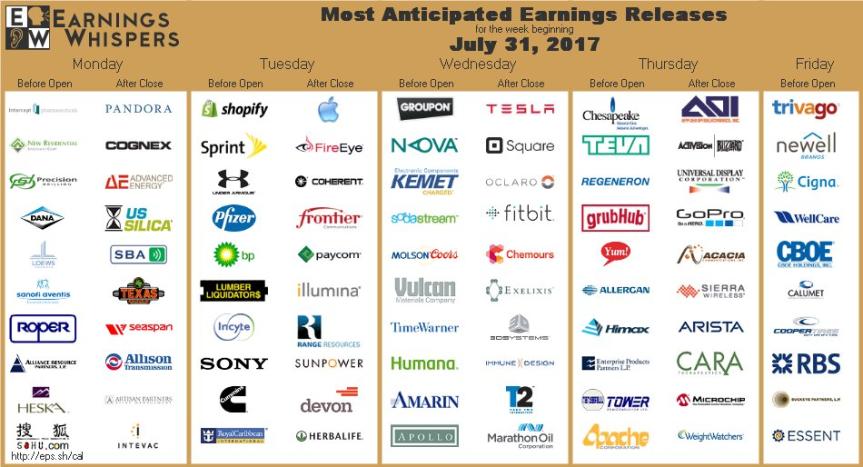 Charts:
Seekingalpha:
Masayoshi Son plans to use SoftBank (OTCPK:SFTBY) in a direct bid for Charter Communications (NASDAQ:CHTR) after an earlier merger proposal by its U.S. wireless unit, Sprint (NYSE:S), was rejected. According to Bloomberg, Son plans to make the offer this week ahead of a public announcement, which could reignite deal talks that had appeared to be dead as of late Sunday. CHTR +5.3% premarket.
Economy
The U.S. flew two B-1B bombers over the Korean peninsula on Saturday in a show of force after recent missile tests from Pyongyang. "I am very disappointed in China. Our foolish past leaders have allowed them to make hundreds of billions of dollars a year in trade, yet they do NOTHING for us with North Korea, just talk," President Trump wrote on Twitter. "We will no longer allow this to continue."
Growth in China's manufacturing sector slowed marginally in July, according to PMI data, while the services sector also cooled, due to "adverse weather conditions and routine maintenance in some enterprises." Beijing is still expected to handily meet its annual economic growth target of 6.5% for the full year - encouraging news for President Xi ahead of a major leadership reshuffle in the fall.
Foreign ministers from Saudi Arabia, UAE, Bahrain and Egypt convened on Sunday to discuss the diplomatic crisis with Qatar, with little sign the eight-week standoff is nearing its end. The countries will study imposing more sanctions, including measures that would gradually harm the Qatari economy, the Saudi-owned Al-Hayat newspaper reported, citing unidentified officials.
President Trump will sign a bill that imposes sanctions on Russia, according to the White House, after Moscow ordered the U.S. to cut hundreds of diplomatic staff and said it would seize two U.S. diplomatic properties in retaliation for the legislation. By signing the bill into law, Trump cannot ease the sanctions against Russia unless he seeks congressional approval.
More than 8M Venezuelans voted Sunday to give President Maduro's government overwhelming powers to redraft the constitution, an outcome that opposition leaders called fraudulent. Many fear the Constituent Assembly will prompt more violence and deepen Venezuela's economic crisis, with at least 125 killed and 2,000 wounded since protests began in April.
Crude futures briefly rose above $50 overnight for the first time since May after OPEC said it would meet next week to discuss why some nations are falling behind on their pledge to cut production. The gathering in Abu Dhabi will take place on Aug. 7-8. It follows a fourth consecutive week of declines in U.S. crude inventories, and potential sanctions against Venezuela's oil industry.
Stocks
Europe's largest bank has reported a set of financial results that beat estimates in the first half of 2017 and announced a $2B share buyback. HSBC's pre-tax profit came in at $10.24B, 5% higher than a year ago. The lender's share price has rallied in the past year, helped by the weak pound. HSBC +2.5% premarket.
As part of a restructuring of the division, Wells Fargo (NYSE:WFC) is cutting about 70 senior executive jobs at its retail unit. "Change is hard, yet change is necessary to make sure we are well positioned for the future," said Mary Mack, head of the division. "In order to truly be better, we must put the right structure in place."
Barely a month after approving the inclusion of Chinese shares in its benchmark emerging market index (ETF: EEM), MSCI has issued a major warning. "If we find a company suspends for a long time, over 50 days, we will remove it from the index, and we will not bring it back to the index again for at least another 12 months." One in every 13 listed companies in China suspended trade in July, according to fund consultancy Z-Ben Advisors.
Elon Musk has rolled out his mass market car, handing over keys to the Tesla (NASDAQ:TSLA) Model 3 to its first 30 buyers in a highly publicized event. It comes with a standard battery that provides 220 miles of driving range on a single charge, and has a 0 to 60 mph time of 5.6 seconds. More than 500K advance orders have been booked for the Model 3.
Audi has given a hint of how much the Dieselgate scandal has rocked the Volkswagen Group (OTCPK:VLKAY), saying it wants to cut €10B from spending to fund its electric car push. Sources told Reuters that Audi (OTCPK:AUDVF) plans to bring five electric vehicles to market in coming years, starting with the e-tron SUV to be assembled from 2018 in Brussels.
Next in line? A report from Bild am Sonntag has implicated BMW (OTCPK:BAMXF) in the ongoing diesel emissions scandal. Citing confidential documents from 2007, the German publication claimed the automaker used two different nodes for diesel engines, one of a higher efficacy for testing, and another with a lower efficacy.
Italy's Benetton family is among five bidders shortlisted to buy Ducati, which is being sold by VW (OTCPK:VLKAY), Reuters reports. While the finalists will be given access to the company's books after the summer, the offers received valued the Italian motorcycle brand at €1.3B-€1.5B. Audi (OTCPK:AUDVF), the owner of Ducati, declined to comment.
"If a new HealthCare Bill is not approved quickly, BAILOUTS for Insurance Companies and BAILOUTS for Members of Congress will end very soon!" President Trump tweeted on Saturday. Insurers are watching... There's approximately $8B in cost-sharing reduction subsidies the federal government pays to insurers to lower the price of health coverage for low-income Americans.
Under federal investigation for possibly violating U.S. sanctions against Iran, Amazon (NASDAQ:AMZN) has admitted to selling consumer goods to at least one person on the government's list of people and entities associated with terrorism. Its quarterly report also revealed that the giant retailer sold thousands of dollars in products to people linked to Iranian government associations.
China's crackdown on the internet is continuing with news that Apple (NASDAQ:AAPL) was forced to remove all major VPN apps from its local App store, which helps users overcome the country's "Great Firewall." Service providers slammed the move, calling it a "dangerous precedent." Already happening? Vladimir Putin passed a law on Sunday banning VPNs that allow Russians to bypass restrictions on flagged sites.
Today's Markets 
In Asia
, Japan 
-0.2%
. Hong Kong 
+1.3%
. China 
+0.6%
. India 
+0.6%
.
In Europe
, at midday, London 
+0.3%
. Paris flat. Frankfurt 
+0.2%
.
Futures at 6:20
, Dow 
+0.2%
. S&P 
+0.1%
. Nasdaq 
+0.2%
. Crude 
-0.1%
 to $49.64. Gold 
-0.1%
 to $1273.50.
Ten-year Treasury Yield
 flat at 2.28%
Today's Economic Calendar
9:45 Chicago PMI
10:00 Pending Home Sales
10:30 Dallas Fed Manufacturing Survey
3:00 Farm Price