With just an hour to go into yesterdays closing bell, the stock market was up against the ropes getting pounded.
Then the market reversed and successfully endured a 12 round pounding.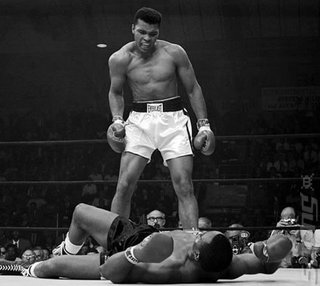 The reversals since the lows in February have been stunning.  Spikes of upside lurk around every corner... waiting.... until market vulnerability begins to set in..... then BOOM....
And with tit we get the customary VIX - VXX smackdown.
How many more punches can this market endure?  Will the next smackdown be the last?
I remain skeptical of this rally, not only because of just how quickly things have changed, but because all of these gains are based upon the training wheels staying on the bicycle.  The first hint of removal and the market quickly goes off course.
Yesterdays sell-off coincided with the continued collapse of the dollar yen cross.  The Yen continues to gain value despite the efforts of the Central Bank in Japan.  They have the appearance of losing control.  The equity markets are tied to the hip of Central Bank policy.
It's been near 8 years of unprecedented Central Bank 'accommodation' and with jobs and the economy supposedly doing so well the FED in response is going to keep the money spigot flowing via near record low interest rates.  Of course the picture nearly every where else is not looking as 'robust'.  The European and Japanese stock markets are already nearing the previous 2016 lows.  Could the strength in the U.S. stock market be from money abroad?  It's a distinct possibility.
Let me cut to the chase as the opening bell nears.
Charts continue to point to a market running out of momentum and showing signs of a looming trend change.
This $SPY momentum sell signal has worked well in the past for both buy and sell signals.  Yesterday we had our first sell signal since the 2016 lows.  Which makes me view today's massive spike off yesterdays lows - a great sell the rip event.  Remember sell the rip was all the rage at the start of 2016.  How quickly we can forget.
$DIA is also showing signs of a top here.
and finally the furious spikes we've seen the last month.  It looks more of desperation.  A bull market is built on the back of steady upside, not unsustainable spikes.
Keep an eye on the $VXX again today.  It's held up fairly well pre-market despite the move higher.
Today will be a key day in confirming the case for downside next week.  If the market can hold these prices namely 2050 on the S&P500, the odds for sharp short term downside action will subside.  But I think the odds for downside in the coming weeks is great, and that we could see a very nice tradeable pull back into the end of the month.
See you in the chat room.