Good morning.  Stock futures are higher.  Go figure.
Yellens commentary yesterday about interest rates going higher, helped add fuel to a morning pull back that was already on fire.
While I'm in the business of rhyming,
those who bought the dip had some impeccable timing.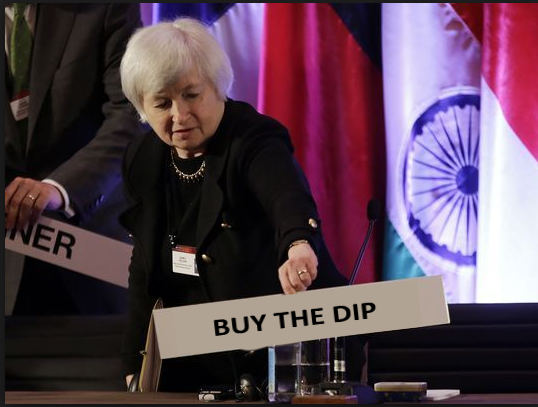 Ok... thats the end of the rhyme..
perhaps I'll pick it up another time....
Buy the dip?
It still the case.  Lower prices get bought.  It seems like years ago, but it was just over a year ago, with the entire global economy at an unprecedented pandemic fueled stand still.
Peak uncertainty.  Who wasnt uncertain?  the stock market.  And who was right about us coming out the other side of the pandemic ok?  the stock market.
Yep.  And at the lows in March 2020 with everyone talking about more downside, I mused we'd see record highs again.  Oh boy.  Not only did we hit new record highs.  We launched to record highs and beyond!
The pandemic recession elicited the strongest response ever from the Central Banks.  Go figure.
Years ago I said the next recession could fuel higher stock prices not lower ones.  Sure enough thats what we got.  What a cruel joke for the bears.  They get the set-up of a lifetime.  And stocks not only go higher.. they go way higher.
So on to the topic of this post.  IT's Coming??
What's coming?
The stars are aligning for a big upswing in prices.  I've been saying this for many moons now as well.  Inflation is finally coming.  Whether or not its long lasting, or 'transitory' as the FED thinks it will be.  One thing is certain.  Its going to draw forward supply in a way we haven't seen in over a decade.
Remember 2008?
The Baltic Dry Bulk index was soaring then too.  Much worse than it is now.
And I'm not saying the BDI will soar as high as it did in the late 2000's.  However I think it is a good example of what we could see for a lot of the industries seeing shortages amid surging demand and supply bottlenecks.
What happened when the BDI was soaring in the late 2000's?  There was a ship building frenzy to capitalize on the high shipping rates.
Guess what happened to a lot of those ships a few years later?  Some of them never even saw the Oceans.  They were scrapped.  The BDI plummeted.  And by the time those ships were ready to 'sail' they were no longer needed.
I think we could see a similar set up in 2022 and beyond.  All this pent up demand amid still pandemic reduced supply is going to create the illusion that we have a long lasting demand issue pushing prices up.  Inflation baby!!!   And in response the market will expand production.  Supply baby!!!
And down the road we could see the opposite of what we see today.  Steady, slowing demand, amid booming supply.
Prices move lower?
And perhaps that is what the FED sees.
You could make the case that the 2021 boom could actually lead to deflation down the road... especially if the Central Banks start tapping the brakes... which I'm not sure they will do.
Deflation?  Who is calling for that?
And I'm not saying today, or even this year.  But when we see supply catch up and surpass demand, as the post pandemic boom tries to play catchup...  we could actually see prices fall down the road.
Which will be another favorable set-up for continued monetary support from your favorite central bank.
And for the stock market.....
Have a great day!