This weekend I covered my thoughts on where the market may be headed.  In it I said $SPY $272.50 and SP500 Futures 2725 would offer strong support.
We didn't quite get down to those levels on Monday, but it was pretty close:
$SPY $273  SP500 futures 2728
What followed was about as ugly a rally for the shorts as you will ever see.
The $SPY currently is trading over $9 above Mondays lows.  It's been a furious, relentless rally, and its continuing today.
The $SPY is also above support and nearing another momentum turn:
Small caps have also taken on a more positive tone.  Amid the tech collapse on Monday small caps closed higher.  Small caps had been leading the market lower.  Monday's move was a decided change of heart, and something that should not go unnoticed.
Momentum is on the cusp of turning here for small caps as well.
and finally Tech.  $QQQ came right down to long term support/resistance on Monday.  The ensuing rally has been nothing short of spectacular.  An emphatic rejection.
The excuse for yesterdays rally came from Jerome Powell comments which the market took as meaning rate cuts are coming.  While the bears will tell you the FED cutting rates now implies the top of this economic cycle, I think it means this market has a lot more room to go to the upside.  I said it this weekend when the negative sentiment was at a peak, and just like I said in January when the same type of negative market sentiment was all around,  this market is heading to fresh record highs.
Trade wars, tariffs,  brexit  be damned.  It doesn't matter.  All that has mattered since the lows in March 2009 has been cheap money.  As long as debt continues to grow this market will continue to grow.  When the massive debt starts to become unserviceable, amid HIGHER INTEREST RATES,  I will believe those 1929 1987 2000 2008 crash correlations.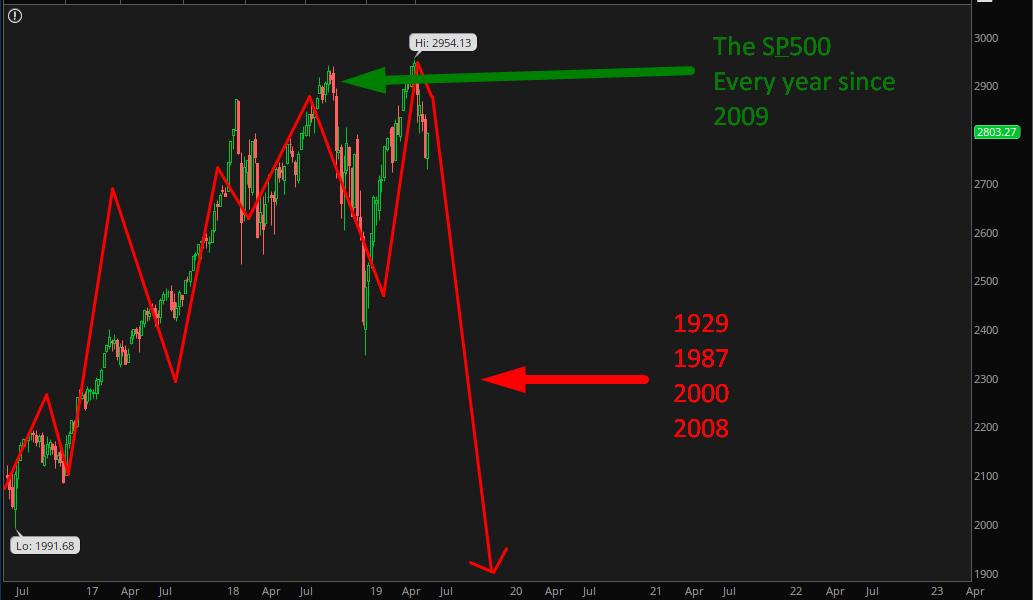 Until then, this bull market marches on.
We are once again on the cusp of a positive momentum shift.  We aren't there yet, despite yesterdays strong rally and todays early strength.  Once we get that signal I'll be looking long again.  For now how about that $TSLA!
Came right down to support on Monday,  I was waiting patiently for it.
Yesterday it rallied 8%.  Its up another few % this morning.
The last time it hit this support line it mounted a furious rally. of almost $100....
Anyway... that is all for now.  The ADP numbers are out and futures are giving up some of their nice pre-market gains.  Let's see how the market digests this in a few hours.