I'm all for the free market.  Let supply and demand dictate price, not 7 or 10 Economic book worms.  But when the price of something becomes a life or death matter, it's tough to argue against some 'price fixing', at least from my perspective.
MYLAN's  CEO is on CNBC defending the 400% increase in price for the Epipen while taking home an almost 600% increase in salary over the same time.  I'd be curious to know what those actually producing the product have seen their compensation grow over the same time.  Perhaps 6%?  It's really all about the money.  That's it.
Don't blow smoke over something that is clear as day... the more you can get people to pay for something the more profits your company can report.  Higher profits = higher share price.  It's a giant circle all leading to executives  lining their pockets with more money.
And that's what its all about... right?  You go to work to make more money, and if raising prices means you make more money.... than so be it.
That is the bottom line.  Don't go blaming anyone else.  The system is all about making more money.  Don't blame the system.  The system is the system.
from CNBC
http://www.nbcnews.com/business/consumer/mylan-execs-gave-themselves-raises-they-hiked-epipen-prices-n636591
Proxy filings show that from 2007 to 2015, Mylan CEO Heather Bresch's total compensation went from $2,453,456 to $18,931,068, a 671 percent increase. During the same period, the company raised EpiPen prices, with the average wholesale price going from $56.64 to $317.82, a 461 percent increase, according to data provided by Connecture.
I am not blaming the CEO.  I am not blaming the system.  You either fix the price of medication, or let market forces dictate the price.  Judging from yesterdays comments from H Clinton, and her previous comments a year ago, we are getting closer to a price fixing situation.  Which is not good for companies that make medication, especially those that have risen in price dramatically the last few years.
I think this is going to lead to a move lower for these stocks, and the way I am going to trade it, is the way I traded it last year when $IBB was facing a similar breakdown and similar comments from Hillary Clinton.  I bought some puts.
It was just over a year ago, August 20th of last year: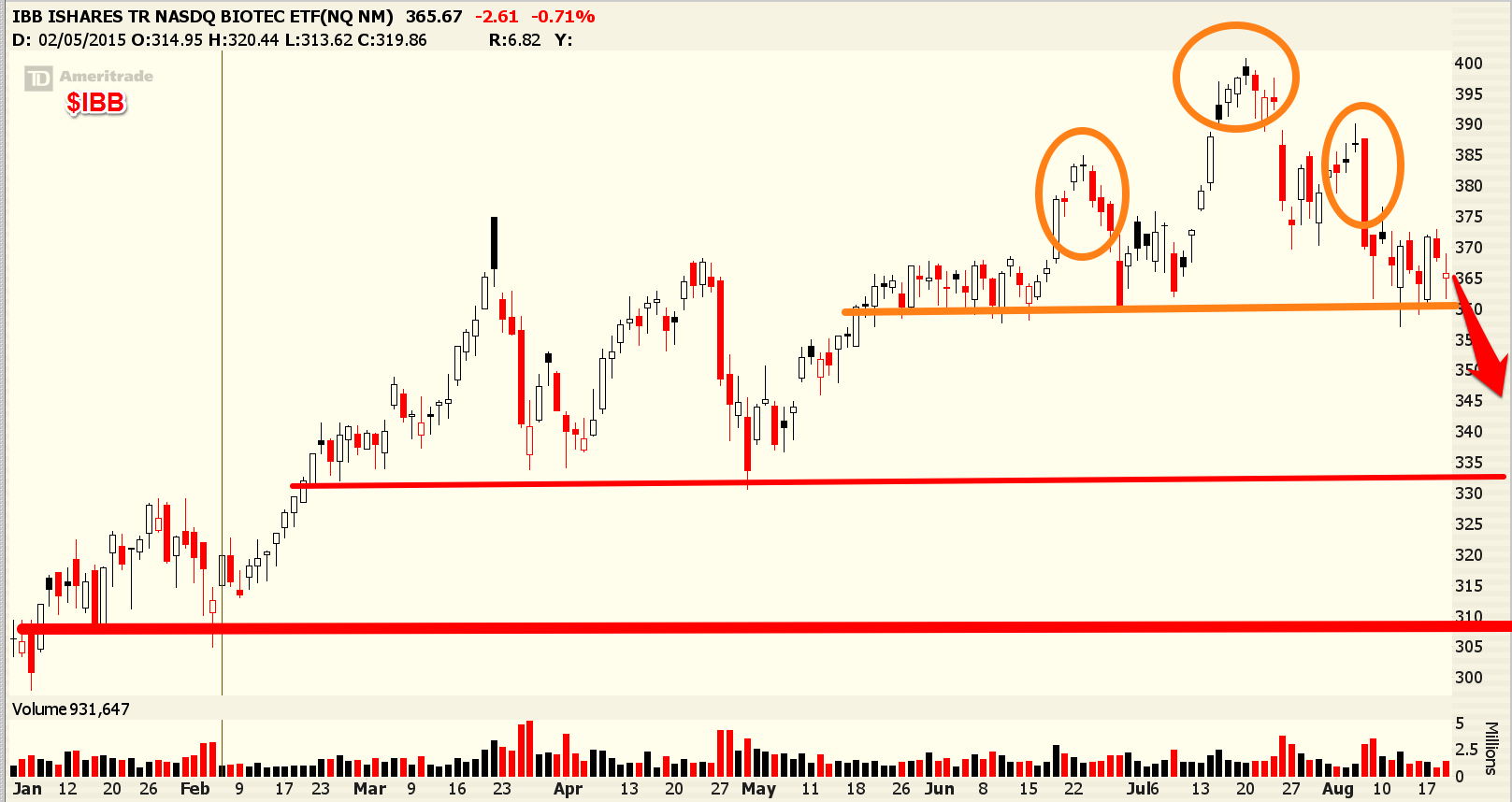 and this time around $IBB looks to be in a stair step to the downside.
I think into tomorrow $IBB could head to $280.  Longer term $250 into September.  It's all about prices, and if the government is saying prices are too high, that ultimately will lead to lower profits, which means a correction is coming to account for this.
The trades I am looking to make:
I'll be looking for entries this morning:
$IBB  $280 weekly puts $.50
and September $250 puts for $.50