Friday Morning Reads, News, Charts
Reads:
News:
Charts:
Premium:
Yesterdays Unusual Option Action
Earnings This Week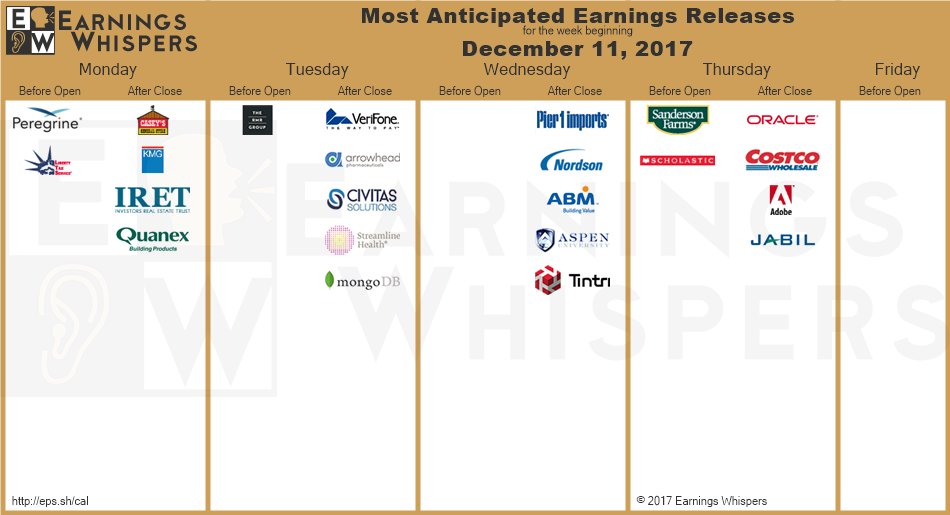 Seekingalpha:
U.S. stock index futures are set for a positive open as investors shake off concerns about the progress of U.S. tax reform. In the previous session, U.S. equities fell into the red by the close, with several Republican senators expressing last-minute doubts about the tax overhaul. The reservations come before a compromise plan set to be released by Congress today and final votes planned for early next week.
Economy
Latest NAFTA news: Vice President Mike Pence met with a handful of governors this past week, as well as representatives from automakers, to discuss how proposed changes could affect jobs and manufacturing. The meetings took place as NAFTA negotiators from the U.S., Canada and Mexico met behind closed doors at a downtown Washington hotel to update the decades-old accord.
EU leaders are heading to Brussels for a Euro Summit that will discuss the Economic and Monetary Union and Banking Union. A number of ideas have been explored by the Eurogroup ahead of the meeting, such as putting into operation a common backstop for the Single Resolution Fund, expanding the ESM and further developing the Ecofin Council Roadmap of June 2016.
Russia is not ready to sign up to new sanctions on North Korea that would strangle the isolated country economically, according to Deputy Foreign Minister Igor Morgulov. The news comes as UN Ambassador Nikki Haley showed off missile parts that Iran "indisputably" supplied to Houthi rebels in Yemen in a violation of UN resolutions.
South Africa's ruling ANC party is set to elect a new leader at its five-yearly national conference which begins Saturday. The two frontrunners are current President Jacob Zuma's ex-wife Nkosazana Dlamini-Zuma and Deputy President Cyril Ramaphosa. South Africa has witnessed its fundamentals plummet this year, slashing its economic growth outlook, while S&P cut the BRICS-member's local currency debt to "junk."
Stocks
Bitcoin buyers have been issued a "serious warning" from one of Britain's leading financial regulators. "If you want to invest in bitcoin, be prepared to lose all your money," Financial Conduct Authority CEO Andrew Bailey told BBC's Newsnight. He added that a lack of backing from governments and central banks, as well as similar risks to gambling, are evidence that the cryptocurrency is not a secure investment.
President Trump supports the deal that Walt Disney (NYSE:DIS) has struck to buy the film, television and international businesses from Twenty-First Century Fox (NASDAQ:FOXA), according to a White House statement. It's likely to face an antitrust review by the DOJ, which is run by a Trump appointee. Gabriel Sherman of NYMAG also reported that Trump called Rupert Murdoch ahead of the deal to make sure that Fox News would not be among the assets sold.
Amazon will soon resume selling the Apple TV (NASDAQ:AAPL) and Google Chromecast (GOOG, GOOGL), which were pulled from the e-commerce platform over two years ago for not supporting Prime Video (NASDAQ:AMZN). While the app became available for the Apple TV last month, it remains off the Chromecast. Google recently pulled YouTube from the Fire TV and Echo Show due to a lack of reciprocity.
Delaware's Supreme Court has ruled that a lower court erred in finding that the 2013 buyout of Dell (NYSE:DVMT) was vastly underpriced, which allowed shareholders opposed to the $24.9B deal to ask a judge for a higher value of their stock. The opinion will likely be welcomed by corporate dealmakers who have warned that the prior ruling would encourage hedge funds to seek a quick profit.
A restructuring is on the way... Teva Pharmaceutical (NYSE:TEVA) is cutting more than 25% of its workforce, or about 14,000 employees around the world, closing factories and research centers and suspending its dividend. "Making workforce reductions of this magnitude is difficult," CEO Kare Schultz wrote in a memo. "However, there is no alternative to these drastic steps in the current situation."
Hess shares rose almost 7% after the bell on Thursday after the WSJreported that Elliott Management, which owns a 6.7% stake in the oil and gas company, called for a major shakeup. The hedge fund hopes to remove CEO John Hess or push him to make a sale. Elliott would also like to see Hess (NYSE:HES) capital returned via stock repurchases and is calling for dividend cuts to fund the buyback.
China's CNPC is considering taking over Total's (NYSE:TOT) stake in a giant Iranian gas project if the French company leaves the nation to comply with any new U.S. sanctions. Total signed the $1B deal to develop the South Pars gas field in July, which was the first major Western energy investment in the Islamic Republic since the lifting of international sanctions.
Due to complications from a recent illness, CSX Chief Executive Hunter Harrison has taken a medical leave of absence. The railway has named Jim Foote, a close confidant of Harrison who was hired in October as chief operating officer, to serve as acting CEO. CSX has scheduled a conference call for this morning to discuss the switch.
Ford is relocating its self-driving and EV units from Dearborn, Michigan to Detroit, marking the automaker's first facility within the city's limits in several years. The team in Corktown will be led by Sherif Marakby, Ford's (NYSE:F) VP of autonomous vehicles and electrification, while the company will begin testing its latest self-driving technology in 2018.
Similarly, BMW said it will spend over €100M on a test track for self-driving and electric cars in the Czech Republic, expanding its foray into alternative driving technologies. BMW (OTCPK:BAMXF) plans to introduce its first highly automated iNEXT model in 2021, and intends to increase battery-powered offerings to 25 models by 2025, about half of which will be fully electric.
Airbus has announced a complete overhaul of its top management as the planemaker grapples with corruption allegations. COO Fabrice Bregier will step down in February 2018, while CEO Tom Enders won't seek a new mandate when his term expires in 2019. Guillaume Faury, CEO of Airbus Helicopters (OTCPK:EADSY), will take over Bregier's role, putting him in line to take over the top job when Enders retires.