Friday Morning Reads
Reads:
News:
Charts:
Premium:
Futures:
 Option Action:
 UOA
Earnings: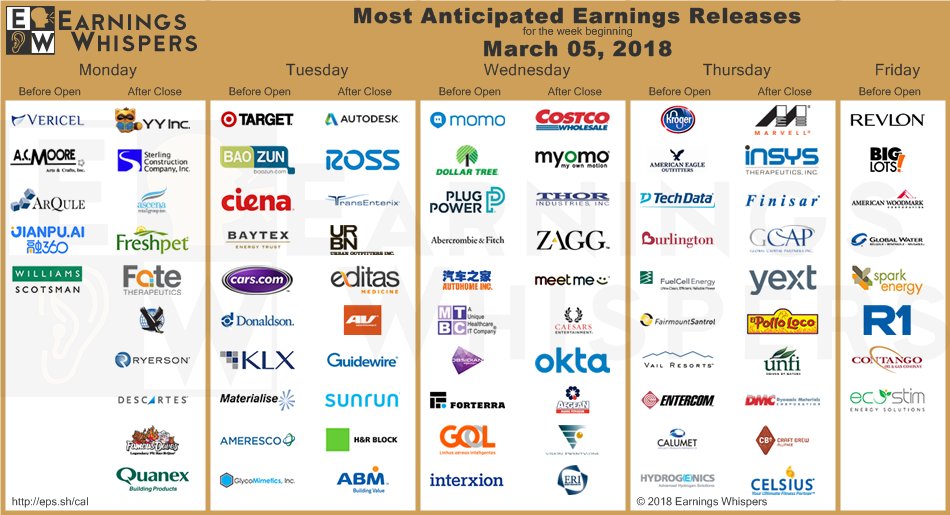 Seekingalpha:
Jobs and wage inflation are set to be a major focus of investors today, with the February Employment Situation report due out from the Labor Department at 8:30 EST. The consensus forecast from economists is for nonfarm payrolls to be up 205K from January, although there is a wide range of estimates (152K to 230K) this month. The participation rate is expected to stay at 62.7%, while the unemployment rate is anticipated to move to 4.0% from 4.1%. Keep an eye on the average hourly earnings update amid concerns of wage pressures on corporate profit. Inflation fears could be unleashed if wage growth outpaces the anticipated year-over-year rise of 2.9%.
Economy
President Trump has agreed to an invitation from North Korean leader Kim Jong-un to meet to discuss denuclearization. Kim made the invitation for Trump to come to North Korea in a letter hand delivered by South Korea's national security adviser Chung Eui-yong, and Trump said he would meet by May, though the White House is now saying the time and place of the meeting is yet to be determined. Kim says he's prepared to suspend nuclear and missile tests in the meantime. South Korea's Kospi index finished the day up 1.1%, after showing off a 1.8% gain in earlier trading.
As expected, the Bank of Japan's policy board voted to keep the benchmark interest rate at -0.1% and the yield on 10-year Japanese government bonds near 0%. The decisions by the central bank were made with inflation in Japan still comfortably below the BOJ's 2% target rate. During the press conference, Governor Haruhiko Kuroda said it wasn't the right time to discuss details of an easing exit. He also said there is a high chance that the 2% inflation target will be reached around fiscal year 2019.
President Trump signed an order to impose a 25% duty on steel and 10% duty on aluminum. The order was more flexible than originally pitched, with Canada and Mexico excluded barring a NAFTA breakdown and the door open for other nations to be levied at a lower rate down the road. Many Republican lawmakers oppose the generalized nature of the tariff order.
Consumer prices in China increased 2.9% in February to top the 2.5% consensus estimate of economists and almost double the 1.5% rise in January. The CPI jump was the strongest recorded in the nation since 2013. Strong consumer demand around the Chinese New Year and rising food prices are being cited as the main drivers of inflationary pressure during the month. "When we're pursuing quality-oriented growth, we'll depend less heavily on the credit-based growth model," said PBOC Governor Zhou Xiaochuan in Beijing.
With trade balances suddenly in vogue to dissect, it's time to look toward Germany. Earlier today, the government reported a trade surplus of €21.3B for February vs. €21.0B expected and €21.4B in January. Exports dropped in January, along with German industrial output. Germany's trade surplus dropped last year for the first time since 2009.
Crude oil prices are slightly higher after a stretch of declines tied to trade war fears. News of the planned meeting between President Trump and Kim Jong-un may be calming traders. WTI crude oil future +0.53% to $60.442/bbl at last check. Brent crude +0.64% to $64.02/bbl.
Earnings season wrap-up: The strong earnings season didn't pack as much punch for investors as in past years, according to data from FactSet. Despite the record percentage of companies that topped consensus estimates, a variety of macroeconomic, political and valuation factors handcuffed share prices. Research from Bank of America Merrill Lynch showed that S&P 500 companies that beat analyst estimates only generated a 0.8% gain vs. the +1.6% historic average.
Fedspeak: Boston Fed President Eric Rosengren is due to give a speech in Springfield, Massachusetts, on the U.S. economy and monetary policy. It will also be a busy day for Chicago Fed President Charles Evans, with appearances on Bloomberg Markets and Squawk Box on his schedule, along with a speech on current economic conditions and monetary policy at the Manhattan Institute Shadow Open Market Committee event in New York. The Fed talks take on added significance amid the new trade war wildcard.
Stocks
Let's make a deal: Boeing (NYSE:BA) CEO Dennis Muilenburg said the company has enough financial muscle to invest organically, return money to shareholders and take on targeted acquisitions like the proposed Embraer (NYSE:ERJ) deal. "Acquisitions of the scale of Embraer are not only very doable for us, they are also things we can selectively do, aligned with our (cash deployment) strategy," said Muilenburg. Talks on a merger between Boeing and Embraer are still progressing.
Finding a buyer for GoPro (NASDAQ:GPRO) is a tough go, according to the New York Post. Sources indicate that no serious bidders have emerged after the company hired JPMorgan last year to assist it in pursuing a sale. CEO Nick Woodman has hinted about a sale as recently as last month. Shares of GoPro are down -1.0% in premarket action.
Automakers are watching Washington, D.C., for action on several fronts. The industry wants the Trump Administration to revise the fuel efficiency standards on the books for 2022 and 2025, after a revision was passed over as part of the tax reform legislation. The White House has preliminary plans to hold a meeting on Monday on U.S. renewable fuel standards. Earlier this week, General Motors (NYSE:GM) CEO Mary Barra called on the U.S. Congress to expand the consumer tax credit for electric vehicles after the company disclosed it plans to increase Bolt production. Ford (NYSE:F), Uber (Private:UBER), Tesla (NASDAQ:TSLA), BMW (OTCPK:BMWYY), Nissan (OTCPK:NSANY) and Volkswagen (OTCPK:VLKAY) are some of the other companies looking for the EV tax credit to be expanded.
Movie theater chains hope to see the recent momentum at the U.S. box office extend for another week. Led by the $516M brought in by Disney's (NYSE:DIS) Black Panther, the U.S. box office is up 8.5% compared to a year ago through March 7. Disney is expected to have the top two movies this weekend, with the debuting A Wrinkle in Time forecast to challenge Black Panther for the top spot. Other movie premieres this weekend include STX Entertainment's Gringo, Entertainment Studios' The Hurricane Heist and Aviron's The Strangers: Prey at Night.
Aiming to make a profit this year is the message Snap (NYSE:SNAP) chief Evan Spiegel gave in a companywide directive. That's an aggressive timetable considering analysts don't project a profit until at least 2021, and it could mean significant cost cuts alongside a focus on increasing revenues (which would have to more than triple at current expense levels). Spiegel's directive is reported to have been fired off a few months ago.
Unable to find a buyer or reach a restructuring deal with creditors, Toys "R" Us is planning to liquidate its U.S. stores. The toy chain went into Chapter 11 last September and obtained a $31B loan to keep stores open, but the holiday season didn't work out as well as planned. Hasbro (NASDAQ:HAS) and Mattel (NASDAQ:MAT) fell in after-hours trading on concerns over losing a key selling channel. Keep an eye on Target (NYSE:TGT), a retailer seen as benefiting from a winding-down Toys "R" Us.
There's another swinging door at Tesla (TSLA) after Chief Accounting Officer Eric Branderiz exited his post. In a very brief SEC filing, the company said Branderiz left Tesla for personal reasons. The exec joined the company back in 2016 during the complicated SolarCity acquisition. Shares of Tesla are down -1.2% in premarket action.
Ignition switch redux: General Motors (GM) faces the rekindled prospect of a potential $1B stock payout to address claims stemming from its ignition switch crisis after a trust for the company's bankruptcy estate renewed discussions with plaintiffs about a settlement. The trust, which is tasked with compensating creditors of old GM, is discussing a possible deal similar to one that previously fell apart.
Thursday's Key Earnings
Insys Therapeutics (NASDAQ:
INSY
) 
-4.9%
 AH on Q4 earnings miss.
Marvell Technology (NASDAQ:
MRVL
) 
-3%
 AH despite Q4 earnings beat, upside guidance.
Finisar (NASDAQ:
FNSR
) 
-9.7%
 AH on Q3 earnings miss, light guidance.
AcelRx Pharmaceuticals (NASDAQ:
ACRX
) 
+15.8%
 AH on Q4 earnings, resubmission of DSUVIA NDA.
PDL BioPharma (NASDAQ:
PDLI
) 
+18.9%
 AH on Q4 earnings beat.
VeriFone Systems (NYSE:
PAY
) 
-3%
 AH on Q1 in-line earnings, light guidance.
El Pollo Loco (NASDAQ:
LOCO
) 
+7.3%
 AH on Q4 earnings beat.