Friday Morning Reads
Reads:
News:
Charts:
Premium:
Futures:
Earnings: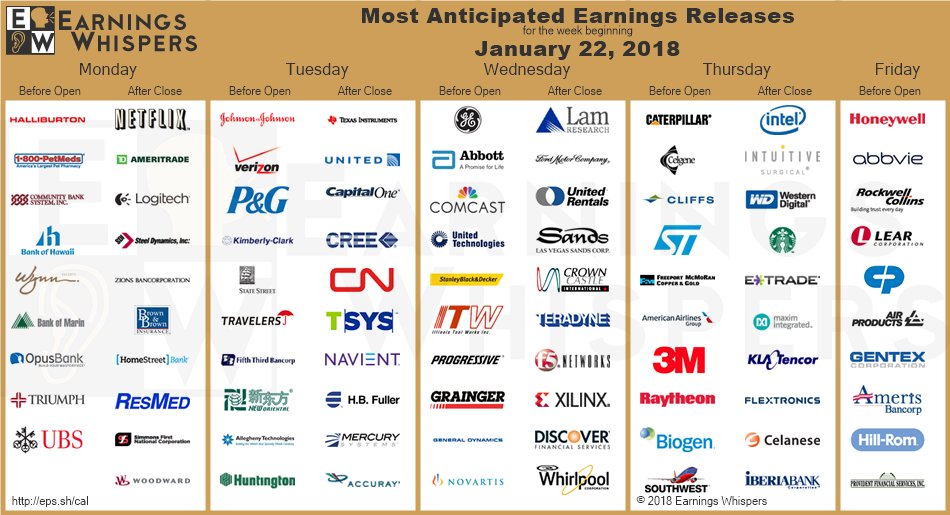 Unusual Option Action:
Seekingalpha:
The U.S. economy hasn't posted three consecutive quarters of at least 3% growth since early 2005, but that may change today as the Commerce Department publishes its first Q4 GDP estimate at 8:30 a.m. Overall growth for the year is still expected to come in at around 2.3% - because of a sluggish first quarter - but spurred by a weak dollar, tax cuts, and consumer and business spending, the Trump administration could reach its 3% annual growth target in 2018.
Economy
"I would do TPP if we were able to make a substantially better deal," President Trump declared in Davos ahead of his highly awaited speech today at the World Economic Forum. What about NAFTA? "I think we have a good chance but we'll see what happens," he declared, as the sixth round of negotiations continue in Montreal.
Conflicting messages? The dollar index fell again overnight, down 0.6% to 88.69, reversing Thursday's rally that had followed comments from President Trump. "The dollar is going to get stronger and stronger, and ultimately I want to see a strong dollar," he said at the WEF. The greenback slipped to three-year lows earlier in the week after Treasury Secretary Steven Mnuchin said a "weaker dollar is good for trade."
China is considering a merger of its banking and insurance regulators as it attempts to counter financial risks in the world's second-largest economy. The decision could be announced after the National People's Congress begins its annual session on March 5, Bloomberg reports. Alternative plans that have been discussed include creating a "super-regulator" that also brings into its fold the central bank and stock market watchdog.
Russia's credit profile has been lifted by Moody's Investors Service, days ahead of the expected release of a U.S. Treasury report discussing debt sanctions. Citing "institutional strength and increased evidence of economic and fiscal resilience," the agency raised the country's outlook to positive from stable, but kept its long-term rating one notch below investment grade at Ba1.
The EPA said late Thursday it's getting rid of requirements that forever keep sites classified as "major sources" of hazardous air pollution once they meet that classification. The "once-in always-in" policy was said to punish the industry even if they made improvements. The decision is part of the Trump administration's effort to roll back federal regulations and was sought by utilities.
Stocks
Handing a victory to Boeing (NYSE:BA), industry experts largely predict the ITC today to back the U.S. Commerce Department's recommendation to slap Bombardier's (OTCQX:BDRAF, OTCQX:BDRBF) CSeries with a near 300% duty on American sales. A Canadian government source told Reuters that the country was expecting the same, further inflaming tensions between Ottawa and Washington during talks to modernize NAFTA.
Tesla rose 1.6% in extended trading on Thursday after squashing a CNBC report that described further delays and quality issues for the Model 3 (the news sent the stock down 2.4% earlier in the session). "To be absolutely clear, we are on track with the previous projections for achieving increased Model 3 production rates that we provided earlier this month," a Tesla (NASDAQ:TSLA) spokesman said in a statement.
Walmart has struck a partnership with e-commerce firm Rakuten (OTCPK:RKUNY) to launch an online grocery delivery service in Japan, competing against the "Fresh" service that Amazon (NASDAQ:AMZN) is trialing in parts of Tokyo. The deal will also allow Walmart (NYSE:WMT) to sell 6M e-books and audiobooks offered by Rakuten's Kobo brand in the U.S.
Preparing to make its U.S. debut by the end of 2018, JD.com (NASDAQ:JD) is seeking funds for an international expansion and is in final talks to sell 15% of its logistics arm to Tencent (OTCPK:TCEHY) and other investors, Bloomberg reports. The strategy: sell quality Chinese goods at lower prices than competitors. JD may even lean on partner and shareholder Walmart (WMT) for initial logistics support.
Qualcomm has won the backing of a group of Chinese smartphone manufacturers in its fight to fend off a $130B hostile bid from rival Broadcom (NASDAQ:AVGO). The country's antitrust regulators could pose the biggest obstacle to the deal, which would create a dominant player in the mobile chip market and post a challenge to domestic companies. China is also the last country yet to approve Qualcomm's (NASDAQ:QCOM) $47B acquisition of Dutch chipmaker NXP (NASDAQ:NXPI).
Under pressure to boost its profitability, Dell (NYSE:DVMT) is looking at a wide range of strategic alternatives after its EMC deal in 2016 failed to deliver the cost savings and performance it projected. The options could include one of the biggest IPOs in years, or a buyout or combo with VMware (NYSE:VMW), WSJ reports. While Dell has taken on a lot of debt in the past, VMware's market cap is over $55B.
Exploratory discussions? Viacom (VIA, VIAB) CEO Bob Bakish and CBS Corp. (NYSE:CBS) CEO Leslie Moonves have held taks about merging the two media companies, sources told Reuters. A recombination is expected to be reviewed at their next board meetings. Talks have also gained steam since December, when Disney (NYSE:DIS) announced it would acquire a majority of Twenty-First Century Fox (NASDAQ:FOXA) assets.
Nike rose almost 2% in after-hours trading on Thursday after Bill Ackman's Pershing Square disclosed a passive stake, but reportedly doesn't intend to agitate for change at the sneaker giant. The activist investor, which hasn't made money in any of the last three years, is already up about 30% on the Nike (NYSE:NKE) bet, having bought at about $52 a share.
Bring the bidding war on... just not in public. According to CNBC, Amazon (AMZN) is insisting on a new factor for cities still in its HQ2 headquarters race: Secrecy. At stake is a $5B facility that will employ 50,000 and boost state coffers by adding billions of dollars in additional investment over the next 10 to 15 years. AMZN +1.1% premarket.
Cryptocurrencies slid overnight after one of Japan's most active Bitcoin venues - Coincheck - halted client withdrawals, spooking investors in a country that's still wary four years after the collapse of Mt. Gox. "Traders are very sensitive to any news involving the big exchanges," said Peter Sin, co-head of the digital currency sub-committee at ACCESS. "This will accelerate price declines."
TransCanada does not see a major issue in a route change for the proposed Keystone XL oil pipeline, according to CEO Russ Girling. Nebraska's Public Service Commission cleared the pipeline, but not along TransCanada's (NYSE:TRP) preferred path. Girling said the newly approved route would add $100M-$200M in costs, but believes the state's ruling was "solid."
Thursday's Key Earnings
Biogen (NASDAQ:
BIIB
) 
+2.1%
 hunting for late-stage assets.
Caterpillar (NYSE:
CAT
) 
+0.6%
 after beating estimates.
Celgene (NASDAQ:
CELG
) 
+1.2%
 on strong Revlimid sales.
Freeport-McMoRan (NYSE:
FCX
) 
+1.1%
 with strong cash flows.
Intel (NASDAQ:
INTC
) 
+3.7%
 AH as data center sales surge.
Starbucks (NASDAQ:
SBUX
) 
-4.3%
 AH on a holiday drink flop.
Western Digital (NYSE:
WDC
) 
-1.1%
 AH despite beating earnings.