Friday Morning Reads, Charts, News
Reads:
News:
Charts: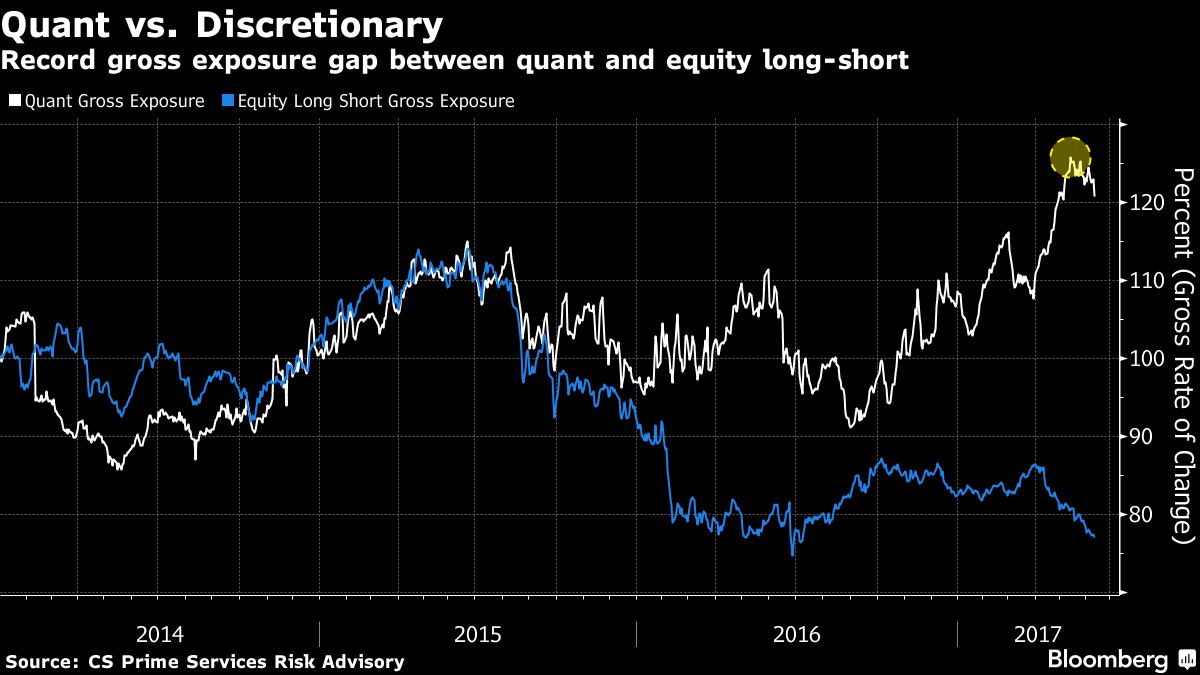 SeekingAlpha:
President Trump is expected to announce a revised Cuba policy today, which would stop the flow of U.S. cash to the island's military, while maintaining diplomatic relations and service by U.S. airlines and cruise ships. The directive also doesn't intend to "disrupt" existing business deals like the one recently struck by Starwood Hotels (NYSE:MAR), and there won't be any changes to the "wet foot, dry foot" policy. Related tickers: CUBA, JBLU, AAL, DAL, ALK, CCL, NCLH, RCL
Economy
Greece's creditors have agreed to release the next €8.5B tranche of its bailout program, but put off a final decision on debt relief until August 2018. The delay will make it more challenging for Athens to reenter capital markets after its current rescue ends, possibly risking the need for another bailout down the road.
New polls show French President Emmanuel Macron's party is on course to win a commanding majority in the final round of parliamentary elections on Sunday. En Marche! and its allies may take as many as 470 seats out of 577, marginalizing the long-dominant Republicans and Socialist Party. Also on watch: Formal Brexit talks are due to begin Monday.
The Bank of Japan kept its negative interest rates on hold in its June review, pledging to keep asset purchases around the current target of ¥80T ($727M) and sounding more upbeat on the economy. "Private consumption has increased resilience against a background of steady improvement in the employment and income situation," the BOJ said in a statement.
The DOJ has seized $540M in assets from embattled sovereign wealth fund 1MDB, which was set up by Malaysian Prime Minister Najib Razak in 2009 to promote economic development. The action claims financiers related to the fund stole around $4.5B, which included a Picasso painting gifted to Leonardo DiCaprio and the rights to movies Daddy's Home and Dumb and Dumber Two.
Cairo isn't concerned about potential financial fallout from its political rift with Doha, according to Egyptian finance minister Amr El-Garhy. "It's not a matter of a loss of money... it's a matter of principle," he said on the sidelines of the AIIB's second annual meeting. Egypt, alongside six other Middle Eastern countries, severed ties with Qatar last week, accusing the nation of supporting terrorism.
The Russian Defense Ministry is checking on information indicating that Islamic State leader Abu Bakr Al-Baghdadi was killed in an air strike near Raqqa at the end of May. "The strikes destroyed high-ranking commanders of the terrorist group who were part of the so-called military council of ISIS, along with 30 field commanders and up to 300 militants," according to the ministry.
Vice President Mike Pence has hired an outside lawyer, Richard Cullen, to aid him with both congressional committee inquiries and a special counsel probe into possible collusion between the Trump campaign and Russia. The decision comes less than a month after Trump hired his own private attorney, Marc Kasowitz, to help navigate the Russia investigations.
Stocks
Investors raced into exchange-traded funds this past week despite market jitters, according to Lipper, delivering the most cash to those funds since late last year. Stock ETFs listed in the U.S. attracted $17.7B during the week ended June 14, while their mutual fund counterparts recorded $6.8B of outflows in their largest week of withdrawals since April.
Following a record surge in price, bitcoin sank as much as 19% on Thursday, putting it on pace for its worst week in more than two years. Eyes are also on the selloff that has erased $250B from the value of tech shares. While the sector rebounded overnight, others fear it could be an end to the industry's longest uptrend stretch in more than two decades.
"People keep saying, what happens to jobs in the era of automation? I think there will be more jobs, not fewer," said Alphabet's (GOOG, GOOGL) Eric Schmidt. Besides the need to work alongside computers, he cited a study by McKinsey, which suggested 90% of jobs are not fully automatable. In other news, the EU is set to hit Google with a record antitrust fine for manipulating its shopping search results.
Fighting extremism... While Twitter (NYSE:TWTR) continues to face criticism over its user controls, Facebook (NASDAQ:FB) is discussing new tech to fight terrorist propaganda using machine learning. The company said it's expanded the use of artificial intelligence to identify possible terrorist postings and even block or remove them without human intervention.
The U.S. government is trying to stave off China and others challenging American dominance in the next generation of fast computers. The Department of Energy has awarded $258M over three years to be shared by six tech firms as part of a plan to develop new supercomputers that can crunch data at least 50x faster than the nation's most powerful systems today. Award recipients: AMD, CRAY, HPE, IBM, INTC, NVDA
CEO Bob Iger is in Shanghai today to celebrate the one-year anniversary of Walt Disney's (NYSE:DIS) $5.5B local theme park as speculation surfaces whether the group is planning a second park in China. Disney is also pursuing a path to build brand and profit in downtown classrooms in six major Chinese cities, where children study English with the help of Winnie the Pooh and Captain America.
Losing its sweet tooth? Nestle (OTCPK:NSRGY) is exploring options for its $900M U.S. confectionery business, which includes brands like "Butterfinger" and "Baby Ruth," in a potentially significant effort to focus on its health strategy. However, the company said it will push ahead with its U.S. investments in other product areas. In February, Nestle's CEO said he was open to strategic M&A opportunities.
The newest and costliest U.S. aircraft carrier, built by Newport News Shipbuilding (NYSE:HII), has been dogged by trouble with fundamentals: launching jets from its deck and catching them when they return. It turns out that the General Atomics system used to capture jets landing on the USS Gerald R. Ford ballooned in cost, tripling to $961M, while the Navy swallowed the charges thanks to a cost-plus contract.
Takata is preparing to file for bankruptcy protection in the U.S. and Japan - as early as next week - amid mounting liabilities stemming from its exploding airbags, WSJ reports. Takata (OTCPK:TKTDY) is also finalizing details for an acquisition of the group's best assets by Key Safety Systems, a U.S. airbag manufacturer owned by China's Ningbo Joyson Electronic.
With expectations of billions of dollars in cost and growth synergies, DuPont (NYSE:DD) and Dow Chemical (NYSE:DOW) have confirmed an agreement with the DOJ that will permit them to proceed with their proposed merger. DuPont will divest certain parts of its crop protection portfolio, and Dow will offload its global ethylene acrylic acid copolymers and ionomers business.
Done deal! Johnson & Johnson (NYSE:JNJ) has completed its acquisition of Actelion (OTCPK:ALIOY) for around $30B in cash and expects the purchase to be accretive to adjusted earnings in 2017. In connection with the deal, Actelion has spun off its drug discovery business and clinical development assets into Idorsia, a newly created biopharmaceutical company.
Youth tobacco use in the U.S. fell to historic lows in 2016, leading public health experts to speculate that a smoke-free generation may be within reach. According to the CDC, the number of middle and high school students who used any tobacco product fell to 3.9M last year from 4.7M in 2015. The decline in e-cigarette use was also notable, falling to 11.3% of high schoolers in 2016 from 16% in 2015. Related tickers: LO, PM, MO, VGR, RAI, BTI, VPCO
The Trump administration is preparing an executive order aimed at lowering U.S. drug costs, a move that could come within weeks on a campaign issue that has been largely left out of GOP legislative work in Congress. According to Bloomberg, top health and budget officials in the administration will meet today to discuss the effort, which is being led by Office of Management and Budget Director Mick Mulvaney.