Friday Morning Reads
Morning Reads:
Options: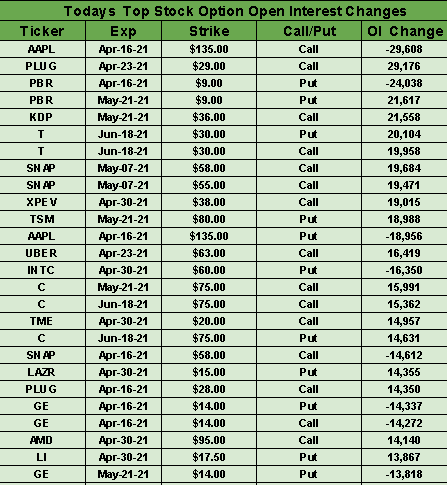 Futures:
Premium:
Prepper
Market watchers hailed this week and the trading debut of Coinbase (NASDAQ:COIN) as crypto's road to the mainstream. But it hasn't been without its speed bumps. Robinhood (RBNHD) has fixed a problem with executing crypto orders that arose late yesterday as the platform faced "unprecedented demand." Interest in cryptocurrencies surged this week, coincidental with the direct listing of trading platform Coinbase. "We know some customers may have seen executed crypto orders display as pending; for an extended period of time. We were experiencing a delay in order status updates - this is now resolved. Check your app for up-to-date information about any recent orders," Robinhood initially tweeted around 6:30 p.m. ET Thursday. At 10 p.m. it said: "We're currently experiencing issues with crypto trading. We're working to resolve this as soon as possible." By 11:46 p.m. it said the problem had been resolved, adding: "Like others, we were experiencing unprecedented demand for Robinhood Crypto services, which created issues with crypto trading. We've resolved the issue and apologize for the inconvenience."
Coinbase surged 30% on its debut Wednesday, but closed well below its opening price. And the stock struggled Thursday, closing slightly lower. But it has garnered a lot of positive commentary from Wall Street analysts. Yesterday, Loop Capital started the stock with a Buy rating and a price target of $394/share. The average price target for the stock is around $520, which represents an upside of more than 60%. Coinbase experienced its own platform problems yesterday, that were later resolved, related to an upgrade of its Berlin Ethereum Network. "Due to an issue with the recent network upgrade, we've temporarily disabled ETH and ERC20 withdrawals from Coinbase and Coinbase Pro," the company tweeted yesterday. Receives of these assets may also be delayed. We're working on a fix, and we'll send an update as soon as we have one.
Crypto hype and teething problems: The crypto excitement has seen Bitcoin and Ethereum hit new all-time highs this week and Dogecoin soar. Bitcoin (BTC-USD) and Ethereum (ETH-USD) are down slightly today, but Dogecoin (DOGE-USD) is off to the races again, up nearly 80%. But the frenzy for virtual currencies hasn't been without its stumbling blocks, beyond trading platform glitches. HSBC (NYSE:HSBC) is prohibiting its customers from buying shares of Coinbase as it sticks to a policy of avoiding virtual currencies. "HSBC has no appetite for direct exposure to virtual currencies and limited appetite to facilitate products or securities that derive their value from virtual currencies," HSBC told CoinDesk. "This is not a new policy."
Meanwhile, Reddit's (REDDIT) WallStreetBets forum, which rose to prominence propelling the GameStop squeeze, is grappling with its own policy against crypto discussion. Yesterday, WSB reinstated a ban on all cryptocurrency discussion less than 24 hours after it allowed a crypto discussion thread with limits. The subreddit allowed a daily crypto discussion thread limited to Bitcoin, Ethereum and Dogecoin on Wednesday after Coinbase started trading, but kept in place a "crypto spam" ban. Bloomberg published an article late Wednesday entitled "WallStreetBets Bows to Crypto Wave, Allows Bitcoin Discussion." Yesterday, WSB moderator bawse1 posted: "Due to the article that was written @bloomberg who somehow felt that 'WallStreetBets Bows to Crypto' ... Crypto discussion is banned indefinitely. I've read a lot of dumb articles written about wsb. This one takes the cake."
Cash rolls in: For all the difficulties this week, there's no doubt money is still chasing the crypto story.
Cathie Wood's ARK Investment Management bought Coinbase on its first day of trading for three of her ETFs. She said she expects lots of volatility in the stock, along with the cryptos themselves, but was a buyer of COIN again yesterday. ARK now holds $352M worth of Coinbase after she added a further 341,186 shares on Thursday, bringing ARK's total exposure to more than 1M shares.
Hedge fund Brevan Howard has also made its move into crypto, putting 1.5% of its assets into Bitcoin. (2 comments)
Greenlight's Einhorn takes on GameStop short squeeze
David Einhorn, who runs hedge fund Greenlight, blames the "real jet fuel" for the GameStop (NYSE:GME) short squeeze on investor Chamath Palihapitiya and Tesla (NASDAQ:TSLA) CEO Elon Musk.
He said famed SPAC investor Palihapitiya and Musk's appearances on TV and Twitter at a critical moment "further destabilized the situation," according to 1Q letter. "Palihapitiya controls SoFi (SOFI), which competes with Robinhood (RBNHD), and left us with the impression that by destabilizing GME he could harm a competitor," Einhorn wrote.
Einhorn also partly blames the GameStop and recent Archegos liquidation on lax regulators. (95 comments)
AMC CEO pledges not to issue shares from new 500M authorization
AMC Entertainment (NYSE:AMC) closed nearly 6% higher Thursday alongside an SEC-filed pledge by CEO Adam Aron not to do a 2021 issuance of any of 500M new shares the company is asking investors to authorize.
An upcoming vote to authorize issuance of up to 500M new shares has weighed on AMC investors unsure of the company's plans as it plots its emergence from the COVID-19 pandemic, which wrecked revenues. But in an interview with Tremayne Collins on YouTube Channel Trey's Trades, excerpted in an SEC filing, Aron says there are no plans this year to issue any of those. (19 comments)
U.S. oil drillers 'dying on the vine'
Private equity funding for the U.S. oil sector is drying up, prompting stricken operators to make "last gasp" efforts to boost production and cash flow to attract buyers, the Financial Times reports.
Despite oil's recovery to about $60/barrel, scores of oil producers are "dying on the vine," says Kimmeridge managing partner Ben Dell, left without the regular cash infusions to bankroll the capital spending needed to keep on drilling.
Pioneer Natural Resources (PXD) earlier this month agreed to buy privately owned rival DoublePoint Energy for $6.4B - the biggest public-private deal in U.S. upstream oil and gas in a decade - but investors tell the FT that deals of that scale are unlikely to be repeated. (14 comments)
XPeng forms alliance with Zhongsheng
XPeng (NYSE:XPEV) establishes a long-term strategic partnership with Zhongsheng Group (OTCPK:ZSHGY) to further accelerate the Smart EV adoption in China.
Through the partnership, the Company will leverage Zhongsheng's dealership network and expertise in serving consumers for mid-to-high-end automobiles to further accelerate XPeng's sales growth, while strengthening its after-sales services capabilities. (3 comments)
United Rentals to buy out General Finance
United Rentals (NYSE:URI) will acquire General Finance (NASDAQ:GFN) for $19/share in cash, representing a total enterprise value of about $996M, including the assumption of $400M of net debt.