Friday Morning Reads
Reads:
Futures:
Open Interest: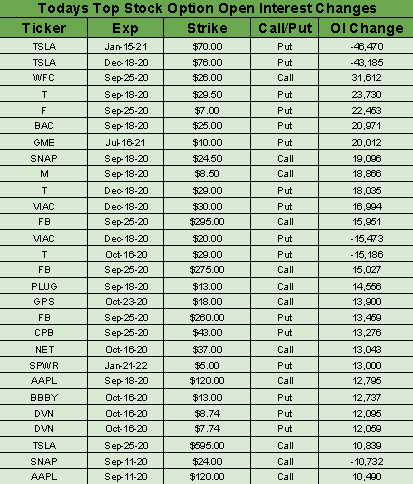 Premium:
Seekingalpha
The social hashtag "#CancelNetflix" (NASDAQ:NFLX) is gaining steam and has reached Twitter's top trending topics as the streaming giant faces heavy flak for its controversial film Cuties. The French film (original title Mignonnes) was a Sundance favorite in 2019, but has drawn heavy criticism from those saying it sexualizes young girls. The company had apologized over a Cuties poster back in August, but says the show is a "social commentary against the sexualization of young children." While Netflix shares fell nearly 4% on Thursday, the trajectory generally mirrored the broader Nasdaq market, and the stock is up 1.4% in premarket trade.
'Mulan' set for disappointing China debut
Dogged by political controversies and negative reviews, Disney's (NYSE:DIS) $200M live-action remake Mulan is heading for a weak premiere in China today. Pre-sales for tickets stood at about 8.2M yuan ($1.2M), according to Maoyan Entertainment, which is less than one-sixth of the opening day local box office collections for Tenet by Warner Bros. (NYSE:T). Disney partly created Mulan to woo audiences in China, but the film has now become a magnet for political attacks. The studio filmed some of the movie in Xinjiang, where China is accused of committing rights abuses against millions of Uighur Muslims, while lead actress Liu Yifei has publicly supported the police crackdown in Hong Kong.
The NFL regular season kicked off last night, with the defending Super Bowl Champion Kansas City Chiefs beating the Houston Texans 34-20. National audience impressions, might be even higher this year, according to MoffettNathanson, which cited the relative lack of competing programming and changes in viewing habits (not to mention a public starved of live sports in 2020). A look at the networks' broadcast schedules suggests Fox (NASDAQ:FOX) may benefit from the best set of matchups, followed by NBC (MCSA) and CBS (NASDAQ:VIAC), while ESPN (DIS) trails badly on that count.
Futures are trading higher once again, with the Dow up 216 points and S&P 500 and Nasdaq ahead by 1% and 1.4%, respectively, following a volatile session on Thursday that saw the recent tech selloff resume. Market liquidity remains thin, and this can leave stocks vulnerable to exaggerated moves around big options trades, according to JPMorgan Chase & Co. (investors also remain worried that valuations may have been stretched too far). On the economic calendar today, the U.S. Labor Department is expected to report that consumer prices increased 0.3% in August, following a 0.6% rise in July.
No extension of TikTok deadline
"It'll either be closed up or they'll sell it," President Trump told reporters. "There will be no extension of the TikTok deadline." There isn't much time before the September 15 cutoff date, meaning a deal would have to be announced in the next few days to prevent a shutdown. Suitors including Oracle (NYSE:ORCL), and a team of Microsoft (NASDAQ:MSFT) and Walmart (NYSE:WMT), have reportedly been discussing four ways to structure an acquisition from parent ByteDance (BDNCE), which includes buying the app's U.S. operations without key software (avoiding potential backdoors and other security issues).
Century 21 joins the retail graveyard
Century 21, the famous New York discount store chain, has become the latest retail casualty of the coronavirus crisis, saying it would file for bankruptcy after failing to receive money from its insurers over the pandemic. Century 21 joins a long list of prominent retailers, like Brooks Brothers, J.C. Penney (OTCPK:JCPNQ), J. Crew, Neiman Marcus, Sur la Table and Tailored Brands (OTCPK:TLRDQ), that have filed for bankruptcy in recent months. Lord & Taylor, another New York institution, which traces its roots to 1826, also announced plans to liquidate last month.
First woman CEO of Wall Street bank
Citigroup (NYSE:C) has appointed consumer banking head Jane Fraser as its next chief executive, making her the first woman to lead a major Wall Street bank. Current CEO Michael Corbat plans to retire from the bank in February 2021. While Citigroup still lags behind peers on profitability and share price performance, Corbat, the 37-year Citigroup veteran, is credited with returning the bank to health following its near-collapse during the financial crisis.
U.K. recovery continues, Brexit risks loom
Recovering from the sharp downturn caused by coronavirus-induced lockdowns, the U.K. economy grew 6.6% in July on a monthly basis, with activity being boosted by the reopening of restaurants and bars. "While it has continued steadily on the path towards recovery, the U.K. economy still has to make up nearly half of the GDP lost since the start of the pandemic," ONS Director of Economic Statistics Darren Morgan said in a statement. Over in Europe, traders are also watching comments from ECB officials after President Christine Lagarde bosted the euro on Thursday by delivering relatively mild comments on the currency's surge.
Go Deeper: Britain and Japan set to strike first post-Brexit trade deal.