Friday Morning Market Prepper
Reads:
News:
Premium:
Charts:
Earnings: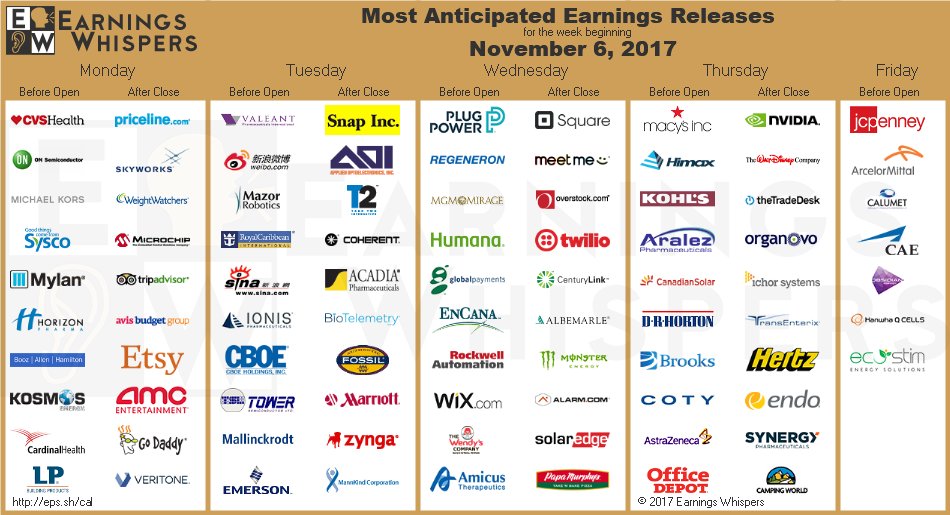 Option Data:
Seekingalpha
U.S. stock index futures are heading lower, while the dollar is poised for its biggest weekly drop in a month, as investors fret about tax reform delays. U.S. Senate Republicans have unveiled a plan that differs from the House's version on several key fronts, including when to slash corporate tax rate, deductions for state and local taxes, and the estate tax. The House is set to vote on its measure next week, but the Senate's timetable is less clear.
Economy
Ahead of the fourth leg of his 12-day Asia trip, President Trump praised Chinese leader Xi Jinping as "highly respected" after a visit that was said to have set a "new blueprint" for handling U.S.-China relations. "Regarding a Putin meeting, there was never a meeting confirmed, and there will not be one that takes place [at APEC] due to scheduling conflicts," White House Press Secretary Sarah Sanders told reporters.
"We will make bilateral trade agreements with any Indo-Pacific nation that wants to be our partner," President Trump told leaders at the summit in Vietnam. "What we will no longer do is enter into large agreements that will make meaningful enforcement practically impossible." Additionally, Washington will "no longer tolerate the audacious theft of intellectual property and chronic trade abuses."
The U.S. has also revealed a list of the 37 major deals signed during Trump's trip through Asia. Besides the companies announced earlier, contracts were awarded to ADM (NYSE:ADM), Cheniere Energy (NYSEMKT:LNG), DowDuPont (NYSE:DWDP), Terex (NYSE:TEX), Textron (NYSE:TXT) and Thermo Fisher (NYSE:TMO), for a total value of over $250B.
Following the visit, China has taken further steps toward liberalizing its financial system, saying it will remove foreign ownership limits on banks and asset management companies, while allowing overseas firms to take majority stakes in local securities ventures and insurers. The country has already made big strides in opening its equity and bond markets to foreigners.
In order to avoid "a hard border on the island," the EU is demanding Britain accept that Northern Ireland may need to remain inside the European customs union and single market following Brexit. The view directly contradicts the U.K. position and comes as EU and British task forces meet in Brussels for round six of Brexit negotiations.
After calling for sanctions on Iran for its "support of terrorism," Saudi Arabia and its Gulf allies have ordered their citizens to immediately leave Lebanon, escalating a dispute over the influence of Iranian ally Hezbollah. Saudi Arabia said it also plans to cut oil exports to all the regions it ships to next month as the kingdom and fellow nations press on with their OPEC-backed supply cuts.
The two largest junk bond ETFs, State Street's JNK and BlackRock's HYG, are at their lowest levels in seven months as declines and fresh outflows inject volatility into the asset class. The downward movement has been intensified by lackluster quarterly results by some of the largest high-yield bond issuers, which are often among the biggest holdings of the popular ETFs.
Stocks
Shares of Walt Disney were volatile in after-hours trading, but ended the session up 1%. The company wrapped up its fiscal year with a miss on top and bottom lines for Q4, while expecting ESPN to lay off 100 more employees. A bright spot? Disney (NYSE:DIS) fleshed out details for its upcoming streaming plans, which will be priced below Netflix (NASDAQ:NFLX), and promised a new Star Wars film trilogy.
Millions of Chinese consumers will be glued to their smartphones tomorrow for an annual shopping extravaganza known as Singles Day. Alibaba's (NYSE:BABA) event, which brought in $17.8B in 2016, surpasses what retailers earn from both Black Friday and Cyber Monday in the U.S. Citigroup even estimates sales this year could top $24B. BABA +0.4% premarket.
Public companies will soon face new guidelines for how they report cybersecurity breaches to investors as the SEC updates the directions it gave corporations over six years ago. Among the issues the commission should tackle are fully defining the level of cyber intrusion that demands a public disclosure, said William Hinman, the SEC's recently installed director of corporation finance.
Carlyle Group is exploring a sale or IPO of Ortho-Clinical Diagnostics that could be valued at more than $7B, including debt, Reuters reports. A divestment of the U.S. diagnostics company, which Carlyle (NASDAQ:CG) acquired from Johnson & Johnson (NYSE:JNJ) in 2014 for $4B, would show how buyout firms can turn unloved businesses of major firms into lucrative investments within a few years.
Desperate for cash to avoid a possible delisting, Toshiba (OTCPK:TOSYY) is considering the sale of new shares worth as much ¥600B ($5.3B). Speculation that existing shareholders would be diluted by the capital raise sent shares down by as much as 8% in Tokyo overnight. This also follows the recent sale of its prized chip unit, Toshiba Memory, to a group led by Bain Capital for $18B.
Nintendo plans to up the pace of production for its Switch game console next year, WSJ reports, showing the company's deepening confidence in the device. The plan, which would see production of 25M-30M units in its next fiscal year, is still in the early stages, but Nintendo (OTCPK:NTDOY) could aim higher depending on this year's holiday season.
"It should never have been possible" for a single staffer to temporarily deactivate President Trump's Twitter (NYSE:TWTR) account, Jack Dorsey told the NYT's DealBook conference. "There are a number of things that came out of this for us... We started looking into what we can improve and where we have weaknesses, where we have gaps. Second, particular policies around what agents have control over and what they don't."
Uber has lost an appeal to overturn a decision by a tribunal which said its drivers deserved workers' rights such as the minimum wage, in a blow to the taxi app as it battles to keep its license in London. The case was rejected at the Employment Appeal Tribunal in central London. UBER has also been forced to quit several countries, such as Denmark and Hungary.
Robots have replaced many U.S. manufacturing workers, but new mechanical exoskeletons being tested by Ford (NYSE:F) may help factory workers function like bionic people. Two of the automaker's U.S. factories are trying out upper-body devices developed by Ekso Bionics (NASDAQ:EKSO), which are designed to increase productivity and reduce the physical damage of repetitive tasks over many years. EKSO +2.9% premarket.
Self-driving boost? General Motors (NYSE:GM) has scheduled an investor event for Nov. 30, which will outline "our vision for an autonomous future." An innovation that seemed a few years away from commercialization is advancing rapidly. In the next few months, Google's (GOOG, GOOGL) Waymo will launch a robo-taxi service in the Phoenix area that will have no human driver in the front seat.
Thursday's Key Earnings
Disney (
DIS
) 
+1%
 AH detailing streaming plans.
Equifax (NYSE:
EFX
) following its security breach.
Hertz (NYSE:
HTZ
) 
+9.5%
 AH on better U.S. pricing.
Kohl's (NYSE:
KSS
) 
+0.9%
 after a soft quarter.
Macy's (NYSE:
M
) 
+11%
 meeting guidance for 2017.
Nordstrom (NYSE:
JWN
) 
-1.6%
 AH amid weaker same-store sales.
Nvidia (NASDAQ:
NVDA
) 
+3.2%
 AH on data center gains.
TransCanada (NYSE:
TRP
) 
+0.1%
 with support for Keystone XL.
Today's Markets 
In Asia
, Japan 
-0.8%
. Hong Kong 
-0.1%
. China 
+0.2%
. India 
+0.2%
.
In Europe
, at midday, London 
-0.3%
. Paris 
-0.3%
. Frankfurt 
-0.1%
.
Futures at 6:20
, Dow 
-0.2%
. S&P 
-0.3%
. Nasdaq 
-0.4%
. Crude 
-0.2%
 to $57.08. Gold 
-0.3%
 to $1284.20. Bitcoin 
-3.9%
 to $6871.
Ten-year Treasury Yield
 +4 bps to 2.37%
Today's Economic Calendar
10:00
Consumer Sentiment
1:00 PM
Baker-Hughes Rig Count