Friday Market Prepper
News and Reads
PREMIUM 
CHARTS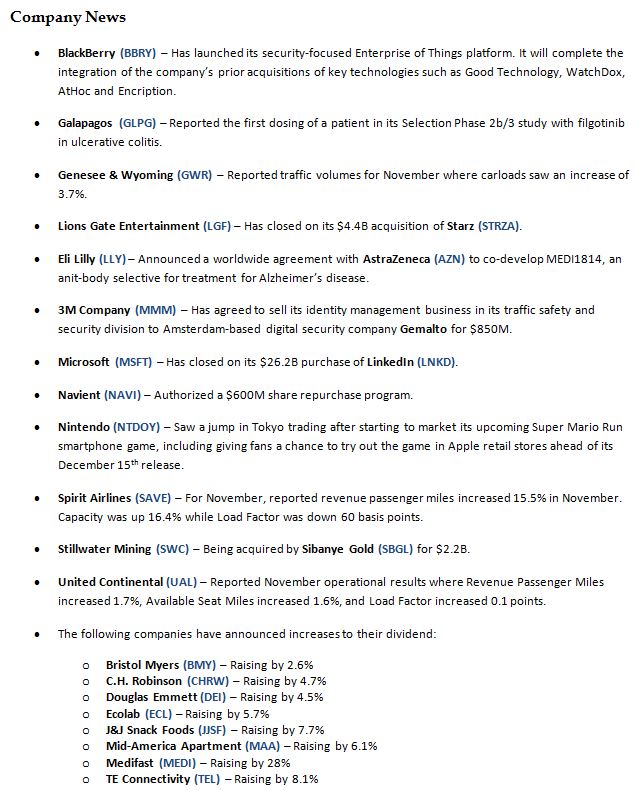 Politicians in South Korea have voted to impeach president Park Geun-hye over a corruption scandal involving a confidante. If she's permanently removed from office by the constitutional court (a procedure that could take up to 180 days), snap elections will be called within two months. Largely ceremonial prime minister Hwang Kyo-Ahn is set to become acting president, but with political uncertainty at a high, South Korea's defense minister has reportedly stepped up the military alert. The KOSPI index closed down on the news, while the won slid 0.6% vs. the dollar.
Economy
Whether it's called a "trim" or a "taper," Mario Draghi said yesterday the ECB would scale back bond buys from €80B per month to €60B, but extend the duration of QE as necessary until the end of 2017. Draghi also announced the central bank would get some more flexibility on the bonds it can buy, but remained coy about reports that Italy may get help from the European Stability Mechanism to recapitalise its banking sector.
The U.S. House on Thursday cleared bills to keep the government running through April, but a Senate fight over benefits for retired coal miners and a permanent extension of "Buy America" mandates still threaten a government shutdown this weekend. The stopgap spending measure, which would allow the incoming Trump administration to weigh in on 2017 spending, must be approved soon to keep the government open beyond Friday's midnight deadline.
Britain's Brexit minister David Davis is "not really interested" in a transitional deal in the event of a "hard Brexit," according to details of a private meeting between him and the City of London Corporation. Many U.K. companies have argued the government should agree on a transition period after Britain leaves the bloc and before new trade terms are finalized, during which current arrangements stay in place.
Japan's parliament has ratified the Trans-Pacific Partnership, a mostly symbolic step because of opposition by President-elect Donald Trump that is forcing Tokyo to abandon the current trade agreement. Assuming he carries out his pledge, Japan has several options: pursue the TPP without the U.S., negotiate a two-way trade deal with the U.S. or prioritize free trade with other countries.
Markets are betting President-elect Donald Trump can reflate the U.S. economy, but in China, reflation is already happening. The nation's producer prices for November rose to a five-year high of 3.3%, up from 1.2% in October, thanks to soaring costs for commodities such as coal and steel and other building materials. Meanwhile, consumer prices rose as well, to 2.3% from 2.1%, as strength in food prices pushed up the headline figure.
Turkey is planning a referendum next March, April or May on constitutional changes that would expand the powers of the president, before holding presidential and parliamentary polls together in 2019. Turkish deputy prime minister Nurettin Canikli disclosed the details to A Haber TV. Any constitutional change needs the support of at least 330 deputies in Turkey's 550-seat assembly to go to a referendum.
Oil prices have stabilized after a volatile session caused by questions over the OPEC and non-OPEC meeting due to be held this weekend. There's growing optimism that Russia, Kazakhstan, Azerbaijan and others might agree to cut output following an OPEC agreement to limit production, but doubts are still swirling over whether the amount will be enough and whether the cuts will be implemented effectively.
Stocks
The ECB's supervisory board meets again today to discuss Monte dei Paschi's (OTCPK:BMDPY) request for more time to raise capital, with banking sources saying its members are split over the decision. Should the ECB reject the extension, the Italian government is expected to intervene to recapitalize the world's oldest bank to avert the risk of it being wound down.
Pokemon Go creator Niantic has added Starbucks (NASDAQ:SBUX) to its growing list of corporate partners as it looks for new ways to drive spending inside the mobile game. More than 7,800 locations in the U.S. over the next 12 weeks will be turned into PokeStops or Gyms, while the coffee retailer will sell a new Pokemon Go branded beverage. Nintendo (OTCPK:NTDOY), which developed the game with Niantic and Pokemon Co., jumped 3.7% on the news.
China's Ministry of Commerce criticized the United States overnight for thwarting a state investment fund's proposed buy of Germany's Aixtron (NASDAQ:AIXG), saying the U.S. "frequently interferes with normal business activity in the name of national security." But the chipmaker's CEO Martin Goetzeler put a more positive light on the failed takeover. "As unpleasant as the decision to block the transaction is... Our technology's high relevance has been confirmed." AIXG -1.7% premarket.
More shaky tie-ups? The chief executive of Deutsche Boerse (OTCPK:DBOEY) said its planned $28B merger with London Stock Exchange (OTCPK:LNSTY) is still a long way off, even if European regulators give it the green light next week. "There are a series of national and regional approvals still pending after that," Carsten Kengeter said. "So it's still not clear at all that everything will work out."
Six former executives of Insys Therapeutics have been arrested on charges they orchestrated a racketeering scheme. The indictment alleged that they led a nationwide conspiracy to bribe medical practitioners to unnecessarily prescribe a fentanyl-based pain medication and defraud health insurers. INSY shares extended a 12% plunge in after-hours trading, falling another 2%.
Famed short-seller Andrew Left said on Thursday that if Donald Trump really wants to tackle the drug pricing problem, he should look at some of the low-hanging fruit like Express Scripts (NASDAQ:ESRX). Shares tumbled almost 7% by the close. Left's Citron Research called the firm the "Philidor of the pharma industry," referring to the specialty pharmaceutical company and its alleged misconduct with Valeant Pharmaceuticals (NYSE:VRX).
"We believe the identity management business will be better positioned with a company that is primarily focused on security solutions," 3M (NYSE:MMM) VP John Riccardi said, after the company sold the unit to Gemalto (OTCPK:GTOFF) for $850M. Other strategic moves? Earlier this week, the company agreed to sell its safety prescription eyewear business to HOYA Vision Care "to focus on its core personal safety businesses."
Lionsgate has won shareholder approval to acquire cable network Starz (NASDAQ:STRZA) for $4.4B, ratifying one of the biggest studio deals this decade. The cash-and-stock deal has already received the greenlight from government regulators and will split Lionsgate's (NYSE:LGF) stock into two classes with 79M voting shares (LGF.A) and 137M non-voting shares (LGF.B). Previously existing shares of both companies will no longer be listed on the NYSE and NASDAQ.
Time surged almost 8% on Thursday following a report that it hired banks to help field takeover or partnership interest after receiving overtures from a group of media investors including Edgar Bronfman Jr. Time (NYSE:TIME) tapped Morgan Stanley and Bank of America, sources told WSJ, but it's far from guaranteed there will be a sale of the company or any other deal.
Macau has denied a report that daily money withdrawal limits from ATMs in the gambling haven would be lowered, after a selloff in casino stocks highlighted investor jitters over China's efforts to staunch capital flight. The Macau monetary authority said in a statement that it had halved the amount that could be withdrawn from an ATM per transaction to 5,000 patacas ($626), but that the daily withdrawal limit of 10,000 yuan ($1,449) remained unchanged. Related tickers: WYNN, LVS, MGM, MPEL, OTCPK:GXYEF
Jumping further into the auto industry after its $8B acquisition of Harman Industries (NYSE:HAR) last month, Samsung Electronics (OTC:SSNLF) has signed a contract to supply semiconductors to Tesla Motors (NASDAQ:TSLA). According to South Korea's Electronic Times, Samsung will contract manufacture chips for self-driving features in Tesla vehicles, but the paper didn't put a value on the order.
In a likely controversial step, the Department of Transportation is considering eventually allowing in-flight calls from airline passengers - with two important caveats: airlines will have the option of whether to provide the service, and passengers must be informed well in advance if the flight allows calls. The FCC currently prohibits passengers from talking on cellphones during flights (due to disruption of certain radio frequencies) but not Wi-Fi calls. Related tickers: AAL, ALK, DAL, JBLU, LUV, SAVE, UAL, VA
Thursday's Key Earnings
Broadcom (NASDAQ:AVGO) +3.9% AH on FQ4 beat, doubling dividend.
Sears Holdings (NASDAQ:SHLD) +5.3% after topping expectations.
Today's Markets
In Asia, Japan +1.2%. Hong Kong -0.4%. China +0.5%. India +0.2%.
In Europe, at midday, London +0.2%. Paris +0.5%. Frankfurt +0.1%.
Futures at 6:20, Dow +0.1%. S&P flat. Nasdaq +0.1%. Crude +0.9% to $51.31. Gold -0.3% to $1169.40.
Ten-year Treasury Yield +5 bps to 2.44%
Today's Economic Calendar
10:00 Consumer Sentiment
10:00 Wholesale Trade
1:00 PM Baker-Hughes Rig Count