Good morning and Happy Friday.  Stock futures are slipping back to yesterdays lows after some 'hawkish' FED comments overnight.
A September hike is in play you say?
It's more of the same - lot of talk, not a lot of action.  That .25% hike at the end of 2015 almost ended civilization as we know it.  The stock market crumbled and had its worse start to a year in its history.  Yet here we are 8 months later and the market hasn't just recovered from its worse start in history.  It's hit new all time record highs.
A new high score!
If inflating asset prices  was an Olympic sport the FED would be standing atop the pedestal with the Gold medal for synchronized asset price inflation.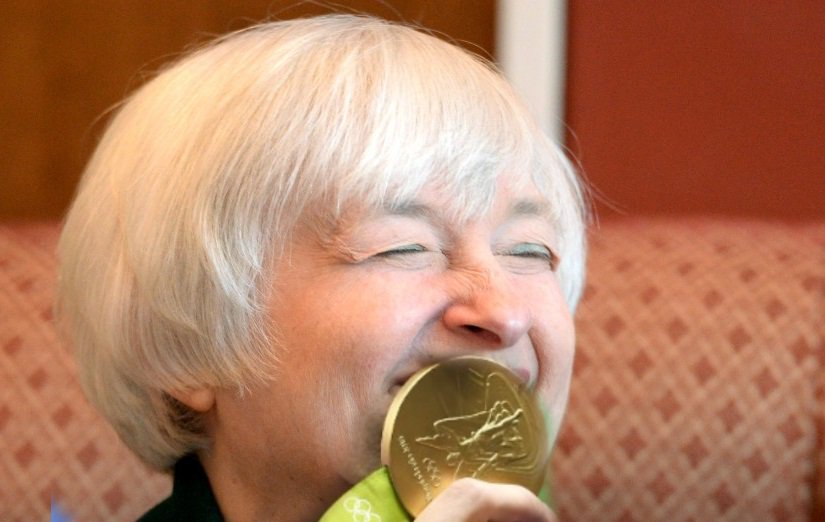 If  all of the unprecedented financial machinations of the Central Banks came free of any consequences than these untested programs of desperation very well may become the norm.  The daily song and dance about raising rates will be the new crying wolf.  The sheep are all safe... forever.  You can go back to grazing on your field of greens.
Zero percent interest rates, negative interest rates,  bond buying, fabrication of currency out of thin air, junk bond buying, ETF buying.... it's the makeup that's been used to create this beautiful equity market.  Corporations are backing up the truck on debt in a world where the Central Banks are making it almost a crime to save money.
What better stock represents just how pretty and sweet smelling  it is than ULTA, a company that sells things that make people look prettier and smell better than they would otherwise.
This is a stock that was at $4 in 2009 and yesterday hit  a new all time high of $272.  Who knew the way to prosperity was not through saving money, but buying shares in conditioner and lipstick companies.
Until interest rates move higher, if they ever do, this market is going to continue to look and smell a lot prettier than a savings account.  If you didn't like ULTA at $4 ironically enough, amid this Centrally planned backdrop, $270 is somehow an even better buy.
As crazy as that sounds, think about where we are, and where we could possibly be headed.
The downturn at the start of 2016 was averted.  Perhaps the marker was headed for another 8 year collapse.  2000, 2008, and 2016.  But prices found support and rallied to new all time highs.
2016 could be market the starting point of more asset price inflation.  The fragrance  and liptstick stock you couldn't stand the smell of in 2016 at $270, could be over $500 in 2020.
That Pizza stock that is up 3,000% since the lows in 2009, that has been using it's equity as a piggy bank for its shareholders on a quarterly basis could rally another 300% in the next 5 years.
Why?  It's all predicated on cheap money.  The Central Bank song and dance will remain just that.  Anytime the threat of a rate hike loomed, the market pulled back.  Some excuse was given and expectations were pushed back even further.  Think Brext, Ebola, China, Greece, Spain, Europe, Italy, Cyprus, Syria, Crimea.......
The proverbial punch bowl has been out for almost 8 years.  On top of that central banks have opened the proverbial pandora's box in 2009 and have moved to manipulating any and all asset prices.  This has altered the recession and expansion cycles.  The Central Banks can ill afford to see their experiments fail.  The Central Banks will keep interest rates at historic lows and/or negative and continue to embark on whatever measure they can to keep the music playing.  Perhaps when they music stops they will own all the assets.  The one chair left will be for them.  And they... the Central Banks.... will rule the world.