After a brief pull back, the stock market has spent the last two weeks doing what its done best the last 8+ years... rally.   As I pointed out one week ago it  still sucks being a bear, even that move lower was not an easy trade for the bears.  Each day the market moved lower, the next day many of those losses were recovered.
Look at the battle the bears had to endure just to get a small pull back.
The ensuing price recovery to new record highs was a piece of cake for the bulls.  I guess they like,  as some widely  followed bears say, . ...  'playing with fire'.    It's probably better described as sticking with the trend, but call it what you will.
While the bears struggle just to maintain one day of downside, the bulls can lift the market day after day for weeks on end.
After 10 days of non-stop dip buying and positive price action you see comments like this:
One day, the market might go down. #CouldHappen

— Dow (@mark_dow) July 21, 2017
Politicians are using the stock market as a proxy for their own personal performance:
NASDAQ hits another all time high. #maga

— Donald Trump Jr. (@DonaldJTrumpJr) July 18, 2017
U.S. Markets since Inauguration. pic.twitter.com/rSBpaCB4ni

— Fox News (@FoxNews) July 20, 2017
Yet it was the release of Yellen's testimony last week that launched the markets to new record high after new record high.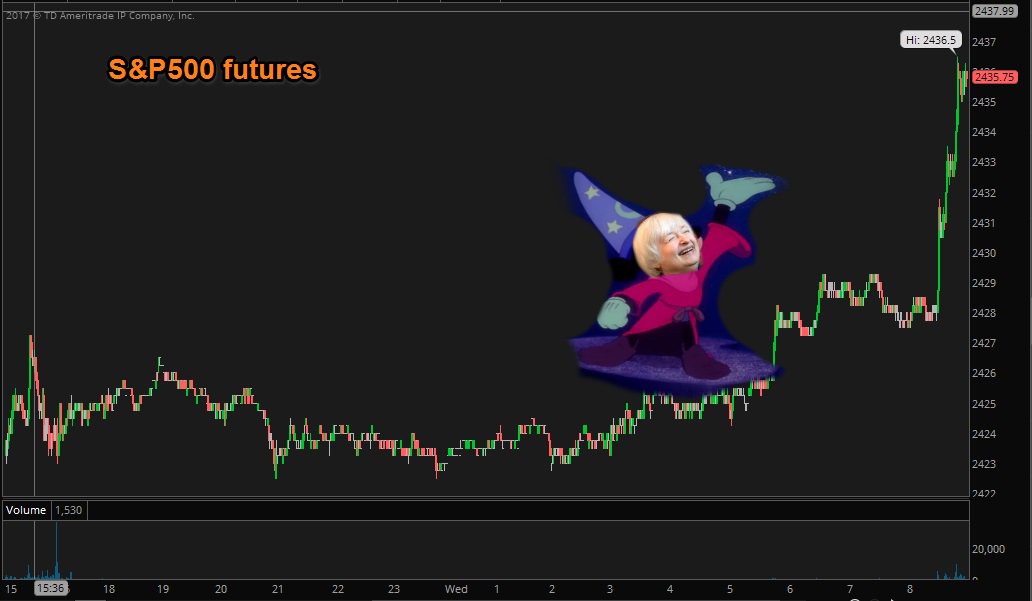 After 10 straight days of upside, one thing is 100% certain, we are one day closer the the stock market pulling back.  It may be another 10 days from now, 10 weeks, there is no telling for certain.  However using previous pull backs as a guide, it will not be an easy trade for downside.  And when the action reverses higher, the bulls will be back in the drivers seat 'playing with fire'  and  having their way with the price action.