It's an hour until Yellen and all through the  market, banks had lots of cash but no where to park it.  Yields were too low,  too stock prices at record highs, this has to fall apart at some point, why should I buy?
The market is safe, they said with a grin Lehman is gone and Enron is a has been.  So hold up your nose, and nod your big head, just buy up those stocks, volatility is dead.
And I heard her exclaim as she flapped her wings until she was out of sight,  Low interest rates for all, and for all a good night!Jackson Hole, the much hyped FED Super Bowl.  I think it's going to be another downer, and not in relation to asset prices.  Just more of the same from ole Yellen.
S&P500 futures traded in another terribly narrow range overnight.  Their is a collective yawn as far as price action this morning.  They say don't short a dull market.  But at this stage its tough being long the market.
Perhaps today's Jackson Hole Steel Cage match will see the bulls emerge victorious yet again.  Perhaps prices will soar today to fresh record highs.  Perhaps the market will take whatever Yellen says as more clarity about the path interest rates will take going forward.
The World is trading like interest rates will never rise again.
http://www.wsj.com/articles/years-of-fed-missteps-fueled-disillusion-with-the-economy-and-washington-1472136026
It's possible that Yellen will open the door for Fiscal Stimulus.  In a subtle way she will  say that not much more can be done via monetary policy.  It's time to hand out $1,000 checks to the American people again.
That should put bid under the stock market yet again.
Just next week we head into September.  September is a historically volatile month.  This month has lacked volatility at all.  Considering what we saw last year, when we had 10% price swings, in 2016 August has been one of the dullest months for the financial markets since the 2008 Financial crisis.   That crisis started to come to a head in September and the Fall of 2008.
The fall of 2016 will market 8 years.  The 8 year cycle going back to 2000 has marked the start of a collapse for the stock market.  Thus far, 2016 is bucking that pattern.
SInce the start of August the $SPY ETF that tracks the S&P500 has clung to the $218 level, like a toddler clings to its blanky.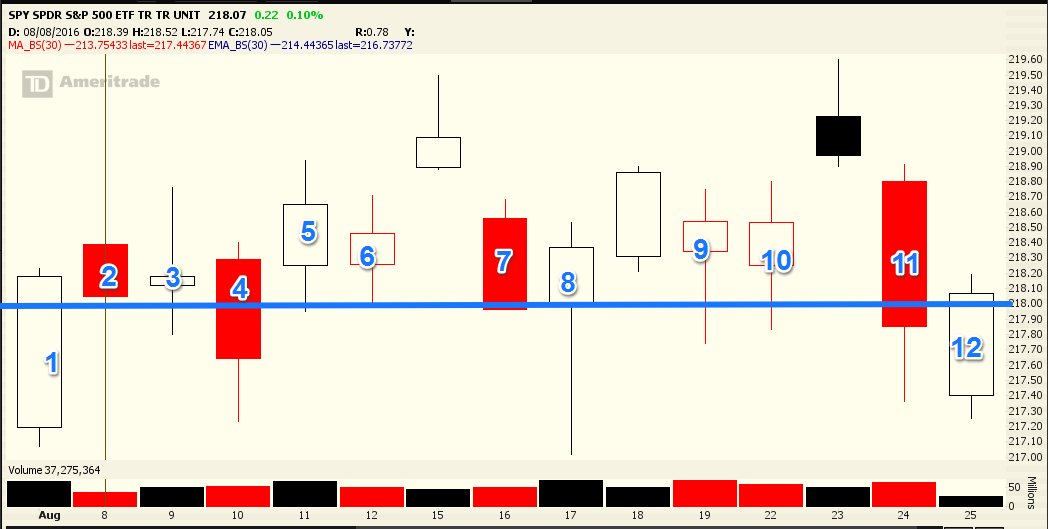 Today $SPY is set to open right around $218.
The VIX on the other hand is bumping along long term support.
A break below would set the path for a move into single digits and a another notch below no fear.... what ever that is.  Not giving a shit?
Needless to say, as much as I think, and the market is acting, like Yellen isn't going to be a market mover today.  It bears watching.
But we didn't get 8 years of a Centrally planned planned utopia, only to see it burn down over one comment at Jackson Hole.
Two trades I remain confident about into the Fall, regardless what the over all market does:
See you in the chat room