Monday's dull trading session was not indicative of what lay ahead for the market.  The S&P500 is about to complete a furious rally to end the month of May.
Heading into today's session S&P500 futures have come together with that 2100 level remains in focus.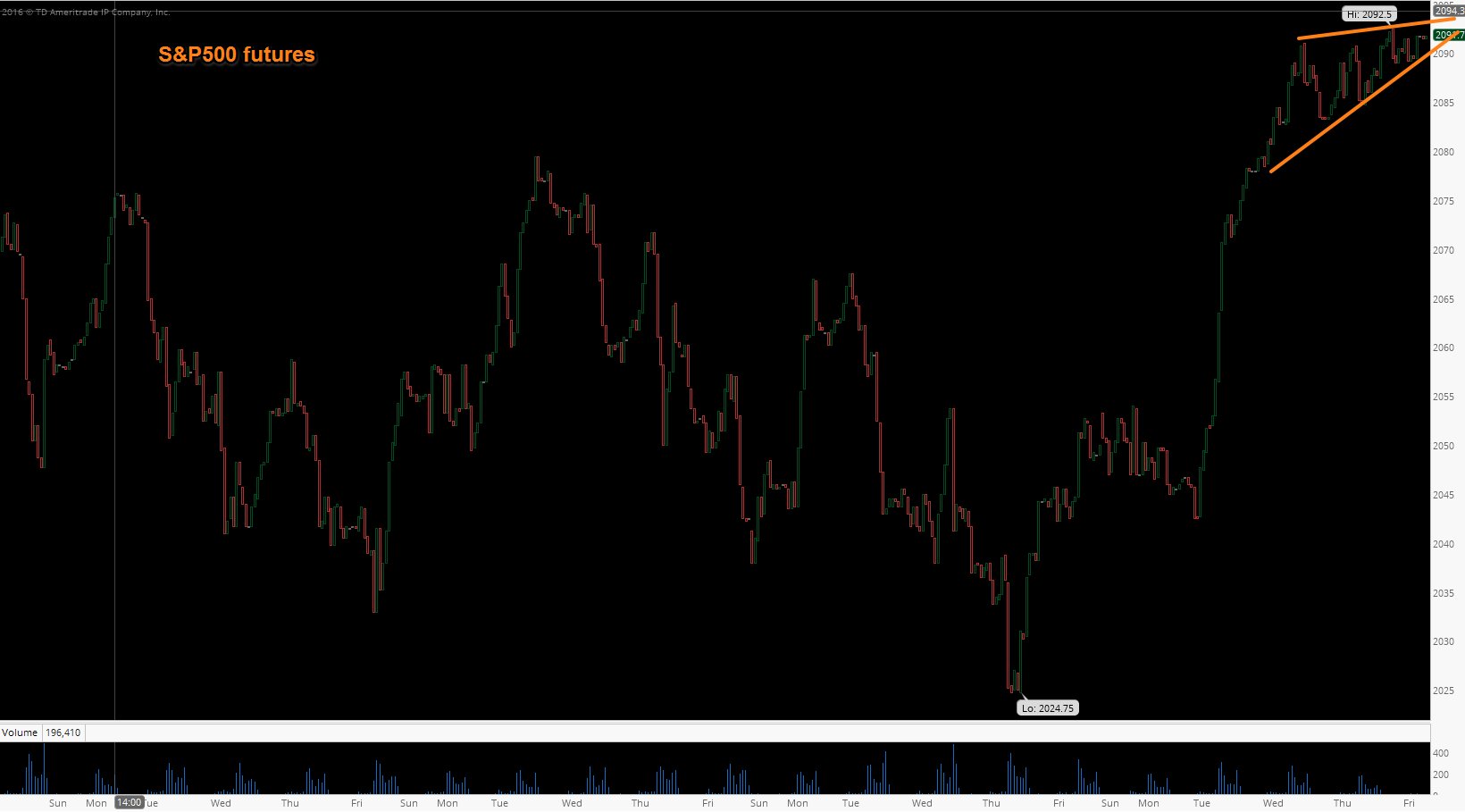 2100 you say?  Yes 2100.  This market has been range bound and trend less over the last year.  But that 2100 level has marked a point of turmoil previously and if the market can get over it we could be looking at a rally into the summer months.
Also look for a break and hold over the $SPY $210 level.  Remember this $210 level was broke for the very first time back in December of 2014.
Here we are a year and a half later and still unable to break and hold above $SPY $210.
The $IWM is even more telling.  This week $IWM has broken out of its downtrend and also rallied off long term support.
and the last bastion of hope for the bears lies with the Nasdaq.
It still has not broken a trendline from record highs.  It also continues to hold a nice topping pattern.  But much like the S&P500 futures head and shoulders pattern from last week.... all bearish chart patterns are just once tremendous rally away from going up in smoke.
As the month of May comes to a conclusion - the old 'sell in May and go Away' axiom May change into 'buy in May and Go Away'.
A break and hold over 2100 will be a start for S&P500 futures.
Also over the last five years the action has remained bullish until at least the middle of June.
With that being said, it's tough to not start getting bullish.  Also consider the ECB is starting up its corporate bond buying scheme this coming month.
What a glorious time to be alive.  Debt does not matter when you have central banks buying it up and with interest rates negative.  Money for nothing and your.....
See you in the chat room.