Yesterday was setting up much the same as most of the sessions  this month.  The market was rallying hard out of the gate.  The opening bell triggered a strong buying frenzy.  And much like many rally attempts this month, the action turned south.  Strong gains turned into losses.  The market was rolling over.... again.   
Morning strength was turning into afternoon weakness.... again.  And then... as if a switch was flipped, a late afternoon buying frenzy ensued sending prices for a higher close.
Over two years ago I remarked about the morning action roping in market participants into thinking the action was going to last all day.
I called it Rope a Dope: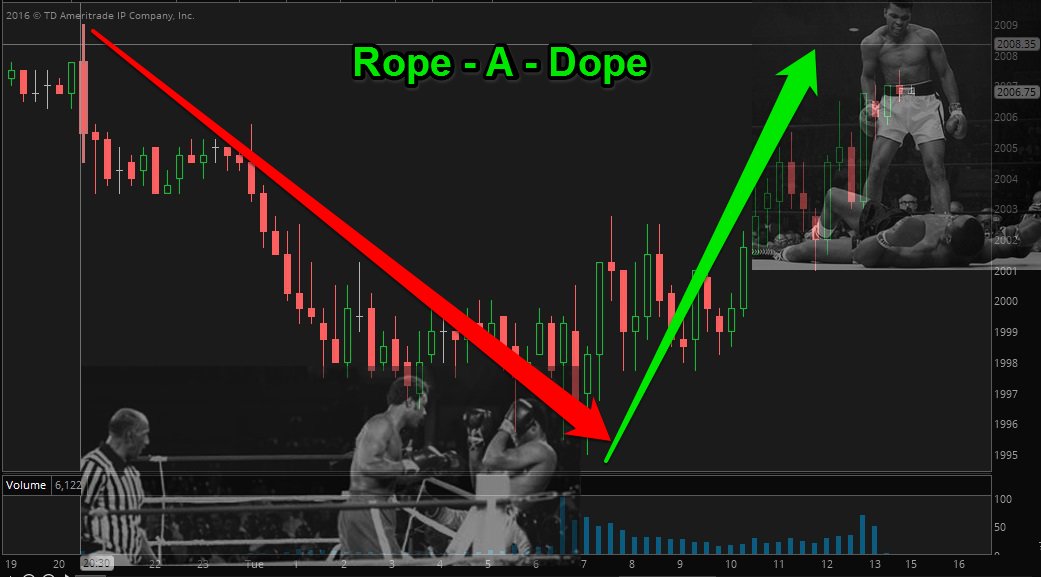 The most recent pull back from record highs has seen a similar type pattern except the first move for the market was a move higher not lower.   A quick morning move to the upside  to feign strength, followed by a reversal and ultimate move lower.  Buy the dip transformed into sell the rip.  The inverse of Rope a dope....  a dope a rope if you will.
Throughout the move lower in October, price action has almost always started out with a move higher,  before the selling kicks in sending the market into negative territory.
The quick move higher in the morning was usually reversed by lunch time, with selling pressure at times picking up as the day progressed.  How about that Tuesday move?   The $SPY fell more than $10 intra-day!  A stunning reversal.
Yesterday was the first day where the bulls finally put up a fight.  And they kept fighting overnight and this morning.
Right now that October trend lower is broken.
The confirmation that we have seen the lows for the short to medium term comes when small caps get the momentum buy trigger.
AS I wrote yesterday small caps started correcting first, and like the election move in 2016, small caps lead the market higher.  Small caps were down some 8 sessions in a row days before the election.  The S&P500 was down 9 days in a row the week before the election.  After the election the market embarked on a massive rally.  Small caps rallied for some 14+ trading days in a ROW!
We are nearing election day in 2018. Small caps have held trendline support and are on the cusp of a turn around.  We could see confirmation today that the odds have swung back in the bulls favor.  The morning action should take a weaker tone.  Perhaps even some selling out of the gate.  And then the bulls will get off the ropes and.... well....