The market had its biggest rally in 40 years this past week.  Stocks soared.  
I thought the $SPY was making the move to $270+...
but $280?  $281?  Wow.
The disbelief continues.   I saw on twitter a tweet going viral with the two headlines...
(1) Market has best day in forever
(2) Millions of americans lose their jobs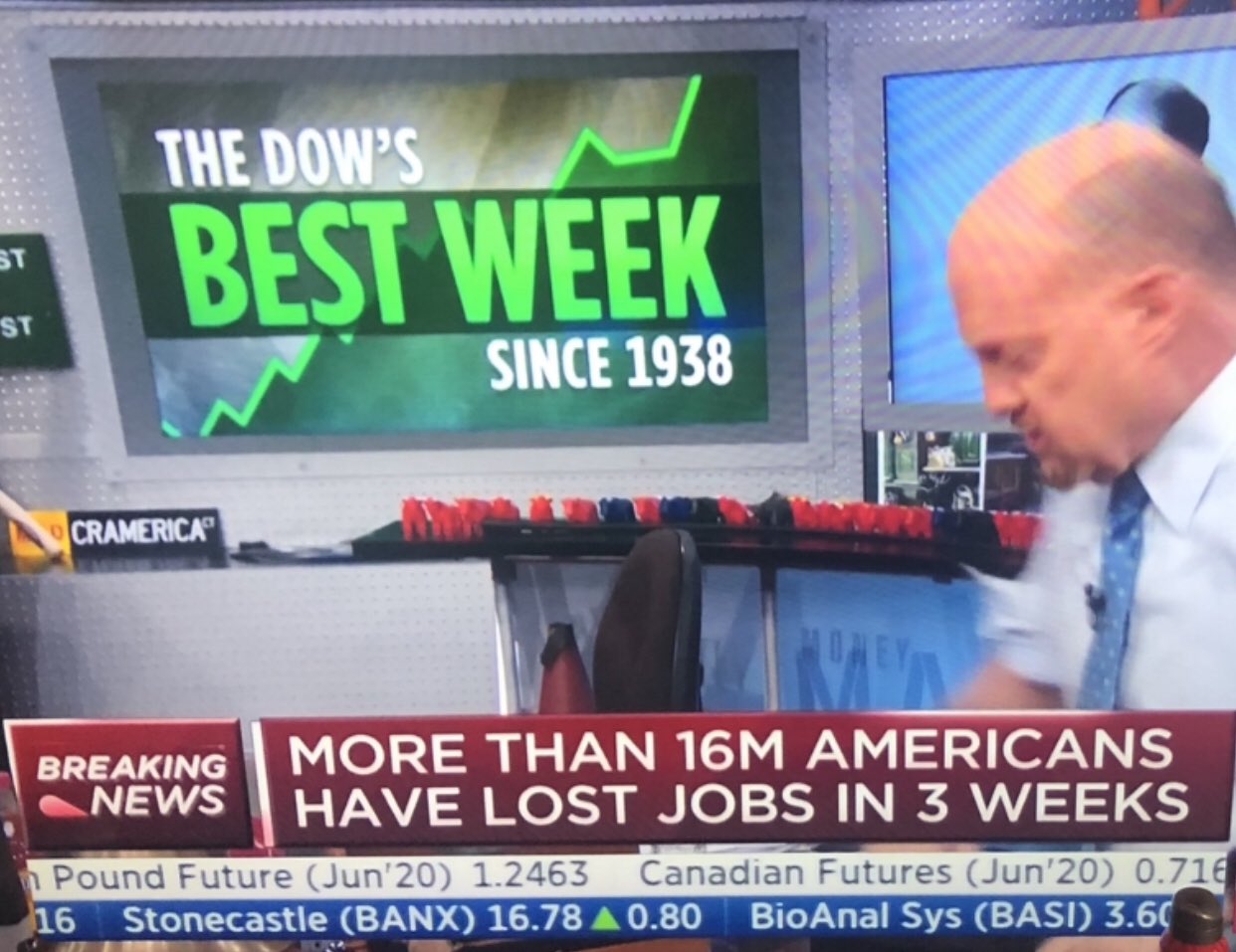 really?   Anyone that follows the market knows the price action was not celebrating 16 million Americans losing their jobs.  It was celebrating the FED  stepping into the corporate  bond market.
We know the entire global economy is shut down.  We know people are out of work.  We know the numbers are historic and are going to get bigger and worse before they get better.
However all the unemployed will have no jobs to go back to if the FED didn't step in.  Corporate debt downgrades are running rampant.  Justifiably so.   However absent the FED stepping in, this Virus induced recession could turn into something far worse,
Most, less knowledgeable people, see the market soaring right along with record amount of Americans losing their jobs, and think its everything that is wrong with America... six months from now when they have a job to go back to, they likely will have no clue that it was the FED's actions that helped prevent a crisis of biblical proportions.   The market was reacting to the fact that Americans will  have a job to go back to in the months ahead!
As I said it time and time and time again.  The Central banks opened the pandoras box during the financial crisis.  There was no turning back.  Corporations have piled on record debt.
My fear all along was not the SIZE of the debt.  But its serviceability.   Low interest rates have kept  the corporate debt bubble growing.  Low interest rates have continued to keep that debt serviceable.
What happened in 2020 was the unthinkable.  Did you see anyone forecasting a Pandemic in 2020?  The stock market bears who have been calling for a market crash the last 10 years could not have crafted a more dire scenario for the stock market.
The abrupt and unexpected closing of the economy put the serviceability of that debt in question.  Low interest debt it GREAT... but what happens when revenue plummets 90%+  unexpectedly?  That debt becomes virtually serviceable.  Corporations literally have to borrow more just to make existing payments.  The FED has stepped in and made sure we don't have a repeat of 2008.  Thumbs up!  The market had every reason to rally on that news.
Those same bearish folks who have been calling for a recession and market collapse every day since 2010, pounding their chests about how right they were, they nailed it.
They say last years yield inversion, which had predicted every recession since the dawn of man, correctly called this one.
So yield curve inversions now predict PANDEMICS too?
Really?
Is it not ironic that that market pundits who have been calling for a market crash of 60%+, got the most dire economic set-up ever, they could not have dreamed up a more disastrous scenario and the NASDAQ is down only 9% for the YEAR????  WOW!
Nasdaq Composite -9.1% YTD
S&P 500 -13.7% YTD
Dow Jones Industrial Average -16.9% YTD
Russell 2000 -25.3% YTD
Sure something was going to derail this historic bull market at some point.  But could there have been anything more damaging than what is going on right now?
No.  I don't think so.
And yes the markets are rallying.
I have said it many many times over the years.  That the next recession may see stock prices actually rally!!
From Over three years ago --->>
"
"As long as Central Banks around the globe continue to support risk assets, we are going to see big candles and unexplained moves to the upside."
And while we may be a year closer to the next financial crisis, that next crisis may be in 2018 or even 2028.     And what if that next Crisis is met with even more Central Bank action.  So much so that the next recession sends stocks higher not lower.   Wow!  That is about as crazy as saying every single  year for the last nine years that  the market is going to crash....."
So here we are.  Stocks are well off their lows.  Perhaps the market will fall again as so many are predicting.  That we break the March lows.  Perhaps this time the market will never recover.  It always feels that way when the market is falling.  What if this time it doesnt recover?  What if stocks are done?  What if the market is going to drop another 50%?
What if?  This most recent Central Bank asset price protection scheme.,,, the largest ever.... actually triggers that inflation the market has been expecting, but not seeing, the last 10 years?
What if.... what if all these Central Bank actions trigger more upside?  What if.... what if by the end of the year the market recovers all its losses?
What if.. this Pandemic induced sell-off has set the foundation for another massive bull market?
Hmmm.....
It always feels different.  People were terribly pessimistic in 2008/2009.
CNCB's Jim Cramer went on the Today show and told everyone to sell everything and hide it under a mattress for 5 years.
At the time Netflix was trading at $4 a share split adjusted.  Apple was trading for $12 a share split adjusted.
In hindsight there was never a better time to be BUYING stocks!
Who knows for sure this time around what the outcome will be.  We don't know when this Virus will abate.  Will they find a cure, a vaccine, a  treatment.  How will life be going forward.  There are so many unknowns.  So many.  How many businesses will not even bother re-opening?  How many companies will be gone forever?
What do we know?
The FED and every Central Bank in the world upped this asset price protection schemes far beyond the 2008 financial crisis levels.
Prepare for more crazy headlines like  we saw on Thursday:  Stocks soar on record unemployment report.
The stock market baffled participants in 2009.  The green shoots were no where to be found, but the market was green more often than not.  It's already baffling participants in 2020.
The Virus continues to attack.  The numbers are getting worse, not better. The economy is still shut down.  Yet stocks are in rally mode.
A bear market rally perhaps?  More lows coming?
I'm not so sure.  However I think short term the $SPY could reach as high as $295 in the coming days/weeks.  Wild no?  We were just at $217.
The Pandemic came quick.  However the response from the Gov't, the FED, and Globally has been even quicker.
Clearly it will not be an easy market to trade in 2020.  However, if the FED keeps its foot on the gas pedal, like I always thought it would... how crazy would it be to see new record highs later this year?
About as crazy as the FED buying corporate debt.......
Have a great weekend.