For the first time in 5 trading days the VIX closed higher, moving 2.8% to the upside.  It was only the 2nd positive close for the VIX in the last 16 trading sessions.  To put that into perspective, over that same time frame the NY KNICKS.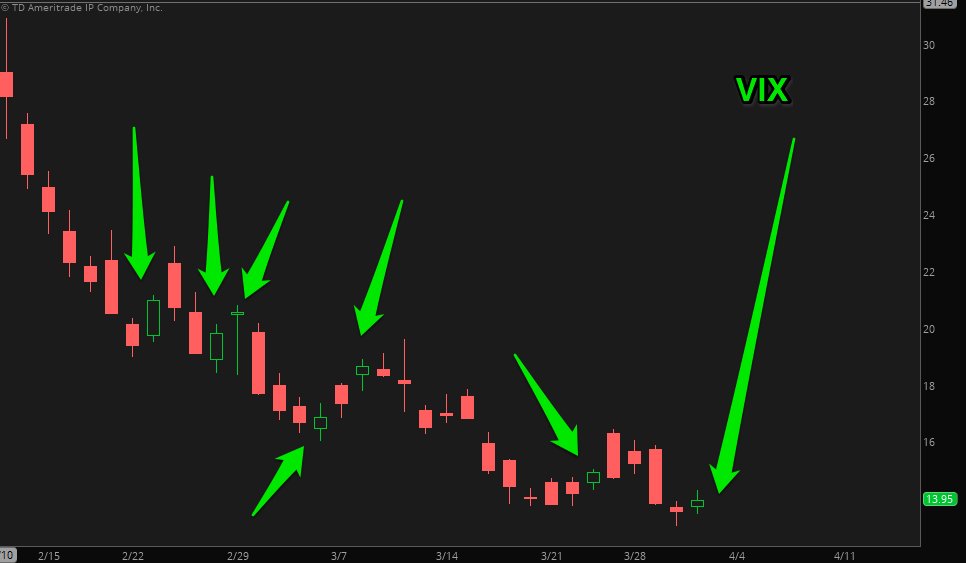 While the VIX and the market continue to point to complacency the sentiment from stocktwits points to investors still wary of the market.
At the lows in February Stocktwits $SPY sentiment was at a never seen before low of 24% bull and 76% bear.
It now rests at 35%, but still surprisingly bearish.  As someone who is also wary of this market advance, it keeps me cautious trading for downside.
The VIX itself points to a market, and we've been seeing this everyday, that shrugs its shoulders.  Just Buy It..  every damn day.
As we head into April I am reminded of the TECH WRECK of 2014.  The action took a fast and furious turn to the downside in April hitting its nadir near the middle of the month.
Tomorrow's jobs report will likely give a hint of what lies ahead.  Let's face it though, seemingly every economic report has helped put a bid under the stock market.
The question going forward deals with the complacency.  And with the low VIX comes with it the low price of stock options.
Like in 2014, this is a great time to be trading stock options.
Never  a Better time to be trading stock options
After tomorrow's open, and the early gyrations from the jobs report long gone, it will be time to position for April.  With the VIX at its lowest levels of the year options are on sale.  Let's get the shopping cart and get to work.
See you in the chat room early tomorrow morning.