Apple has made a series of lower highs after peaking over a year ago.  Tonight their earnings report will dictate, at worse, the short term movement of the stock.  It could also have longer term implications.
I mused back in April, just prior to its last earnings report that 'Peak Apple' is a distinct possibility.  As in, we may never see Apple trade at its early 2015 highs again.  However the company remains the largest in the world and I don't think its going to take a Blackberrian type fall into the abyss any time soon.
Let's look at $AAPL heading into tonight's earnings report.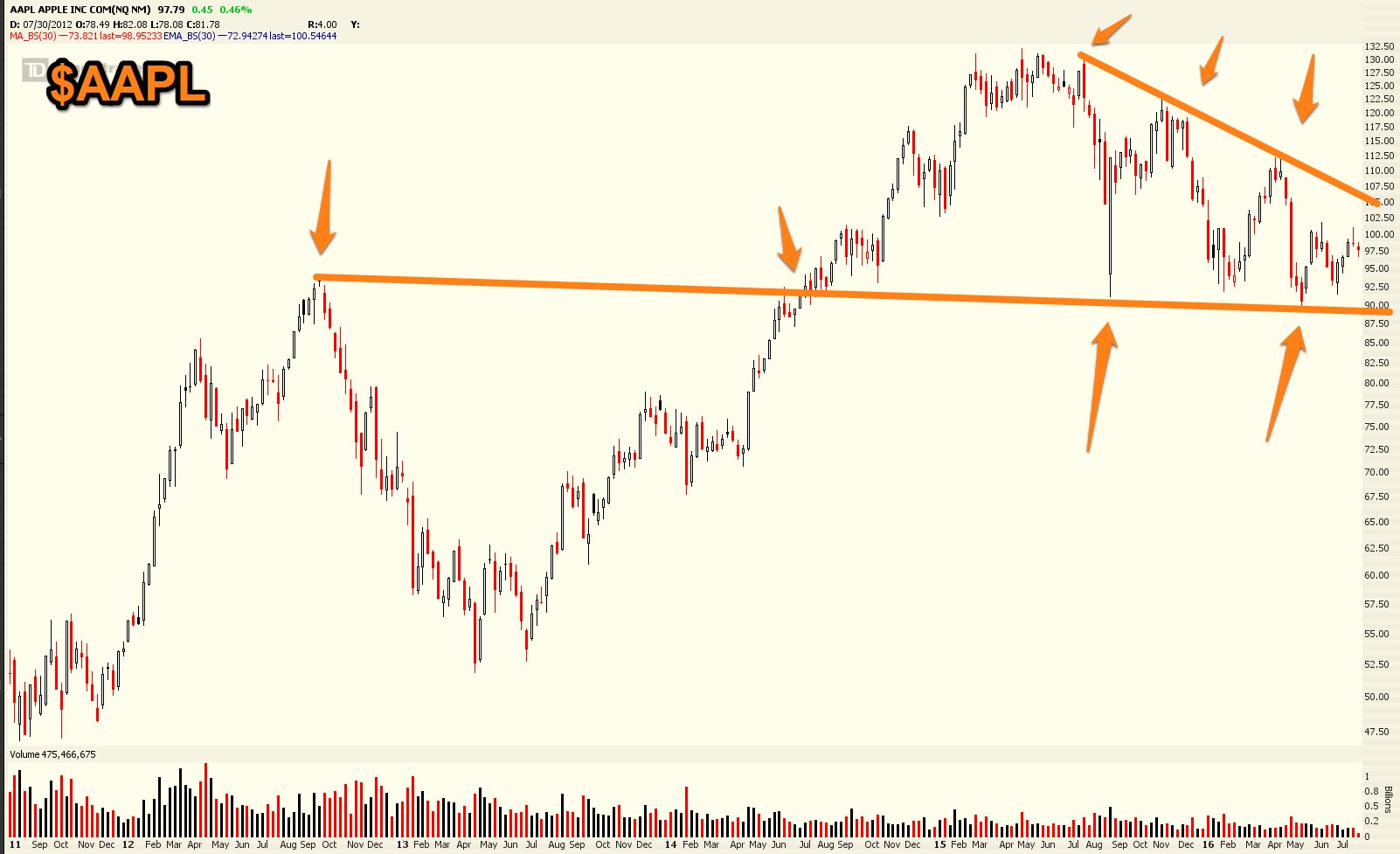 We have clear cut support just above $92  and resistance at $103.  The stock sits at $97 and change,  or almost exactly in the middle of that range.  Since hitting it's highs in early 2015 support and resistance have been coming together as price consolidates for the next move.
The last earnings report saw the stock plummet from $106 to long term support at $90.  I like the odds for the stock to see an opposite reaction this time around with a move up to the $103 resistance level.
Nothing is certain with this trade and the fact that it sits right in the middle of support and resistance muddies the picture further.
In anticipation of a possible move higher after earnings tonight I entered some $102 calls at $.45.  If price and premium builds into the closing bell I may sell some or all of those options to lock in a profit.  The more likely scenario is I will hold those calls into the close and offset some of the risk with a hedge for downside via the $94 puts.
As I conclude S&P500 futures have just rolled over - $AAPL is now under $97.  Those $102 calls are $.31.
Let's see if $AAPL gives us that move to $92 or $103.  Again I am biased for $103.
The market is expecting a $3.60 move with means roughly $100.50 or $93.30